Alec Baldwin Slammed for Supporting Anne Heche After Fiery House Crash
Alec Baldwin is among a number of celebrities who have been criticized for publicly expressing their support for Anne Heche, who has been hospitalized after her fiery crash into a Los Angeles home.
Per People, Heche's spokesperson said that the screen star was intubated and is "currently in stable condition," after reportedly suffering severe burns in the car crash, which occurred in the neighborhood of Mar Vista.
Heche was driving a blue Mini Cooper that crashed into a home on South Walgrove Avenue, causing the small abode to go up in flames. TMZ shared footage showing that Heche's vehicle had hit an apartment complex's garage shortly before the crash.
Footage captured on a number of doorbell cameras at the time caught Heche's car traveling at what appeared to be a high speed moments before the collision.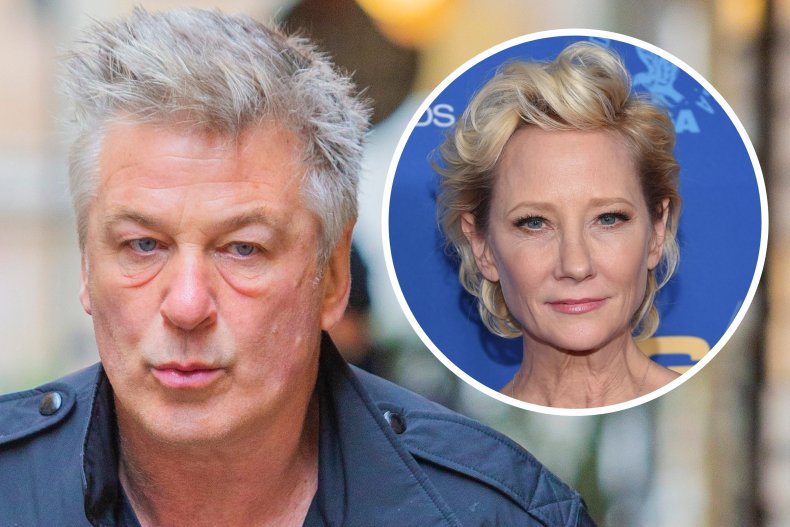 The occupant of the home, who has been identified as Lynne Mishele, told KCBS-TV reporter Tena Ezzeddine after the incident: "I'm a mess. We're alive, but that's about as far as it goes."
According to the Los Angeles Fire Department, the house is now "uninhabitable."
As news of Heche's hospitalization circulated, Baldwin was among those who expressed their concern, taking to his Instagram account on Saturday to post a video.
"I just wanted out my best wishes and all my love to Anne Heche. Anne is an old pal of mine," Baldwin said, before speaking about working with Heche in the past. "There's not a lot of women I've worked with that are brave in the way that Anne is brave."
Baldwin went on to talk extensively of his experience of working with Heche, who he described as "original."
"I love you, Anne, I love you and I think you are such a talented person," he went on. "And I hope everything is OK, I hope you come through this. My heart goes out to you. I'm sorry you had this tragic thing happen to you, and I'm sending you all my love."
"Everybody, join me please in sending their support and love to the wonderful Anne Heche," the 30 Rock star said.
However, his statement was met with furore, with many of those flooding the post's comments insisting that the focus should be on the person who lost their home.
"Did you see how reckless she was driving and how she hit a building before she crashed?" responded one detractor. "Did you see the RING doorbell footage? She is lucky she didn't kill anyone."
"Thank god there wasn't any children playing in that garden," said another.
"Yes I hope she is okay but hey how about saying my thoughts are with those who were nearly killed also. [C'mon] Alec," another wrote in reaction to the clip.
Rosanna Arquette was also among those who took to social media to share messages of support for Heche—subsequently facing a similar round of criticism.
When Arquette described the incident as "really tragic" and asked her Twitter followers to "pray for her," political consultant Nathan Schneider responded: "She could have killed somebody. Heche needs some serious mental health counseling before she hurts someone."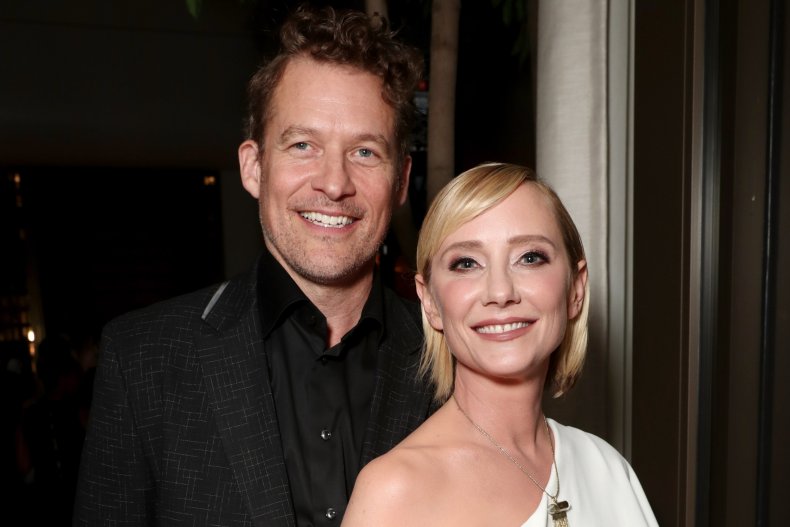 Also sharing wishes online was Heche's ex, James Tupper, who met the actress on her 2006 ABC show Men in Trees and was romantically linked to her until 2018.
Sharing, a photo on the Instagram of Heche posing with their 13-year-old son Atlas, Tupper wrote: "Thoughts and prayers for this lovely woman, actress and mother tonight Anne Heche [...] we love you."
Heche's friend and podcast partner, Heather Duffy Boylston, said in a statement following the crash: "Anne is currently in stable condition. Her family and friends ask for your thoughts and prayers and to respect her privacy during this difficult time."
According to a statement shared by the Los Angeles Fire Department, it took 59 firefighters more than an hour to "access, confine and fully extinguish the stubborn flames within the heavily damaged structure, and rescue one female adult found within the vehicle."
John and Jennifer Durand, who own the house that was destroyed, have launched a GoFundMe page to help Mishele cover the loss of "the place she loves" and most of her belongings. More than $50,000 of the $100,000 target has been raised.
"Lynne and her family very narrowly escaped physical harm, and for that we are very, very grateful," read a statement on the page. "The home, however, was completely burned."
Noting that the property was "immediately red-tagged by the LAFD," the statement went on: "Even more distressing is that Lynne lost her entire lifetime of possessions, mementos, all equipment for her business including her laptop and iPad, all of her clothing and basic necessities, and all household items.
"With firefighters' help, she was able to pull a few damaged sentimental belongings from the wreckage. Everything else is gone."
Newsweek has contacted representatives of Heche and the Los Angeles Police Department for comment.