Rosanna Arquette To Take Podcast off Spotify Over Joe Rogan
Rosanna Arquette has said she is removing her podcast from Spotify, days after Neil Young and Joni Mitchell removed their music from the platform to protest misinformation on The Joe Rogan Experience.
The Pulp Fiction star and vocal activist is the host of the Radical Musings podcast which launched on the streaming giant in 2021.
The show combines Arquette's love of music and connecting with creative thinkers with some noteworthy guests including Kathy Griffin, Ronan Farrow and Jane Fonda, among others.
On Monday, the 62-year-old took to Twitter to say she is removing her podcast from Spotify, having previously expressed frustration with the Joe Rogan situation.
"Getting this off Spotify," Arquette tweeted on Monday in a thread that she initially posted to announce her podcast in February 2021.
In an earlier tweet, she wrote: "Spotify made a big mistake."
In another tweet, the #MeToo whistleblower commented on Spotify's drop in market value following Young's ultimatum, tweeting: "4 billion loss for Spotify so far. losing Neil young and other artists that will make their Exit and keeping Joe Rogan was worth that?"
Newsweek has contacted Arquette's representatives for comment.
Speaking about her podcast when it launched, Arquette told The Wrap: "It's really just conversations with interesting people that do wonderful things. The podcast is intimate, fun and it makes you feel connected to the person. You get to know people for more than just a magazine cover or the role they play (on television)."
Arquette now looks set to follow Neil Young, Joni Mitchell and Bruce Springsteen guitarist Nils Lofgren in withdrawing her work from the platform in protest of what has been widely criticized as COVID misinformation being expressed by guests on Rogan's podcast.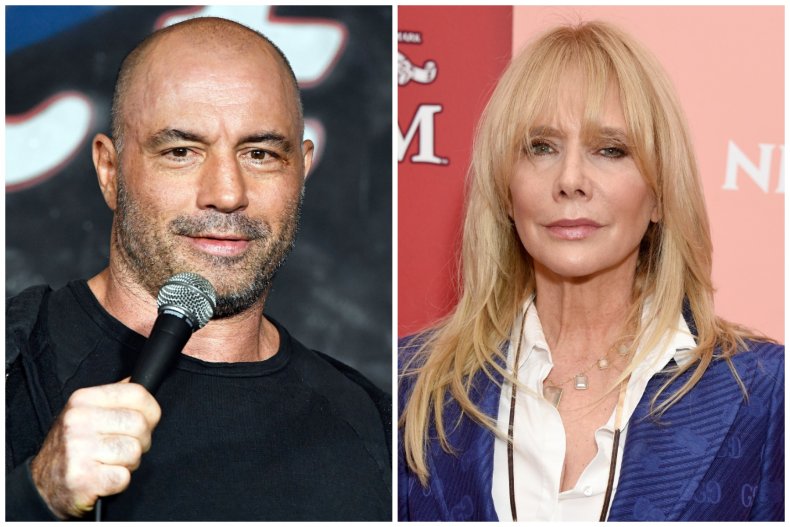 Rogan is considered one of the biggest podcast hosts in the world, with his show drawing in an estimated 11 million listeners per episode following his reported $100 million deal with Spotify.
The company has now pledged to add a content advisory to any podcast episode that discusses coronavirus.
In a statement posted to Instagram on Sunday, Rogan apologized to Spotify and said: "I'm not trying to promote misinformation, I'm not trying to be controversial. I've never tried to do anything with this podcast other than just talk to people and have interesting conversations."
The host said he would "do my best to make sure I've researched these topics" and "try harder to get people with differing opinions" on his show.