Anonymous Threatens to 'Not Be Kind' to 'Russian Asset' U.S. Rep. Greene
International hacker group Anonymous has leveled a threat at Congresswoman Marjorie Taylor Greene: "History will not be kind to you, nor will we."
The threat comes a day after Greene released a nearly 10-minute video in which she stated that Ukrainians are fighting "a war [against Russia] they cannot win." Her video—posted on Facebook Live hours after Ukrainian President Volodymyr Zelensky spoke to the U.S. Congress—also criticized President Joe Biden for "saber-rattling" and "dragging America into World War III" by offering financial and military support to Ukraine.
While Greene's comments echoed those of other conservative pundits, they likely angered the hacker group, since the collective has actively pursued Russian cyber targets since Russia invaded Ukraine.
"Russian asset Marjorie Taylor Greene will go down in history as one of the dumbest politicians ever. History will not be kind to you, nor will we," the Twitter account @YourAnonNews wrote on Wednesday afternoon. The account is one of several "decentralized" Twitter accounts associated with the group.
In Greene's video, she called Russian President Vladimir Putin's actions in Ukraine "despicable and evil" and said, "We weep when we see images of men, women and children wounded or killed." However, she added, "We cannot and we must not allow our compassion to blind us to reason and common sense."
She then referred to Ukraine as a country that Biden, Democratic House Speaker Nancy Pelosi and Republican Utah Senator Mitt Romney have "business interests in."
The comment was partly an allusion to the right-wing claim that the Biden family used Joe Biden's political standing to help secure business deals there. However, neither Romney's nor Pelosi's families seem to have any business interests in Ukraine, according to The Independent.
Greene also referred to Biden as a "weak dementia-ridden fossil in the White House" and said that Biden's sanctions wouldn't work against Russia because they hadn't worked in the past against Cuba, North Korea or Iran.
"Every move the Biden administration has made has hurt Americans and helped Putin," she continued. "Hardworking Americans, living paycheck-to-paycheck, don't care about foreign wars or foreign borders. They care about gas prices back home. They care about runaway inflation," she continued.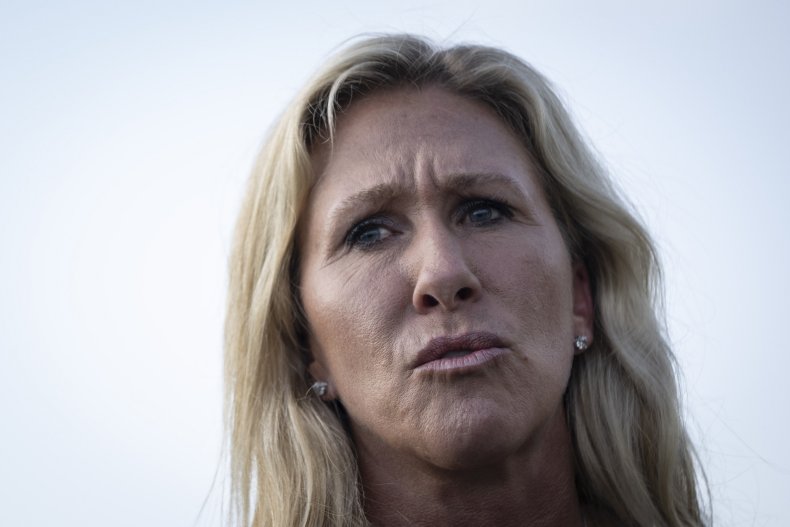 Greene notably referred to the Russia-Ukraine war as the result of an "eight-year-long, smoldering conflict in which peace agreements have repeatedly been violated for both sides."
But in doing so, she ignored the fact that the war essentially began in 2014 when Putin conducted an unprovoked invasion of the Crimean Peninsula, an area recognized by international law as Ukrainian territory. Putin has also repeatedly said that an aim of his invasion was to stop Ukraine from joining the Western-allied North Atlantic Treaty Organization (NATO).
Furthermore, Greene said that the current Ukrainian government "only exists because the Obama state department helped to overthrow the previous regime" in 2014. The aforementioned publication cites this line as one oft-repeated in Russian propaganda.
The country's former Russia-aligned President Viktor Yanukovych was ousted by his country's own parliament in 2014 when it voted unanimously to kick him out of office. The vote occurred after he reneged on plans to sign treaties with the European Union. Instead, Yanukovych wanted closer ties with Russia's Eurasian Economic Union.
Near the end of her address, Greene said that contributing to Ukraine's efforts would possibly start a nuclear World War III, cause the collapse of the dollar, and would "prolong the war and magnify human suffering" in "a war they cannot possibly win." Instead, she said the U.S. should help broker peace talks between Russia and Ukraine.
On Thursday, Wyoming Republican Representative Liz Cheney slammed Greene as a "useful idiot" to Russia for echoing Russian talking points in her video. Greene's speech parroted similar criticisms against Biden that have been voiced by former President Donald Trump and Fox News hosts since the war began.
Anonymous likely took issue with Greene's statement because of its own efforts to target Russia's cybernetic infrastructure since Russia launched the invasion.
Anonymous has likely hacked 92 Russian databases belonging to retailers, Russian internet providers and intergovernmental websites. Data of the Commonwealth of Independent States (CIS), which includes Russia and other former Soviet nations, was also breached, cyber security expert Jeremiah Fowler told CNBC. The databases included hundreds of thousands of names and email addresses, passwords, encrypted data keys and other deleted files.
The group has also claimed to have committed denial of service attacks and broadcasted at least one pro-Ukrainian message on a live feed broadcasted on the Russian-state media outlet MIR 24 TV, Fowler added.
Newsweek contacted Greene's office for comment.