Cheney Says Greene One of Kremlin's 'Useful Idiots' After Ukraine Remarks
Representative Liz Cheney, a Wyoming Republican, slammed Representative Marjorie Taylor Greene, a Georgia Republican, after she equated Ukraine's actions with those of Russia, saying "both sides" had violated peace agreements.
Russian President Vladimir Putin moved his forces to launch an internationally condemned invasion of Ukraine on February 24. The U.S., Canada and European allies have responded with stringent financial sanctions targeting the Russian economy as well as Putin and other Moscow elite.
The Western nations have supplied Ukraine with substantial military and humanitarian aid as the Eastern European nation works to fight back.
In a Wednesday live-streamed video address via Facebook, Greene raised concerns about the U.S. response to Ukraine. She warned against the U.S. moving toward a war with Russia, and contended that the U.S. was getting involved because prominent American leaders have "direct financial interests" there.
In response, Cheney argued that Greene was pushing Putin's propaganda.
"Putin is targeting and slaughtering civilians in a brutal unprovoked war against Ukraine, a sovereign democratic nation," Cheney tweeted on Thursday morning. "Only the Kremlin and their useful idiots would call that 'a conflict in which peace agreements have been violated by both sides.'" The Kremlin is the fortified area in Moscow where Putin resides and governs.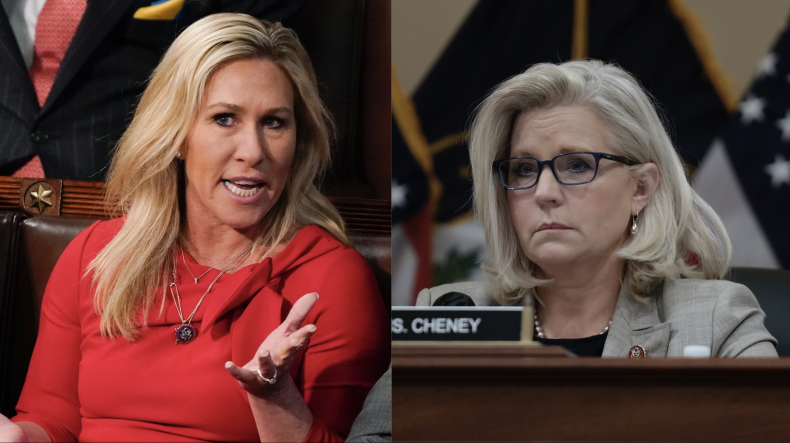 Greene said in the video: "This is an 8-year-long smoldering conflict in which peace agreements have been routinely violated by both sides."
While Cheney and Greene are both Republicans, they represent distinctly different factions within the GOP. Cheney is staunchly opposed to former President Donald Trump, who has faced criticism for praising Putin as a "genius" as he launched the assault on Ukraine. Greene is one of the most outspoken Trump supporters in Congress and is widely seen as a key figure in the far-right "America First" or "Make America Great Again" movement.
Just as Russia's invasion of Ukraine began at the end of February, Greene attended and gave a speech at the white nationalist America First Political Action Conference (AFPAC) in Florida. During that event, organizer Nick Fuentes led the crowd in chants supporting Putin. "Can we give a round of applause for Russia?" Fuentes asked the audience.
After speaking at the event, Greene attempted to distance herself from Fuentes and his organization. She also condemned Putin and Russia's actions.
"In regards to Russia, Putin is a murderer and he should never have invaded Ukraine. What he is doing is completely wrong," Greene said when she was approached by a CBS News journalist over her appearance at the event.
"I stand with our NATO member allies and I'm completely against this war. Everything that he's doing is wrong. He's killing people over and over, so I'm staunchly against it and I'm staunchly against Vladimir Putin and his invasion of Ukraine."
Senator Mitt Romney, a Utah Republican, condemned Greene and Representative Paul Gosar, an Arizona Republican, who spoke via video link at the AFPAC event.
"Marjorie Taylor Greene and Paul Gosar—I don't know them. But I'm reminded of that Butch Cassidy and the Sundance Kid movie where one character says 'Morons. I have morons on my team.' And I have to think anybody that would sit down with white nationalists and speak at their conference was certainly missing a few IQ points," Romney told CNN.
Newsweek reached out to Greene's spokesperson for comment but did not immediately receive a response.