Cheney Rips GOP Silence Over Greene, Gosar Joining 'White Supremacist' Event
Representative Liz Cheney, a Wyoming Republican, condemned GOP Representatives Marjorie Taylor Greene and Paul Gosar for participating in a far-right "white supremacist" event, while also criticizing Republican leaders for failing to quickly "renounce" their actions.
Greene attended and spoke at the America First Political Action Conference (AFPAC) in Florida on Friday while Gosar appeared and spoke via video link. Nick Fuentes, who the anti-defamation league describes as a "white supremacist," founded AFPAC in 2020 and has even trolled other right-wing events, such as those organized by Turning Points USA and CPAC.
During Friday's event, Fuentes remarked: "Now they're going on about Russia and Vladimir Putin is Hitler—they say that's not a good thing." He and the audience then laughed loudly before he added, "I shouldn't have said that!"
Fuentes went on to lead the audience in chants in favor of Russian President Vladimir Putin. "Can we give a round of applause for Russia?" he asked the attendees who cheered for Russia's leader.
On Saturday, Cheney blasted the event as well as Green and Gosar for participating. She took aim at Republican Party leaders for failing to immediately condemn the event and the GOP lawmakers decision to participate.
"As Rep Marjorie Taylor Greene and Rep Paul Gosar speak at this white supremacist, anti-Semitic, pro-Putin event, silence by Republican Party leaders is deafening and enabling," the Wyoming congresswoman wrote in a Twitter post, including a video of Fuentes' remarks.
"All Americans should renounce this garbage and reject the Putin wing of the GOP now," Cheney said.
Greene sought to distance herself from Fuentes when confronted by journalists with CBS News about the event on Saturday. "I don't know Nick Fuentes. I've never seen him speak. I've never seen a video. I don't know what his views are," she insisted.
"I went to talk to them about America First policies and I talked to them about what's important for our country going forward," she said. The Georgia Republican went on to condemn Putin and his ongoing invasion of Ukraine.
"In regards to Russia, Putin is a murderer and he should never have invaded Ukraine. What he is doing is completely wrong. I stand with our NATO member allies and I'm completely against this war. Everything that he's doing is wrong. He's killing people over and over so I'm staunchly against it and I'm staunchly against Vladimir Putin and his invasion of Ukraine," she said.
Russian forces launched a full-scale invasion of Ukraine on Thursday. Ukrainian forces are currently fighting back against the Russian invasion as the U.S. and Western European allies implement significant financial sanctions against Moscow and Putin directly. NATO members are also providing humanitarian and lethal aide to Ukraine.
"I am not going to play the guilt by association game in which you demand every conservative should justify anything ever said by anyone they've ever shared a room with. I'm not going to be drawn into that. I'm only responsible for what I say. So ask me about my speech. I talked about God and Liberty," Greene said in a statement emailed to Newsweek on Saturday.
Gosar dismissed Cheney's criticism.
"Liz Cheney's opinion is irrelevant. I will continue to ensure she is removed from the conference and look forward to her replacement in Congress," he said in a statement emailed to Newsweek on Sunday, after this article originally published.
The Arizona Republican previously attended an AFPAC event last year. "White people founded this country. This country wouldn't exist without white people. And white people are done being bullied," Fuentes said directly after Gosar spoke at that event, the Southern Poverty Law Center (SPLC) reported. SPLC described AFPAC as a "far-right extremist" event.
ADL wrote in a June 2021 blog post that Fuentes "has made a number of racist and antisemitic comments under the guise of being provocative and ironic." The organization described the far-right activist as "a white supremacist leader and organizer and podcaster who seeks to forge a white nationalist alternative to the mainstream GOP."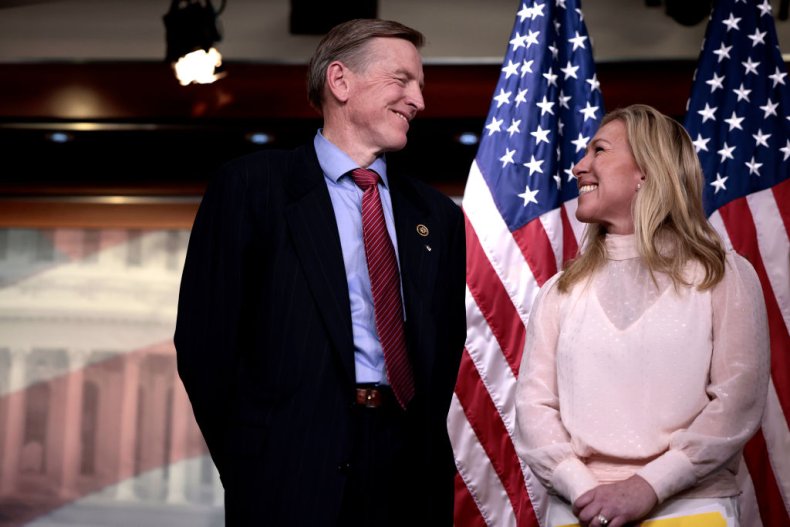 Other Republicans expressed outrage as well.
"I am going to play it. You spoke to a white supremacy group. You are defending your presence there. If this was not bizarro world, you would be the one censured and excommunicated from the GOP. You will lose ultimately, just like Putin. And people will curse your name," Representative Adam Kinzinger, an Illinois Republican, tweeted about Greene.
"It is appalling and outrageous that a member of Congress would share a platform with an individual who has actively spread antisemitic bile, mocked the Holocaust and promoted dangerous anti-Israel conspiracy theories," the Republican Jewish Coalition said in a statement. "This has absolutely no place in the Republican Party."
Newsweek contacted a spokesperson for House Minority Leader Kevin McCarthy, a California Republican, for comment.
This article was updated after publication with a comment from Representative Gosar.