Russian Politician Demands Putin 'Immediately' Stop Ukraine Invasion
Russian President Vladimir Putin's invasion of Ukraine is facing increasing opposition back home, with at least one member of the nation's parliament calling for an immediate end to the war.
Thousands of protesters took to the streets this week in Moscow and St. Petersburg as Russian forces launched a full scale invasion of Ukraine on Thursday. Russian security forces detained some 1,800 of the demonstrators, who blasted the invasion of their Eastern European neighbor and protested the war.
Russian lawmaker Mikhail Matveev, a Communist Party deputy of Moscow's lower house—the State Duma—of the Federal Assembly on Friday joined the chorus of war critics urging a swift end to the conflict.
"I think that the war should be stopped immediately. Voting for the recognition of the DNR/LNR, I voted for peace, not for war. For Russia to become a shield, so that Donbas is not bombed, and not for Kyiv being bombed," he tweeted Friday.
The Russian lawmaker referenced a vote earlier in February that sent a resolution to Putin formally recognizing the Ukrainian territories of Donetsk and Luhansk in the Donbas region as independent republics. DPR stands for Donetsk People's Republic and LPR stands for Luhansk People's Republic.
The territories have been largely controlled by pro-Russian Ukrainian separatists since 2014, as they've fought against Ukraine's central government in Kyiv. Putin's invasion of Ukraine began after Russian forces moved rapidly into the Donbas region this past week before beginning a full invasion of the Eastern European nation on Thursday.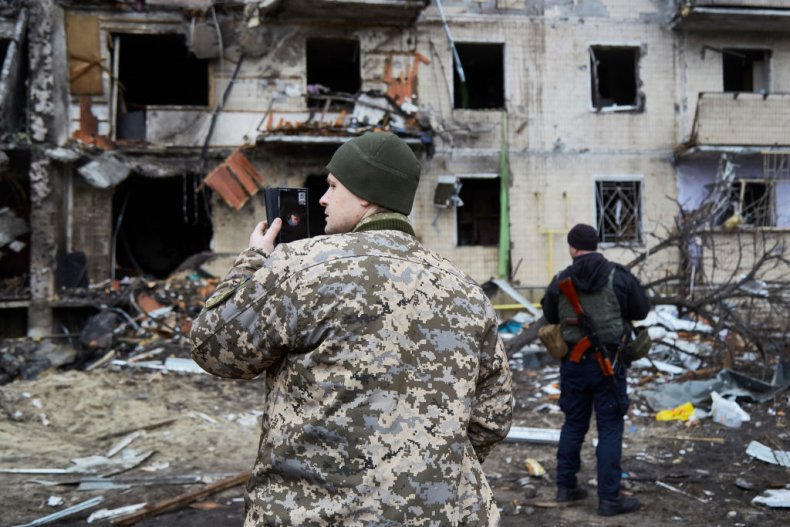 In a sign that Moscow aims to crackdown further on any criticism, Russia's communications regulator Roskomnadzor ordered the removal of reports that described the invasion of Ukraine as an "assault, invasion, or declaration of war," The Moscow Times reported Saturday. The regulator said media outlets violating the order would be blocked unless they removed the "unreliable information."
As the fighting continues, Ukrainian President Volodymyr Zelenskyy has reiterated his desire for a ceasefire and peace talks with Russia. "Ukraine was and remains ready to talk about a ceasefire and peace," his spokesperson Sergii Nykyforov said in a Saturday Facebook post.
With a video uploaded to Facebook on Saturday, Zelenskyy shared a message of resolve in the face of Russian aggression.
"We have stood up and successfully fought the enemy's attacks. The fights are ongoing in many cities and areas of our state. But we know that we are protecting the country, the land, the future of our children," he wrote. "Kyiv and key cities around the capital are controlled by our army."
The U.S. and Western European nations implemented significant sanctions targeting Russia as well as Putin and other top leaders in Moscow directly. They have also promised further military and humanitarian aide in support of Ukraine.
"I spoke with the G7 leaders today, and we are in full agreement: We will limit Russia's ability to be part of the global economy. We will stunt their ability to finance and grow Russia's military. We will impair their ability to compete in a high-tech, 21st century economy," President Joe Biden vowed in a Thursday Twitter post.