The daughter of Russian President Vladimir Putin's spokesman Dmitry Peskov posted an anti-war message to social media on Friday, but then appeared to delete the post shortly later.
Russia launched a full-scale invasion of Ukraine on Thursday after weeks of alarms and warnings from U.S. and Western European leaders of an imminent threat from Putin's forces. Thousands of Russian demonstrators took to the streets in Moscow and St. Petersburg to protest Putin's decision, resulting in hundreds of arrests.
Some prominent Russians came out in opposition to Putin's invasion of Ukraine as well—including Yelizaveta Peskova, the daughter of the president's own spokesman.
The 24-year-old posted "HET BOЙHE" (or "no to war" in English) to her Telegram account. She wrote the message as a white hashtag with a translucent gray highlight on a black background, according to screenshots and reports from multiple journalists. The post was later removed.
Nic Robertson, CNN's diplomatic editor, reported on the prominent Russian official's daughter's post on Friday.
"I think given those protests that we saw on the streets of Moscow and other cities across Russia last night, 1,700 people arrested there by the way, the Kremlin spokesman Dmitry Peskov's—his daughter on a Telegram, with 180,000 followers, actually posted a 'stop the war' 'no to the war' message on her Telegram account," he reported.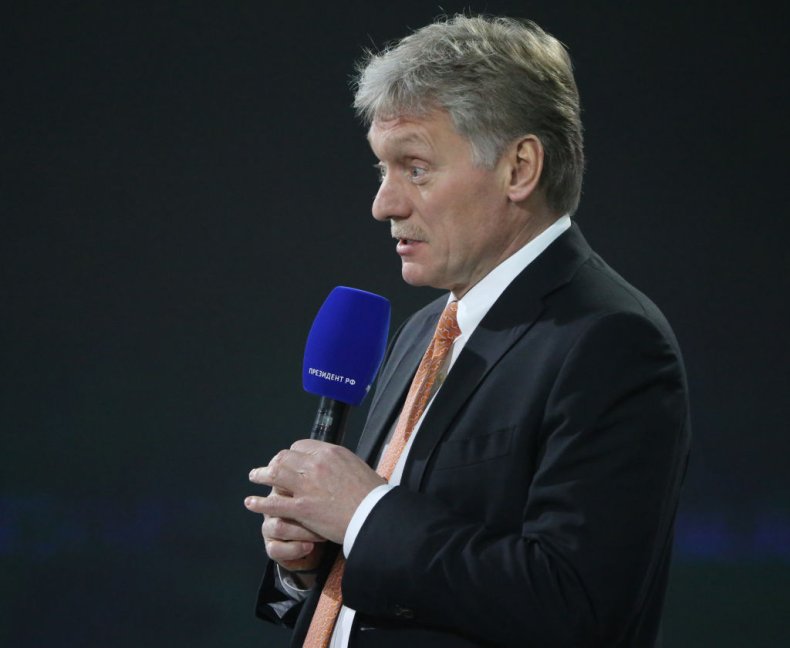 "Liza Peskova, the daughter of Putin's spokesman, has posted this 'No to war' message on her Instagram stories," BBC journalist Francis Scarr tweeted on Friday, sharing a screenshot of the post.
Peskov is the main spokesperson for Putin, regularly giving briefings to journalists about the Russian leader's plans and policies. As would be expected, the Russian official routinely spins information in Moscow's favor while spreading Kremlin propaganda. Meanwhile, a number of other high profile Russians spoke out against Putin's invasion of Ukraine, The Guardian reported.
"Fear and pain. No to war," Ivan Urgant, the host of a popular talk show on Russia's state-run Channel One, wrote in an Instagram post.
"It's impossible to work for a murderer and receive your salary from him," Elena Kovalskaya, the director of the state-finance theater the Meyerhold Center in Moscow said. She quit her job in protest against Russia's aggression towards Ukraine.
Yuri Shevchuk—the frontman of a classic Soviet-era rock band, DDT, and a veteran anti-war campaigner—slammed the Russian invasion saying, "We're being pulled like through an ice hole into the past, into the 19th, 18th, 17th centuries. And people refuse to accept it."
Sofia Abramovich, the daughter of Russian oligarch and billionaire Roman Abramovich, expressed her opposition to the war and Putin's decision in an Instagram post. Her father owns the well-known British soccer team Chelsea F.C.
His 27-year-old daughter shared a meme that said "Russia wants a war with Ukraine"—but "Russia" was crossed out and "Putin" was typed above it. The meme continued below: "The biggest and most successful lie of the Kremlin's propaganda is that most Russians stand with Putin." It included a small image of Putin behind a red banned symbol.
The U.S. and Western European allies launched a series of substantial financial sanctions against Russia in the wake of the Ukraine invasion. The European Union also on Friday launched sanctions targeting Putin and his Foreign Minister Sergey Lavrov directly, and the U.S. plans to do the same.
Putin's invasion persists as the Ukrainian military fights to protect its homeland against foreign aggression. U.S. officials told Newsweek on Thursday that they are pessimistic about Ukraine's odds of repelling the Russian military, predicting that Kyiv would fall within a matter of days.