Former US Ambassador to Russia Says Putin's Invasion Will 'End' His Regime
The former U.S. ambassador to Russia predicted that Russian President Vladimir Putin's decision to invade Ukraine will ultimately lead to the "end" of his regime in Moscow.
Russia launched a full-scale invasion of Ukraine Thursday morning after sending troops to occupy eastern regions of the country—which were already partially controlled by pro-Russian separatists. The U.S. and Europe have responded with stringent financial sanctions targeting Russia, while promising weapons and other aide to Ukraine as it attempts to defend itself from Putin's aggression.
Michael McFaul, who served as the top U.S. diplomat to Russia from 2012 to 2014, gave his assessment of the situation during a Friday morning interview with MSNBC—predicting Putin's decision would ultimately be seen as his downfall. Putin has held power in Moscow as either prime minister or president since 1999.
"The pressure on the [Russian] regime will take time, and I think it's going to be measured in years," McFaul said, who pointed out the "nonsense" of Putin's argument for invading Ukraine. The Russian leader has claimed he wants to "de-Nazify" the Eastern European nation—which is led by President Volodymyr Zelenskyy, who is Jewish and was elected with nearly three-quarters of the vote in 2019.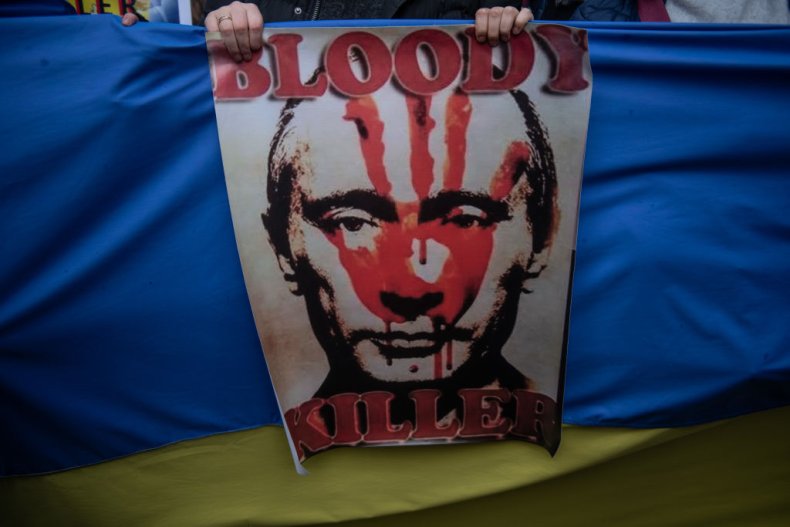 "Now, that framing is complete nonsense," McFaul explained. "There's no Nazis in power in Ukraine. Zelenskyy was elected in a free and fair election. By the way, go look at the map someday. Where he was elected, you know, giant majorities, even in the east that are so-called loyal to Russia—complete nonsense, right. But it is not nonsense that Putin might take control of Ukraine for a while. We need to be sober minded about that, that he might overthrow the regime and install a puppet regime for a while."
The former diplomat went on to say that this plan would lead to Putin's downfall, saying Ukraine would "never be loyal" to Moscow. "I really do think this is the end of the Putin regime. I just don't know how long that will be. Some day Ukraine will be free, I have no doubt about that," he said.
Fighting between the Russian military and Ukrainian forces continues. The Associated Press reported Friday morning that Russian troops pressed their invasion of the capital Kyiv on Friday and appeared to be drawing closer to the area of the city where many government buildings are located.
Russian leaders have said they are willing to hold diplomatic talks, but have said Ukrainian forces must lay down their arms before they will come to the table.
"We are ready to hold talks at any moment, once the Ukrainian Armed Forces respond to our president's call, end their resistance and lay down their arms. No one plans to attack and oppress them, let them return to their families, and let us give the Ukrainian people a chance to decide their future," Russian Foreign Minister Sergey Lavrov said during a press conference Friday, Russia's Tass news agency reported.
Zelenskyy urged further western action to deter Russia's actions. "Not all possibilities for sanctions have been exhausted yet. The pressure on Russia must increase," he tweeted on Friday.
Newsweek reported on Thursday that U.S. and Western officials have a dismal outlook for Ukraine's odds defending itself against Russia. U.S. officials told Newsweek that they expect Kyiv to fall to Russia's military within days.
Meanwhile, thousands of Russians took to the streets in Moscow and St. Petersburg to demonstrate against Putin's invasion of Ukraine. They were reportedly met with a heavy police response. Some 600 were arrested in Moscow and more than 300 were detained in St. Petersburg, The New York Times reported.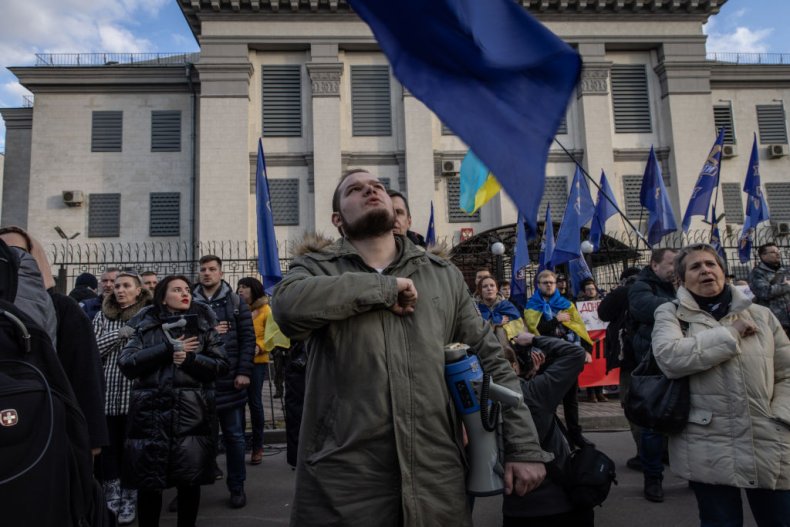 Although Ukrainians hope for further support from Western European nations and the U.S., thus far they have signaled they do not plan to do more than implement sanctions targeting Russia while supplying weapons and aide.
"They want it to be a big war," Benjamin H. Friedman, policy director at the Defense Priorities think tank, told Newsweek. Friedman said Ukraine wants this "so that they are defended and Russia is deterred by the prospect."
"But no one is going to help Ukraine," he added. "That's the reality. So it won't be much of a war."