Another European Nation Defies China As Slovenia Strengthens Taiwan Ties
China has described its shock at comments from Slovenia's prime minister Janez Jansa criticizing Beijing's economic coercion and vowing to strengthen relations with Taiwan.
On Tuesday, Indian public broadcaster Doordarshan aired an interview with the Central European leader in which he disclosed his government's plans to follow Lithuania's lead by establishing reciprocal trade offices with Taipei. He also warned that continued Chinese pressure against the democratic island and its newfound friends in the European Union would backfire.
Zhao Lijian, a spokesperson for China's Foreign Ministry, told a press conference that Beijing was "shocked by this and strongly opposes it." He described Jansa's remarks as "a dangerous statement in support of 'Taiwan independence.'"
China has never governed Taiwan but asserts a historic claim to the island, which goes by the formal title the Republic of China and has no official diplomatic relations with any EU member or even with its strongest international backer, the United States. The Chinese leadership has threatened to seize the island by force if it declares formal independence under the name "Taiwan."
Zhao's response appeared to be a direct reference to Jansa's view that the people of Taiwan should be allowed to make their own choice. "We support the sovereign decision of the Taiwanese people. If they want to join China; if it is their free will—without any pressure, without any military intervention, without any blackmailing, without strategic cheating, as is happening in Hong Kong currently—then we will support it," he said.
"But if Taiwanese people want to live independently, we are here to support also this position," said Jansa. His words were a departure from the carefully crafted statements of other world leaders, who are often wary of offending China.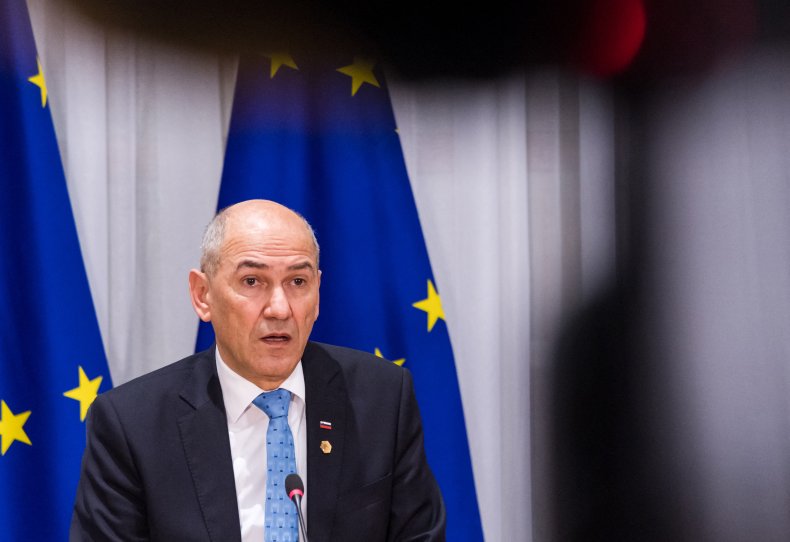 Jansa revealed that Ljubljana and Taipei were working on exchanging trade representatives. "Of course, this will not be on the level of embassies. It will be on the same level as many of the EU member countries already have them," he said. This was an issue of "common benefit," he added.
The Slovenian PM also threw his weight behind Vilnius, which says Beijing has blocked Lithuanian imports over its decision to allow a Taiwanese representative office in the country. The inclusion of the word "Taiwan" contrasted with the more ambiguous "Taipei" used in capitals such as Washington, D.C.
The Taiwanese government's response was to pledge $200 million worth of investment in the Lithuanian economy and offer $1 billion in credit to fund commercial projects in Lithuania and Taiwan.
"Frankly speaking, there is a vast majority of the EU member countries holding some kind of representative offices with Taiwan. Lithuania is not an exception," Jansa said. "There are some slight differences in naming, but this is not important."
He described China's indirect economic sanctions as "terrifying." The EU, meanwhile, says Lithuania's decision was in line with the bloc's "one-China policy," under which trade and cultural ties with Taiwan don't represent a recognition of the island's statehood.
"Formally, the European Union backed Lithuania. Any kind of proceeding pressure on Lithuania and some other countries in Europe will not benefit China's government," said Jansa. "Good trade relations are in common interest. If one side is trying to hurt these relations, maybe they could benefit short term, but long term we are all losers."
Slovenia's leader said his country wouldn't be deterred by the treatment of Lithuania, which had its ambassador expelled and its embassy shut. A stronger ruling coalition in Ljubljana would've already established trade representation with Taiwan, he added.
Neither Jansa nor Taiwan's Foreign Ministry has confirmed when or under what name the new offices will operate.
The mission in Vilnius opened last November. Lithuania's reciprocal office will open in Taipei this year.