Another Mysterious Monolith Appears, This Time in The Netherlands
Another mysterious monolith has appeared in a remote location, this time in the Netherlands.
The structure was discovered in a nature reserve near Oudehorne, a village in the province of Friesland, on Sunday, according to the Algemeen Dagblad newspaper.
According to the newspaper, it's not know how the pillar ended up in the Kiekenberg nature reserve and no footprints were visible around it. But the newspaper reported that unlike the gleaming structures that have appeared in the U.S. and Romania in recent weeks, this one is not shiny. And the Omrop Fryslân television broadcaster reported that the structure may have been in the nature reserve for some time, because ice has formed around the structure.
The discovery continues a strange phenomenon of monoliths that have popped up and disappeared over the past few weeks, sparking much attention on social media.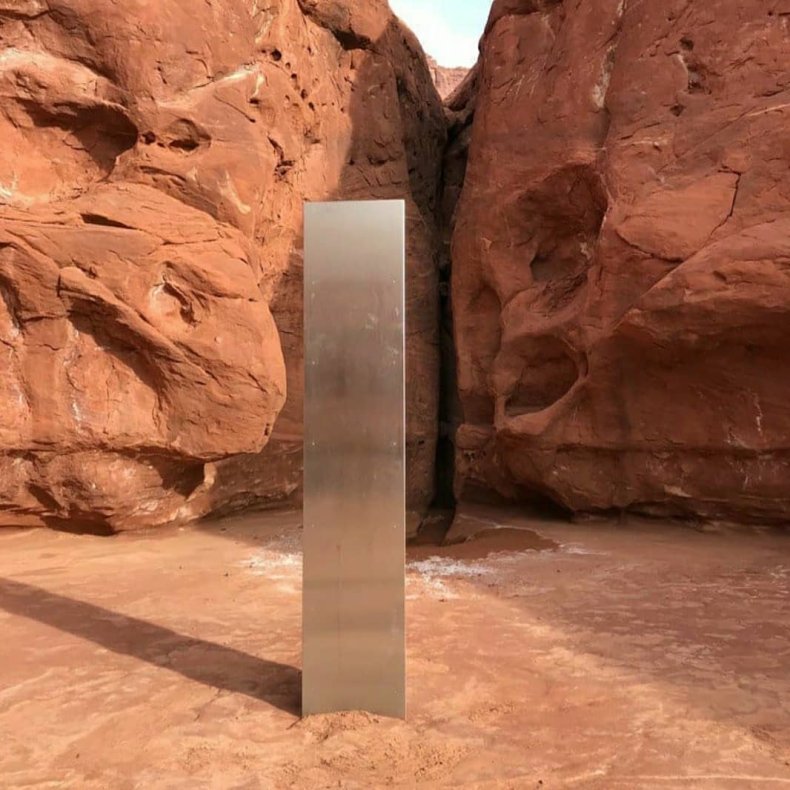 It started when a gleaming metal monolith was spotted in a red rock desert in Utah on November 18 by officials from the Utah Department of Public Safety in a helicopter.
Similar to the one that appears in Stanley Kubrick's 2001: A Space Odyssey, pilot Ben Hutchings told a local news station that it may have been placed there by a fan of the film or it could be an art installation.
Several days later, the monolith was dismantled—although there was less mystery about the structure's removal.
A video posted on Instagram showed four men dismantled and removed the structure. A caption said that while those who took it down supported art and artists and described the dismantling as "tragic," but said the area was not prepared for "the damage caused by the internet sensationalism and subsequent reaction from the world."
But while the Utah monolith was removed, another popped up in Piatra Neamt in Romania around the same time.
According to Reuters, that structure mysteriously vanished days after it was erected, with only a small hole left behind.
The monolith sightings didn't end there—earlier this month, another one appeared in California.
Connor Allen, a reporter with the Atascadero News, tweeted that a shiny obelisk had been discovered at the top of the Pine Mountain in Atascadero.
An article in the newspaper noted that unlike the monolith in Utah, this one was not secure to the ground and "could be knocked over with a firm push."
Days later, the monolith was reportedly torn down by a group of men in a night-time raid and replaced with a large wooden cross, according to the San Luis Obispo Tribune.