Another White House Meeting Blew Up After Democrats Say Trump Became 'Derogatory': 'He Engaged in a Meltdown'
After walking out of a contentious meeting with President Donald Trump at the White House on Wednesday, top Democrats accused him of having a "meltdown" over the House voting overwhelmingly to condemn his decision to withdraw U.S. troops from Syria and alleged that he became "derogatory" toward them.
The meeting was held to discuss ongoing matters in the Middle East and how to combat ISIS, as Turkey invades northern Syria after Trump stated his intent to withdraw U.S. military personnel from the region.
Democratic leaders abruptly left the White House meeting early, with House Speaker Nancy Pelosi (D-Calif.) saying Trump "just couldn't handle" that dozens of House Republicans rebuked him minutes earlier by voting for a bipartisan joint resolution demanding that troops remain in Syria and help the Syrian Kurds against Turkey's military offensive. The Kurds have been U.S. allies for years in America's fight to eradicate ISIS in the region.
Wednesday's meeting marked the third such one at the White House this year between Washington's most powerful leaders where it imploded and either the president or the speaker of the House abruptly walked out. Those previous encounters include an infrastructure meeting in May and another in January during the longest government shutdown in history amid a fight over Trump's border wall funding, a meeting in which he allegedly slammed the table and stormed away.
"He just couldn't handle it, so he kind of engaged in a meltdown," Pelosi told reporters back at the Capitol building. "I pray for the president all the time and I tell him that I pray for his safety and his family. Now, we have to pray for his health, for this was a very serious meltdown on the part of the president."
Trump allegedly walked into the room "angry and defensive," said House Majority Leader Steny Hoyer (D-Md.), who, along with Senate Minority Leader Chuck Schumer (D-N.Y.), also attended the meeting. Hoyer added that the president's attitude "got worse from there."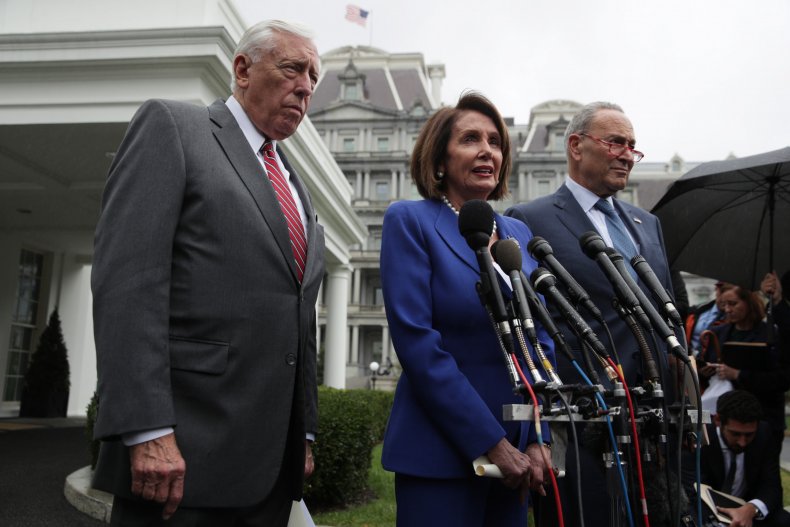 Trump either labeled Pelosi a "third-rate" or "third grade politician," but it's unclear as Hoyer and Schumer said it was the former and Pelosi said it was the latter.
"I wish you were a politician, Mr. President," Pelosi said she told Trump. "Then you would know the art of the possible."
At that point, according to a senior Democratic source familiar with the meeting, Pelosi stood up to leave but began to sit back down. Hoyer convinced her to then leave. As they prepared to walk out, Trump told the Democrats, "I'll see you at the polls," according to the source.
"We were offended, deeply, by his treatment of the Speaker of the House of Representatives," Hoyer said. "This crisis required a rational, reasonable discussion... I have served with six presidents... Never have I seen a president treat so disrespectfully a coequal branch of the government of the United States."
The Maryland Democrat said the meeting turned into a "nasty diatribe."
The House voted 354-60 to condemn Trump's decision to pull U.S. troops from Syria just minutes before the White House meeting commenced, with 129 Republicans—including top GOP lawmakers at the meeting—breaking ranks to side with their Democratic counterparts.
"I think it rattled him," Pelosi said, denying that Trump's anger may have disseminated from House Democrats' ongoing impeachment inquiry.
The Democrats further said it became clear that Trump appeared to lack a plan to curtail ISIS in Syria now that Turkey had invaded and U.S. was working to withdraw troops. Trump told them, according to Schumer, there were "communists involved" within ISIS and that Democrats "might like that."
Several other lawmakers, both Republicans and Democrats, remained at the meeting, despite the top Democrats walking out. House Minority Leader Kevin McCarthy (R-Calif.) after the meeting accused Pelosi of trying to "make everything political."
"To storm out of a meeting, which I've watched time before, during other crisis, is really not the ability of a speaker, or the style, of how a Speaker should carry herself out," McCarthy said. "If she would be focusing on the issues that most Americans are concerned about—her whole focus has to be on impeachment."
Trump later claimed it was "Nervous Nancy" who had an "unhinged meltdown," tweeting out a White House photo of the meeting with Pelosi standing up and pointing at him.
Rep. Michael McCaul (R-TX), the top GOP member of the House Foreign Affairs Committee and an attendee of the meeting, said he was assured by the White House that a "residual force of special operators" would remain to "protect the homeland," rather than a complete withdrawal of U.S. forces. McCaul was one of the cosponsors of the House resolution that condemned Trump.
The senior Democratic source familiar with the meeting said when Schumer began reading a quote from former Defense Secretary Jim Mattis about ISIS resurging if the U.S. does not "keep the pressure on" when Trump interjected.
He responded by saying Mattis was "the world's most overrated general. You know why? He wasn't tough enough. I captured ISIS. Mattis said it would take two years. I captured them in one month." Mattis was forced out early from his post in December 2018 after delivering his resignation letter to Trump.
Hundreds of ISIS prisoners held in facilities in northern Syria have reportedly escaped amid Turkey's invasion. But Trump told lawmakers it was only a fraction of that, twice asserting the terrorists who escaped were "the least dangerous" ones. Defense Secretary Mark Esper concurred with Trump that the number was less than 100, but he did not state whether he agreed with the claim they were the "east dangerous," according to the Democratic aide.