'Anthem' Triple Threat Mission Guide: Deactivate the Manifold Barrier and Complete the Puzzle
The Anthem demo is now live, giving players who missed out on the VIP demoa chance to try the game. Once you figure out how to control your Javelin and how to fly, the game can be an absolute blast. After leaving Fort Tardis, you have the chance to complete a series of missions that give you a sense of what the full game will be like when it releases on February 22. One of those missions is "Triple Threat" which has a puzzle that has been causing players some distress since it isn't easy to solve.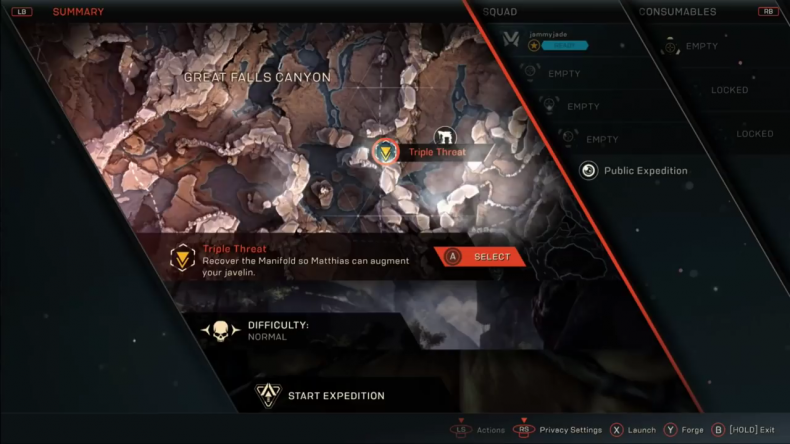 Anthem Triple Threat Puzzle: How to Deactivate the Barrier
After starting the "Triple Threat" mission, you'll have to slaughter a bunch of nameless NPC mobs in order to get inside the vault. Once inside the chamber, you'll encounter a trio of Dominion enemies that like to float through the air until their shields have been broken. Clear these enemies and you'll see three portals around the room that can be rotated between four different colors: yellow, blue, red and purple.
To complete the puzzle, you'll need to switch the portal colors to the corresponding light on the wall. Near each portal there's a small light that you'll miss if you aren't looking for it. It's just a speck, but once you know what you are looking for, you can't miss it. One is behind the wall, while the other is on the fence right in front of the portal. Change each color and you'll unlock the Manifold, a powerful artifact, and complete the mission.
Did you manage to beat the Triple Threat mission by yourself or did you need a team? Tell us in the comments.