Anthony Bourdain Called Girlfriend Asia Argento 'Inspiring'
Celebrity chef and CNN host Anthony Bourdain was found dead Friday of an apparent suicide, CNN reported. The 61-year-old had been dating Italian actress Asia Argento since 2016. The two met when Argento appeared on season eight of Parts Unknown, according to an interview the pair did with People magazine in March.
"[Asia] has spent a lifetime in film since she was 9 years old. She comes from generations of filmmakers on both sides of the family," Bourdain told People in another interview in September 2017. "She's a really accomplished director and writer, along with being a longtime actress and a real sponge for culture, music, literature. So she's enormously helpful and inspiring."
During the September interview, Bourdain compared them to "circus freaks" because they spent a lot of time away from home, working.
"We both work a lot. And we're both away from home a lot, so we're both circus freaks in the same circus—or different circuses, I guess," Bourdain said.
Argento shared a picture of Bourdain on her Instagram on May 30 and told her followers about a new episode of Bourdain's show she'd directed.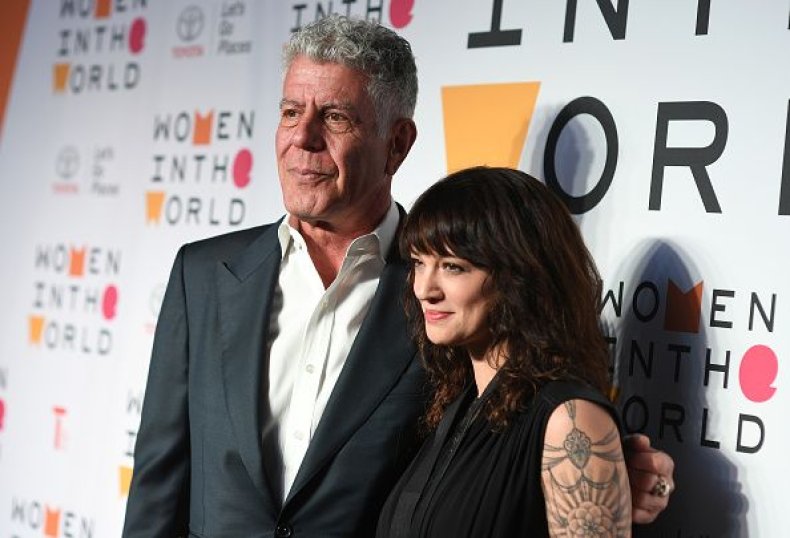 Bourdain also was very supportive when Argento came forward with her story in The New Yorker about allegedly being assaulted by Hollywood producer Harvey Weinstein when she was 21 years old.
"@AsiaArgento I am proud and honored to know you. You just did the hardest thing in the world," Bourdain tweeted in October.
During an interview with IndieWire in June, Bourdain gushed over Argento's acceptance speech for the best actress award at the Cannes Film Festival, where she slammed Weinstein. "From the second she said she'd been invited to present an award, I knew it would be a nuclear bomb. I was so proud of her. It was absolutely fearless to walk right into the lion's den and say what she said, the way she said it. It was an incredibly powerful moment, I thought. I am honored to know someone who has the strength and fearlessness to do something like that."
On Friday, People, calling Bourdain a "fiercely outspoken supporter of the #MeToo movement," highlighted that the star chef hosted in November a dinner for Argento, Rose McGowan and Annabella Sciorra, two more women who have also accused Weinstein of assault. "It was an honor to cook for this meeting of the minds," Bourdain tweeted.
Responding to Bourdain's passing, Argento tweeted on Friday: "Anthony gave all of himself in everything that he did. His brilliant, fearless spirit touched and inspired so many, and his generosity knew no bounds. He was my love, my rock, my protector. I am beyond devastated. My thoughts are with his family. I would ask that you respect their privacy and mine."
Bourdain was found unresponsive by his close friend, the French chef Eric Ripert, in his hotel room Friday morning. The celebrity chef reportedly was working on an upcoming episode of the CNN series Parts Unknown,CNN stated.
This story and its headline have been updated with additional reporting.
If you have thoughts of suicide, confidential help is available for free at the National Suicide Prevention Lifeline. Call 1-800-273-8255. The line is available 24 hours a day, every day.
Read a note from Newsweek's editor in chief about covering suicide.