Anthony Fauci Backs Vaccine Mandates for School Children: 'We've Done This for Decades'
Dr. Anthony Fauci has come out in support of potential vaccine mandates for school children should a COVID-19 vaccine eventually be cleared for the age group. One of the top infectious disease experts in the U.S. and an advisor to President Joe Biden, Fauci cited the country's long history of mandating other vaccines during a Sunday appearance on CNN's State of the Union.
"I believe that mandating vaccines for children to appear in school is a good idea," Fauci said. "This is not something new. We have mandates in many places in schools, particularly public schools, that if in fact you want a child to come in—we've done this for decades and decades requiring [vaccines for] polio, measles, mumps, rubella, hepatitis. So this would not be something new, requiring vaccinations for children to come to school."
As it stands now, the FDA's recent full approval of the Pfizer vaccine applies only to people 16 and older. Despite this, Fauci has previously said that he believes there's "a reasonable chance" that the FDA should have sufficient data to make a decision on vaccines for children younger than 12 by early October.
Newsweek has reached out to the National Institute of Allergy and Infectious Diseases about Fauci's support of potential mandates.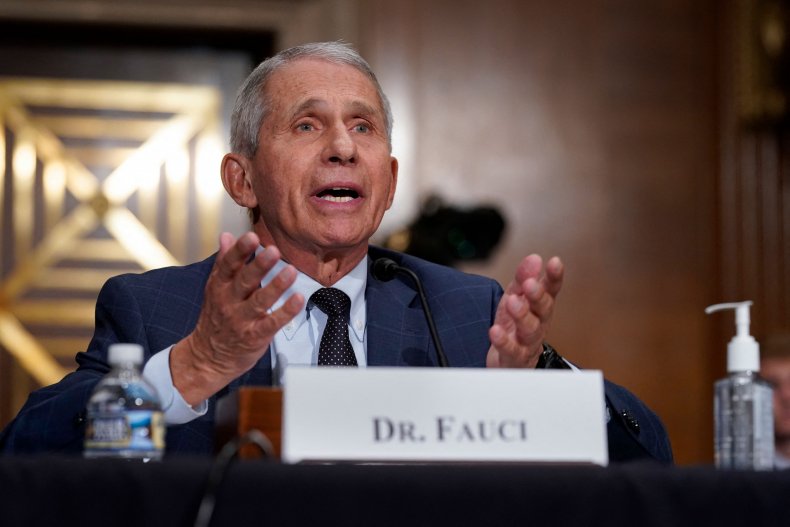 COVID-19 has continued to wreak havoc as children and teens return to in-person teaching for the 2021-2022 school year. While young people are often thought of as low-risk groups for the virus, schools across the country have nevertheless been rocked by outbreaks, forcing shutdowns and mass quarantines in some cases. In Georgia, for example, school kids were recently testing positive for the virus at a rate of nearly 2,000 per day on average.
The recent COVID resurgence has hit Southern states, where vaccination rates are low and vaccine hesitancy is high, especially hard amid the spread of the much more virulent Delta variant of the virus.
In Florida, Republican Governor Ron DeSantis has taken some of the most concrete measures against mask mandates for schools. Prior to the start of the new school year, DeSantis signed an executive order aimed at making mask use the sole authority of parents and gave the state government the ability to deprive schools that put mask mandates in place of funding. This order was defied by numerous school districts in the face of surging cases and was eventually struck down in court.