Fauci: COVID Attacks Are Politically Motivated Among Trump Allies
Anthony Fauci has said that allegations he covered up the true origins of the coronavirus pandemic are "politically motivated," and alleged that Republican politicians had expressed a desire to "hang" him during their election campaigns.
The former chief medical advisor to the president—who became a highly visible figure in the government's messaging on COVID-19—recalled being "not comfortable" contradicting then-President Donald Trump on some of his public statements.
Cases of COVID-19 first emerged in Wuhan, China, in late 2019, before spreading throughout the world. The virus has caused the deaths of more than 1.1 million people in the U.S. alone, according to the Centers for Disease Control and Prevention.
Fauci, who served as the top advisor on Trump's White House Coronavirus Task Force, has been repeatedly accused of attempting to obfuscate indirect United States funding of the Wuhan Institute of Virology, and previously testified that America had never financed research to enhance viruses in a lab.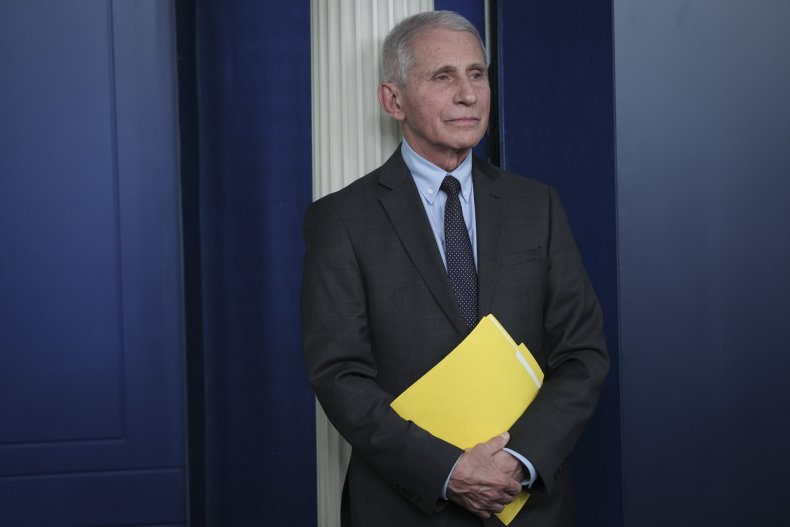 It comes as two U.S. intelligence agencies have said they believe COVID-19 was the result of a mishap in a Chinese lab, rather than the virus crossing the species barrier from an infected animal. The revelations have reignited scrutiny of the government's handling of the pandemic.
On March 5, Republicans on the coronavirus pandemic subcommittee released a memorandum that accused Fauci of orchestrating the publication of a scientific paper that would suggest against the lab leak theory.
In a statement to Newsweek, Fauci described this as "false and misleading."
Rand Paul, a GOP senator for Kentucky, told Fox News two days later that Fauci was responsible for "an elaborate cover-up" which Paul claimed he had undertaken as "ultimately he would have culpability."
Asked about accusations of a cover-up by NewsNation's Chris Cuomo on Tuesday, the former director of the National Institute of Allergy and Infectious Diseases said: "I think it's pretty clear that it's really politically motivated."
"It's no secret that almost all of the incumbent Republican politicians that were running, and those who are running for the first time, had interspersed in their campaigns, you know, 'fire Fauci', 'indict Fauci', 'hang Fauci'," he added. "It's a political thing."
In April 2022, John Bennett, then-chairman of the Oklahoma Republican Party, was filmed telling an audience that Fauci should be put "in front of a firing squad" while running for Congress. In September 2021, Wyoming state senator Anthony Bouchard posted a meme on his Facebook page, which has since been removed, while running for Congress depicting the gallows and Fauci, which he captioned: "After prosecution, the chair, the gallows, or lethal injection?"
Fauci stated that Trump was "saying things that were just not true," referencing his May 2020 statement that he was taking the malaria drug hydroxychloroquine to prevent infection from COVID-19, and added that "in order to preserve my own personal integrity," he had to "tell the truth."
"I was not comfortable in having to get up and contradict the President of the United States, because I have a great deal of respect for the office of the presidency," Fauci said. "But I had to do that—and that triggered a degree of hostility in which I became a target and it's gotten worse and worse."
Steven Cheung, a Trump spokesperson, told Newsweek: "Fauci has proven himself to be a liar and fraud. History will judge him, and it will not be kind."
Fauci declined to comment.
The prevailing opinion among intelligence analysts and scientists appears to remain that COVID-19 likely spread into the human population by jumping the species barrier from livestock in the Huanan Seafood Wholesale Market, a wet market in Wuhan.
On February 26, The Wall Street Journal reported that intelligence analysts at the U.S. Department of Energy now believed the virus emerged from a Chinese lab. Two days later, FBI Director Christopher Wray told Fox News the agency had adopted this theory "for quite some time." The Chinese government has repeatedly denied the claims.
Fauci reiterated to Cuomo that he had "kept an open mind from day one" and continues to, but noted that "outstanding evolutionary scientists from all over the world" had analyzed the data and "have come to the conclusion that it's more likely that it came from a natural occurrence from the wet market."
A July 2022 study concluded, by analyzing where the locations of the earliest human cases were concentrated, that the virus likely infected humans via the Huanan Seafood Wholesale Market in Wuhan.
Addressing allegations that he had attempted to skew a scientific paper against supporting the lab leak theory, Fauci said there was "a very open, in good faith discussion" and that the scientists he spoke to "came to the conclusion that in fact, it is more likely that it was not something that was engineered, but something that actually escaped from a wet market."
He called the allegation "conspiracy at its height" and "really ridiculous." Newsweek has reached out to the office of Brad Wenstrup, the coronavirus subcommittee's chair, for comment.
The lab leak theory entertained by members of the intelligence community suggests that the virus escaped via a mishap, rather than the virus being released into the population as some form of bioweapon.
Update 03/16/23, 4:09 a.m. ET: This article has been updated to include comment from Trump spokesperson Steven Cheung.