What Anthony Fauci Has Said About Omicron COVID Variant
Dr. Anthony Fauci has raised the possibility that flights to the U.S. from southern Africa may be banned as a measure against the new Omicron COVID variant.
The European Union and the U.K. have moved to tighten border controls to those arriving from southern Africa where the variant of the disease has been detected, although the World Health Organization (WHO) warned against acting too hastily.
Fauci, the chief medical adviser for President Joe Biden, told CNN that U.S. scientists would speak to their counterparts in South Africa about the variant that has sparked alarm over its transmissibility.
Fauci told CNN on Friday: "There is always the possibility of doing what the U.K. has done," which involved blocking travel from South Africa and "related countries."
"That's certainly something you think about and get prepared to do," Fauci said, "you're prepared to do everything you need to protect the American public."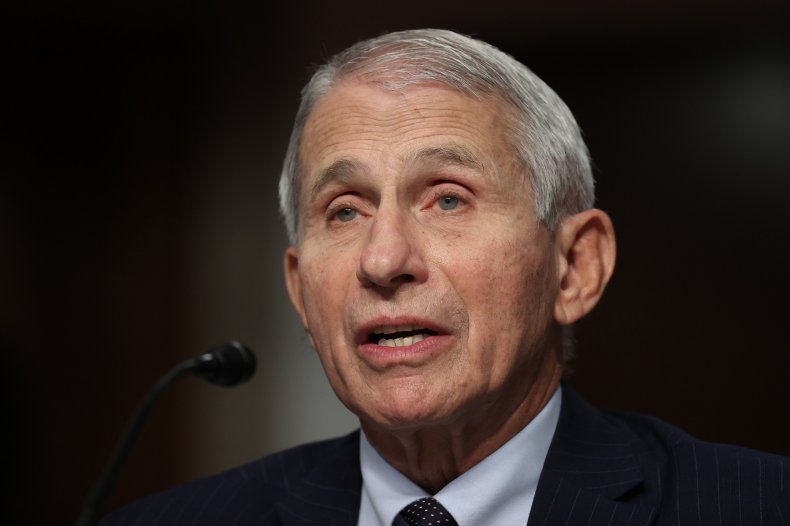 "We need to get the facts," he told the network, adding that there is "no indication" that it has reached the U.S.
On Friday, the World Health Organization renamed the B.1.1.529 strain the Omicron COVID variant using the Greek alphabet naming system and classified it as a "variant of concern."
It is thought to have over 30 mutations in a part of the virus called the spike protein, which the coronavirus uses to enter the cells it attacks.
Fauci said these mutations "are raising some concern, particularly with regard to possibly transmissibility increase, and possibly evasion of immune response."
He said that testing was required to find out whether it can evade the antibodies made through a vaccine. "The answer is we don't know right now," he told the network, "but we're going to find out for sure."
The Omicron variant appears to have first emerged in Botswana and has been detected in South Africa, Hong Kong and Israel. So far, 87 confirmed cases have been identified according to an online tracker.
Japan and Israel joined the U.K. in imposing travel restrictions from southern Africa amid concerns that the new variant carries a high number of mutations.
Flights to the U.K. from South Africa and five neighboring countries, Botswana, Eswatini, Lesotho, Namibia and Zimbabwe, have been temporarily banned from Friday.
Israel has restricted flights from the same countries, as well as Mozambique.
Meanwhile, European Commission President Ursula von der Leyen, said it was looking at working with EU members to look at stopping air travel from the southern African region.
However, Angelique Coetzee, chairperson of the South African Medical Association, told the BBC that the decision to impose travel restrictions was "premature," adding that "for now, it is a storm in a tea cup."
Newsweek has contacted the White House for comment.
UPDATE 11/26/21 12:17 p.m. ET: This article was updated to include additional information.