Anthony Fauci, Deborah Birx and Brett Giroir Urge Trump to Tell Supporters to Get COVID Vaccine
Former members of the White House coronavirus task force are calling for former President Donald Trump to urge his supporters to get a COVID-19 vaccine.
Dr. Anthony Fauci, Dr. Deborah Birx and Admiral Brett Giroir have all said that Trump should encourage his supporters to get vaccinated, since hesitancy about the vaccine among Republicans and Trump supporters continues to pervade.
"I think it's very important for former President Trump, as well as the [former] vice president [Mike Pence], to actively encourage all of their followers to get the vaccine," Giroir, who served as the coronavirus testing czar in the Trump administration, told CNN on Monday.
"We all have to get together and urge every American," Giroir said. "The people who follow the former president are very committed to President Trump, and I think his leadership still matters a great deal."
Later that same evening, Birx sent a similar message to the former president, telling ABC News that she hopes Trump will join the other former presidents who have promoted vaccinations to the American public.
"I hope President Trump lends his voice to that. I think it is important. But to every Trump supporter out there: Protect yourself, protect your family. Get vaccinated," she said.
A new public service announcement released by the White House showed four former presidents—Barack Obama, George W. Bush, Bill Clinton and Jimmy Carter— and former first ladies touting COVID vaccines, but Trump and his wife Melania Trump were notably missing.
"Four presidents. Two political parties. One clear message: Get vaccinated when it's available to you," the White House tweeted on Monday.
Many public officials, including Biden, Pence and Fauci, publicly broadcasted their first vaccine dose to help encourage trust in the safety of vaccines.
However, Trump and the former First Lady Melania, who both contracted COVID-19 back in September, were both vaccinated privately before leaving the White House—a fact that was confirmed after the former president spoke at CPAC, where he briefly said, "Everybody, go get your shot."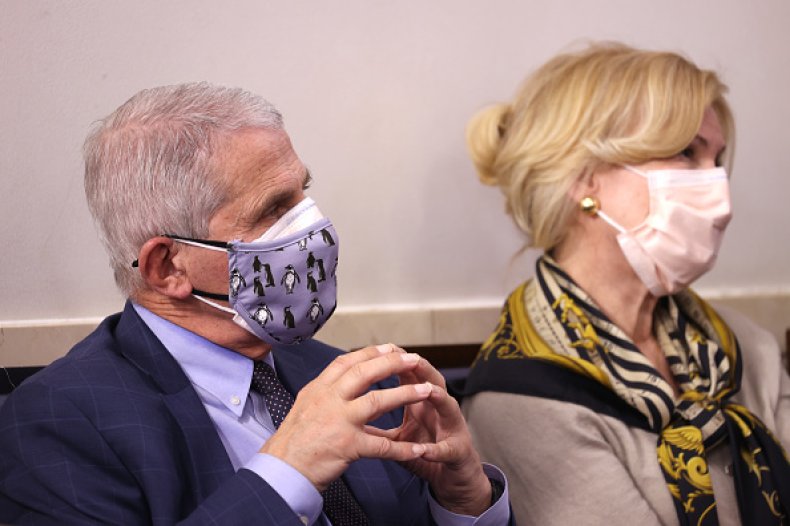 Fauci called it "puzzling" that Trump hasn't been more outspoken on the issue and said he hopes that the former president will begin encouraging people, especially his supporters, to get the vaccine.
"I hope he does, because the numbers that you gave are so disturbing," Fauci told NBC's Meet the Press on Sunday. "How such a large proportion of a certain group of people would not ... want to get vaccinated merely because of political consideration, it makes absolutely no sense. ... We've got to dissociate political persuasion from what's common sense, no-brainer public health things."
Republicans and Trump supporters have been found to be among the demographics most resistant to getting vaccinated.
In an NPR/PBS NewsHour/Marist survey released last week, 49 percent of Republican men, 47 percent of Trump supporters and 41 percent of Republicans overall said they would not get a COVID vaccine if one would be made available to them. Forty-seven percent of Trump's 2020 voters would equate to 33 million people who refuse to get a vaccine.
"I think it would make all the difference in the world," Fauci added while on Meet the Press, referring to the impact that Trump's encouragement could have. "[Trump is] a very widely popular person among Republicans. If he came out and said, 'Go and get vaccinated, it's really important for your health, the health of your family and the health of the country,' it seems absolutely inevitable that the vast majority of people who are his close followers would listen to him."
In order to reach herd immunity, Fauci said 70 percent of the population would need to be vaccinated.
So far, more than 20 percent of the U.S. population has received at least one dose of a COVID vaccine.
Newsweek reached out to Trump's office for comment, but did not hear back before publication.