Anthony Fauci Did Not Wear a Mask in Private—Kellyanne Conway
Former White House counselor Kellyanne Conway has claimed that Dr. Anthony Fauci did not wear a mask amid the pandemic during private meetings but "like magic" would put one on if a photographer entered the room.
The claim from Conway is made in her new memoir, Here's the Deal, excerpts of which were published by The Washington Poston Tuesday ahead of its release.
"No masks was standard fare in the White House Situation Room, where Dr. Fauci was more likely to wear 'Dr. Fauci' socks than a mask," Conway said.
"Then, like magic, when D. Myles Cullen, the vice president's photographer, came into the room, masks would suddenly appear."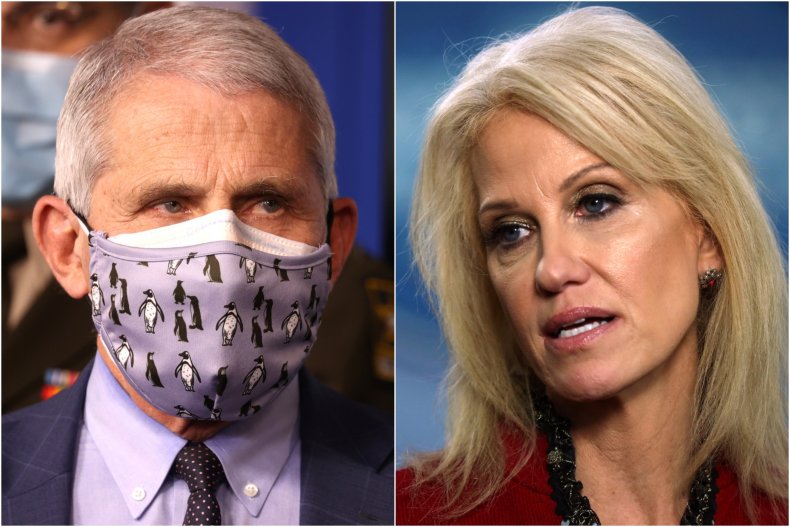 The allegation against Fauci, the White House chief medical adviser and director of the National Institute of Allergy and Infectious Diseases, is one of a number of criticisms Conway gives towards the experts leading the country's response to the coronavirus.
Conway also accused Fauci and his team of being too slow to react to the seriousness and potential magnitude of the coronavirus, with the virus going on to contribute to the deaths of more than one million people in the U.S.
Fauci has frequently come under condemnation from GOP figures for the apparently contradictory advice he offered throughout the pandemic, as well as the implementation of COVID-related restrictions and shutting down of businesses.
Others, including GOP representatives Marjorie Taylor Greene and Jim Jordan, have called for Fauci to be investigated over his handling of the pandemic and for not publicly supporting the disputed claim the virus emanated from a lab in Wuhan, China.
Newsweek reached out to Fauci for comment.
Elsewhere, Conway also criticized a number of other people connected to Trump's presidency, including his son-in-law and former senior adviser, Jared Kushner.
In her book, Conway called Kushner a "shrewd and calculating" person who vastly overestimated his expertise.
"There was no subject he considered beyond his expertise," Conway wrote. "Criminal justice reform. Middle East peace. The southern and northern borders. Veterans and opioids. Big Tech and small business. If Martian attacks had come across the radar, he would have happily added them to his ever-bulging portfolio."
"He'd have made sure you knew he'd exiled the Martians to Uranus and insisted he did not care who got credit for it," Conway continued. "He misread the Constitution in one crucial respect, thinking that all power not given to the federal government was reserved to him."
Conway said her relationship with Kushner became strained after he accused her of leaking stories to the press to undermine Trump, an accusation she denied.
It was previously reported that Conway also revealed in her book that Trump considered pulling out of the 2016 Election over the infamous Access Hollywood tape.
The recording, on which Trump is heard boasting that women let him "grab 'em by the p***y" because he is famous, was released just weeks before the Election Day 2016 and threatened to derail his campaign.
Conway, who served as Trump's campaign manager at the time, said he asked whether he should withdraw due to the intense backlash around the comments.
"You actually can't," Conway quotes herself telling him, "unless you want to forfeit and throw the whole damn thing to Hillary [Clinton]."
Conway said it was too late for Trump to pull out of the race by then as early voting had already begun but reassured him the comments would not damage his chances of winning. Conway adds she did tell Trump his remarks were "disgusting" and "reprehensible."
Despite this, Conway describes Trump in her book as a feminist and someone who often supported her career.
"Donald Trump had elevated and empowered me to the top of his campaign, helping me crack glass ceilings that had never even been dinged before," she said.
Conway added that "angry feminists" should "have at least once in their lives a 'girl boss' as generous, respectful, engaging, and empowering as Donald Trump was to me and my other female colleagues."