Trump Considered Quitting 2016 Election Over Tape Leak—Kellyanne Conway
Donald Trump considered dropping out of the 2016 presidential race after the leak of the infamous Access Hollywood tape, according to an excerpt from Kellyanne Conway's new memoir.
Trump drew substantial backlash in October that year after he was heard boasting to Billy Bush that woman let him "grab 'em by the p***y" in an interaction that was caught on a hot mic, threatening to derail his campaign just weeks before Election Day.
While the former president publicly denied that he ever mulled dropping out, Conway writes that they had discussed the future of his candidacy in Trump Tower on the night of October 8, 2016, The Daily Beast reported, after obtaining a copy of Conway's memoir ahead of its release on Tuesday.
Trump was concerned by reports that the GOP "could force him off the ticket or hold a vote to expel him," Conway, who was the former president's campaign manager before serving as a White House counselor, writes in her book.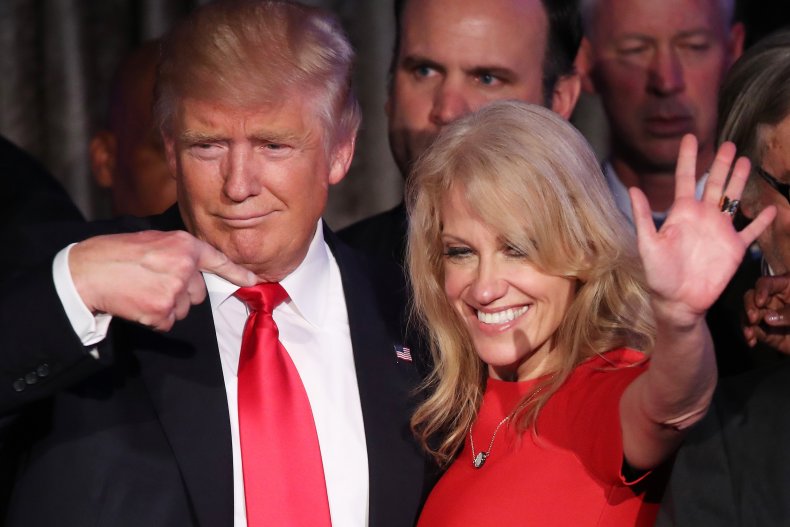 "Should I get out [of the race]?" he asked Conway, according to the book.
Conway writes that at the time, she questioned whether Trump was testing her or if he really was second-guessing himself, the Daily Beast reported.
"You actually can't," Conway quotes herself telling him, "unless you want to forfeit and throw the whole damn thing to Hillary [Clinton]."
According to the book, Trump reportedly replied: "What do you mean I can't?"
Conway said she informed him that dropping out of the race at that stage was not an option because early voting had already begun.
'Will We Lose? Can We Still Win?'
"I know you don't like to lose, but I also know you don't like to quit," she told him, according to her memoir.
Conway indicated that Trump seemed to harbor doubts. "Will I lose? Will we lose? Can we still win?" she quotes him saying.
She goes on to say that she reassured him that he would triumph, but also told him the recorded remarks were "disgusting" and "reprehensible."
Trump spokeswoman Liz Harrington told Newsweek that the reporting was "totally false."
"This is totally false and not even what Kellyanne Conway's book says. This is a total fake news invention," she said.
Trump apologized for the remarks the day the video was leaked, but minimized it as "locker room banter."
In an interview with The Washington Post on October 8, 2016, he denied he would withdraw his candidacy.
"I'd never withdraw. I've never withdrawn in my life," he said. "No, I'm not quitting this race. I have tremendous support."
"People are calling and saying, 'Don't even think about doing anything else but running," Trump said when asked about the calls from some Republicans for him to drop out.
Update 5/23/22, 10:15 a.m. ET: This article has been updated with a comment from Liz Harrington.
Update 5/24/22, 4 a.m. ET: This article has been updated with further comment from Liz Harrington.