Fauci Says People Don't Like His Integrity: 'Alienated a Lot of People'
Dr. Anthony Fauci has told an interviewer that his integrity and responsibility to be honest with the public have alienated a lot of people.
Fauci, the president's chief medical adviser, reflected on his unpopularity among certain groups in a conversation with CNN's Kasie Hunt, which was broadcast on Jake Tapper's Thursday night show.
Tapper introduced the segment by describing how Fauci "became a lightning rod for criticism during his time in the Trump administration."
Fauci, director of the National Institute of Allergy and Infectious Diseases (NIAID), told Hunt about the difficulties of correcting the Trump administration on COVID-19 facts—but insisted that he had to do it.
"With the divisiveness during the Trump administration, it was no secret that I had to do something that was not pleasant and not comfortable, and I didn't desire it," he said.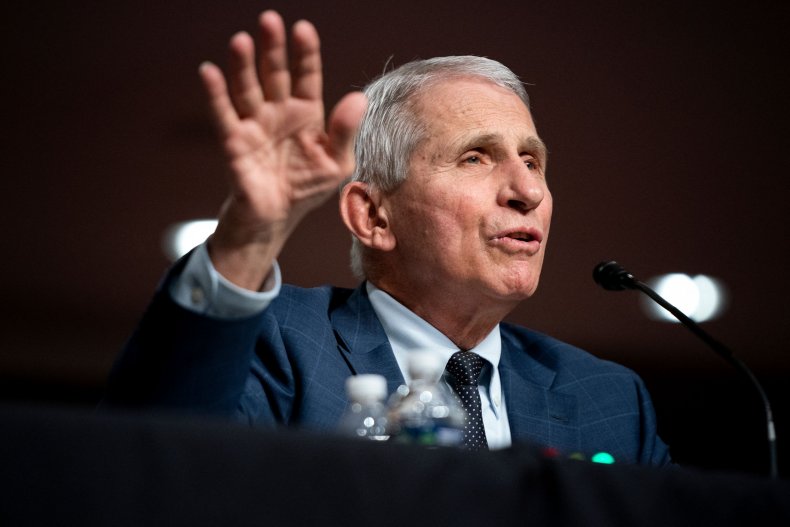 "I had to be publicly correcting misrepresentation on the part of the president and on the part of people in the administration."
He went on: "You know, the people who were talking about hydroxychloroquine and ivermectin and 'The virus is going to go away, it's going to disappear.'
"I had to maintain my integrity as well as my responsibility to the public to tell them the truth. That clearly alienated a lot of people."
Fauci has previously discussed the animosity he has faced from some politicians since the start of the coronavirus pandemic.
In November 2021, he spoke to Margaret Brennan on Face the Nation and reiterated his resolve to do his job well.
"I dealt with it by focusing on what my job is. From the time that I went into medicine to right now where I am at my age. My job has been totally focused on doing what I can with the talents and the influence I have to make scientific advances to protect the health of the American public," Fauci said.
"So, anybody that spins lies and threatens and all that theater that goes on with some of their investigations and the congressional committees and all that other nonsense, that's noise. I know what my job is."
Fauci, who is 81, has been in his NIAID post since 1984. He hinted in March that he might retire soon, saying he "can't stay at this job forever."
On ABC'S Start Here podcast, hosted by Brad Mielke, Fauci discussed his future plans. "I said that I would stay in what I'm doing until we get out of the pandemic phase, and I think we might be there already."
He added: "I don't have any plans right now to go anywhere, but you never know."
Fauci also told Mielke he would rather not have his staff find him "slumped over my desk one day" and would like to spend more time with his wife and family.