Dr. Fauci Hints He May Retire Soon as Rand Paul Works to Get Him Fired
Dr. Anthony Fauci, the U.S.'s top infectious disease expert, says he "can't stay at this job forever," alluding to his retirement as he increasingly becomes the target of Republican lawmakers seeking to reduce his authority.
Fauci made the remarks Friday on ABC's Start Here podcast, signaling he was considering stepping down from the once relatively obscure position after becoming a household name during the COVID-19 pandemic. The doctor's newfound notoriety came with conservative detractors who argue that pandemic restrictions advocated by Fauci have gone too far. Recently, they've intensified their attacks on Fauci.
Podcast host Brad Mielke asked Fauci of his future plans, as the doctor said he would stick around until the end of the pandemic, now in its second year. Mielke noted that Dr. Ashish Jha, dean of the Brown University School of Public Health, had been hired by the White House as their coronavirus response coordinator.
"Well, I said that I would stay in what I'm doing until we get out of the pandemic phase, and I think we might be there already," replied Fauci, 81.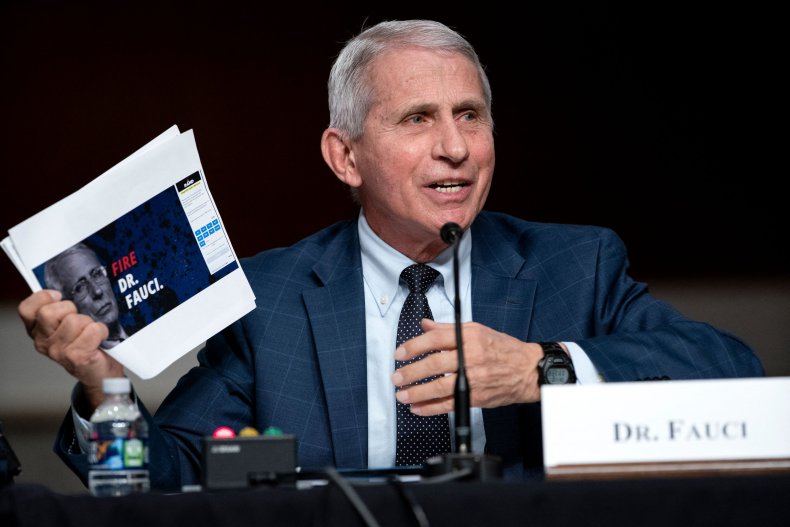 He added, "I don't have any plans right now to go anywhere. But you never know."
Two years after the World Health Organization (WHO) declared COVID-19 a pandemic, case numbers in the U.S. have been on the decline and vaccination rates on the rise. State governments have begun relaxing masking and other requirements, which were often based on guidance from federal public health authorities.
However, earlier this week Republican Senator Rand Paul of Kentucky introduced legislation that would divide Fauci's position, director of the National Institute of Allergy and Infectious Diseases (NIAID), into three separate jobs.
"We've learned a lot over the past two years, but one lesson in particular is that no one person should be deemed 'dictator-in-chief,'" Paul said in a press release announcing the amendment. "No one person should have unilateral authority to make decisions for millions of Americans."
Paul's press release said his amendment would "ensure that ineffective, unscientific lockdowns and mandates are never foisted on the American people ever again."
Previously, Fauci and Paul have clashed during Senate hearings and elsewhere.
In November, Paul accused Fauci and NIAID of shared responsibility for starting the pandemic by funding banned research. Fauci has denied the accusation.
In January, Fauci accused Paul of "distorting virtually everything" that he had said about the pandemic for political gain. During the exchange, Fauci said Paul's attacks have led to death threats and harassment of his family.
"You personally attack me and with absolutely not a shred of evidence of anything you say," Fauci said. "So I would like to make something clear to the committee, he's doing this for political reasons."
Paul fired back in a fundraising email calling Fauci "hysterical."
Speaking on the Start Here podcast, Fauci said he would rather not have his staff find him "slumped over my desk one day," adding he'd like to spend more time with his wife and family.
Newsweek reached out to NIAID and Senator Paul's office for comment.