Anthony Fauci Says 'Get Over This Political Statement' and Get Vaccinated as COVID Rates Spike
Dr. Anthony Fauci has pleaded with vaccine-hesitant Americans wanting to make a "political statement" to "get over it" by becoming vaccinated against COVID-19 as dangerous new variants fuel the ongoing pandemic.
Fauci made the remarks during a Wednesday evening appearance on MSNBC's All In with Chris Hayes. The longtime director of the National Institute of Allergies and Infectious Diseases (NIAID) and chief medical adviser to President Joe Biden expressed befuddlement that politics were pushing some away from the vaccines.
Fauci stressed that COVID-19 had "a solution" unlike some of the more "frustrating" diseases that he has work to combat. He urged those who are refusing the vaccines to change their minds for the sake of potentially saving the lives of their family members and others, if not themselves.
"This is not complicated," said Fauci. "We're not asking anybody to make any political statement one way or another. We're saying try and save your life. And that of your family and that of the community... We have a vaccine that's highly, highly effective in preventing disease and certainly in preventing severe disease and hospitalization."
"It's easy to get, it's free and it's readily available," he added. "So, you know, you've got to ask, what is the problem? Get over it. Get over this political statement. Just get over it and try and save the lives of yourself and your family."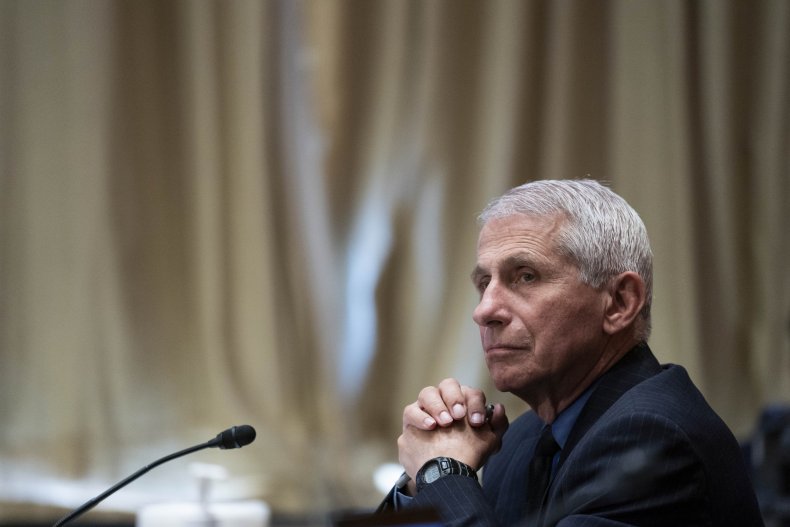 Biden announced a "community by community, neighborhood by neighborhood" plan to convince vaccine holdouts to become inoculated on Tuesday. The effort includes "literally knocking on doors," something that has been blasted by some prominent conservatives as intrusive government overreach. Fauci defended the plan.
"You know, it's not like we're out there trying to sell encyclopedias," Fauci said. "We're out there trying to get people to save their lives—those of their loved ones, and those of the community. So, whatever it takes... We're not talking about the government knocking on your door. We're talking about people who you can relate to in the community who you trust."
Biden announced the plan after falling short in his goal of having 70 percent of the adult U.S. population receive at least one dose of COVID-19 vaccine by July 4. Just over 67 percent of U.S. adults had received at least one dose, with a little over 58 percent being fully vaccinated, as of Wednesday, according to the Centers for Disease Control and Prevention.
Cases and deaths from COVID-19 have fallen significantly since the height of the pandemic, although experts have warned that the trend has been reversing in areas with low vaccination rates amid the rise of the Delta variant. Politics do appear to play a role in low vaccination rates, with states Biden won in 2020 generally having the highest vaccination rates.
Newsweek reached out to NIAID and the White House for comment.