Here Are Some of Greatest Individual Games in Sports History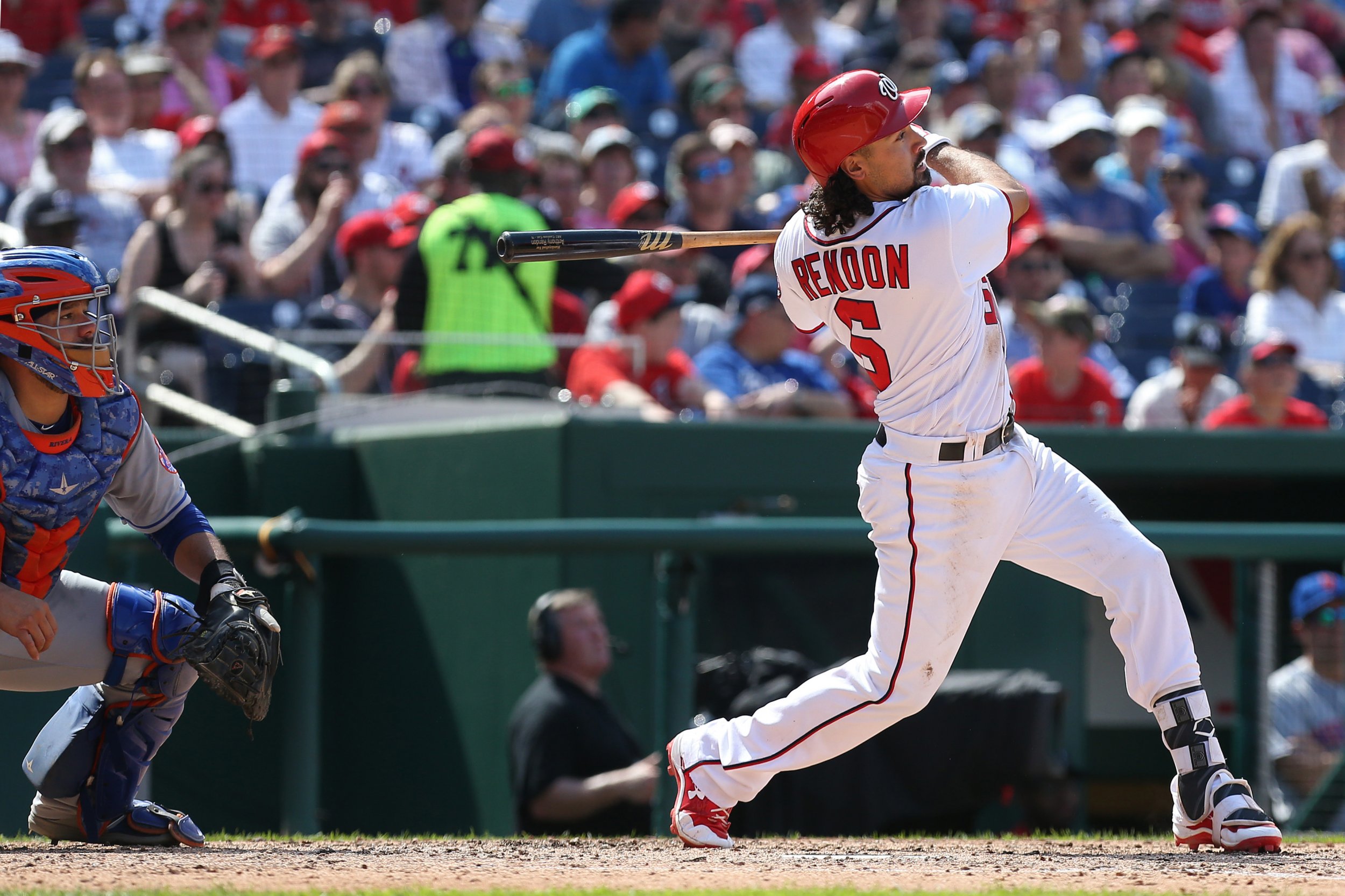 Anthony Rendon wasn't having a very good start to the 2017 season as his Washington Nationals prepared to finish off their series against the rival New York Mets on Sunday. Through 22 games, he logged only 5 RBI and 5 runs scored, and he had failed to hit even a single home run. But in that one game against the Mets, Rendon looked like one of the best players in the league, going 6-for-6 with 5 runs scored, 10 RBI and 3 home runs. It was one of the greatest individual performances in baseball history. Only one other player in the game's history has been able to manage 6 hits, 3 home runs and 10 RBI in a single game: In 1949, Walker Cooper of the Cincinnati Reds went 6-for-7 with 3 home runs and 10 RBI. Unlike Cooper, Rendon was never retired.
Related: Martha Stewart and baseball's greatest superstition, the perfect game jinx
Was Rendon's single-game performance the greatest in baseball history? It's hard to say. Dating back to 1894, players have hit 4 home runs in a game 16 times, the most recent coming in 2012. when Josh Hamilton of the Texas Rangers clobbered the Baltimore Orioles. Hamilton went 5-5 on the day, with a double and 8 RBI to go along with his 4 home runs. In 1993, Mark Whitten of the St. Louis Cardinals hit 4 home runs and drove in an MLB-record 12 runs, but "only" went 4-5. In 2002, Blue Jays outfielder Shawn Green set the record for total bases in a game, with 19, when he went 6-6 with 4 home runs and a double, but he drove in a measly 7 runs.
It's hard to say any offensive player has had a game that was unequivocally better than Rendon's on Sunday.
What about pitchers? Statistician Bill James developed a metic called "game score" to determine how well a pitcher performed on a given day. If a pitcher were to throw a perfect game in which he struck out all 27 batters he faced, his game score would be 114. The highest game score ever recorded, 105, came in 1999, when Kerry Wood struck out 20 Houston Astros as part of a one-hit, zero-walk shutout. The highest game score in a no-hitter is 104, achieved by Max Scherzer of the Nationals in 2015, Scherzer allowed no hits and no walks while striking out 17. He fell short of a perfect game only because of a throwing error in the 6th inning. If you're a perfect game purest, the best ones were thrown in 1965, by Sandy Koufax of the Los Angeles Dodgers, and in 2012, by Matt Cain of the San Francisco Giants. Each pitcher struck out 14 en route to perfection.
It's pointless to try to compare the greatest hitting performances to the greatest pitching performances, which means that, yes, you could make an argument that Rendon had the greatest baseball game ever on Sunday.
What about top performances in other sports?
Basketball
The discussion around the greatest individual performance in a basketball game begins and ends with Wilt Chamberlain's 100-point game in 1962. It was certainly a selfish effort, and one could argue for the need to better incorporate teammates, but it's hard to deny the magnitude of dropping 100 on someone.
This year, however, yielded an especially high number of fruitful box scores, thanks in part to Russell Westbrook and James Harden. In an April game against the Nuggets, Westbrook notched 50 points, 16 rebounds and 10 assists. A few months earlier, James Harden dropped 53 points, 17 assists and 16 rebounds. The highest scorer of 2017 was Devin Booker of the Phoenix Suns. On March 24, he scored 70 points to go along with 8 rebounds and 6 assists. Not bad for a 20-year-old.
Football
It's hard to determine a single greatest football game because it's so hard to compare across positions, and sometimes within positions. In November 2010, Michael Vick of the Philadelphia Eagles threw for 333 yards on 20-28 passing with 4 touchdowns and no interceptions. He also ran for 80 yards and 2 touchdowns, making it perhaps the greatest ever all-around game by a quarterback. But is it more impressive than when Y.A. Tittle threw for 505 yards and 7 touchdowns in 1962?
As far as running backs go, Adrian Peterson in 2007 rushed for a record 296 yards in a game, adding 3 touchdowns. That's a lot of yards, but Shaun Alexander of the Seattle Seahawks in 2002 scored 5 touchdowns in the first half. He ended the game with 139 rushing yards and 4 rushing touchdowns to go along with 92 receiving yards and one receiving touchdown. But the greatest all-around game by a running back may belong to Billy Canon, who in 1961 ran for 216 yards and 3 touchdowns while also catching 5 passes for 114 yards and 2 touchdowns.
Jerry Rice, the greatest wide receiver of all time, in 1990 caught 13 passes for 225 yards and 5 touchdowns. Miraculously, not one of his receptions went for more than 29 yards.
Quarterbacks, running backs and receivers get all the glory, but it's hard to have a better day than Tennessee Titans kicker Rob Bironas did on October 21, 2007. Bironas kicked an NFL record 8 field goals, including the game-winner as time expired, to give the Titans a 38-36 victory. The football Bironas kicked to break the record is currently on display at the Football Hall of Fame.
Hockey
Darryl Sittler holds the record for most points in a single hockey game, with 10. No one else has tallied more than 8, a threshold that has been achieved 15 times in the game's history. Only Mario Lemieux (3) and Wayne Gretzky (2) have done it more than once.
A player can get a point in hockey by either scoring a goal or assisting on one. This means that not only did Sittler's Toronto Maple Leafs score at least 10 goals in a game in 1971, but that Sittler was involved in 10 of them. He scored 6 goals and assisted on 4 as the Leafs beat the Bruins 11-4. Statistically speaking, no other hockey player has come close to matching Sittler.
There also seems to be something of a consensus when it comes to the greatest single-game performance by a goaltender. In Game 6 of the 1994 Eastern Conference Quarterfinals, Dominik Hasek of the Buffalo Sabres made 70 saves en route to a 1-0 4OT victory.
Soccer
Soccer is a tricky because pure statistics—goals and assists, essentially—only tell a part of a player's impact on a game. The record for goals scored in an official international game was set in 2002 when Australia's Archie Thompson scored 13 in a 31-0 rout of American Samoa.
Lionel Messi set a Champions League record when he scored 5 goals in a 2011 game against Bayer Leverkusen.
Golf
If we're talking about statistics, which we are, there's only one that matters in golf. Breaking 60 on the PGA Tour is one of the rarest occurrences in sports. It's happened 9 times, but only Jim Furyk has broken 59. His 58 in the final round of the 2016 Travelers Championship is the lowest anyone has ever gone. Unfortunately for Furyk, it wasn't low enough to win the tournament.
Furyk's 58 came on a par 70 course, though, meaning he was 12-under on the round. Al Geiberger (1977 Danny Thomas Memphis Classic), Chip Beck (1991 Las Vegas Invitational), David Duval (1999 Bob Hope Chrysler Classic) and Adam Hadwin (2017 CareerBuilder Challenge) all shot 13-under 59s.
The lowest score a golfer has ever shot in a major championship is 63, which has happened 25 times. Tiger Woods did it at the 2007 PGA Championship at Southern Hills.
Tennis
Statistically speaking, the best a tennis player can do in a given match is to win 6-0, 6-0, 6-0 (or, in women's tennis, 6-0, 6-0). This has happened too many times to count, so we'll restrict it to Grand Slam finals. The closest any man has ever come is dropping only two games: In the 1881 Wimbledon final, William Renshaw defeated John Hartley 6-0, 6-1, 6-1. Nearly 100 years later, Jimmy Connors beat Ken Rosewall 6-1, 6-0, 6-1 in the finals of the 1974 U.S. Open. (Also worth noting is John McEnroe's 6-1, 6-1, 6-2 thrashing of Connors in the 1984 Wimbledon final.)
The closest Serena Williams has come to a perfect final match in a Grand Slam was her 6-0, 6-3 defeat of Dinara Safina in the 2009 Australian Open.
Though she's now pregant with her first child, we're not about to close the book on the possibility of a perfect Grand Slam final from Serena.