Martha Stewart and Baseball's Greatest Superstition, the Perfect Game Jinx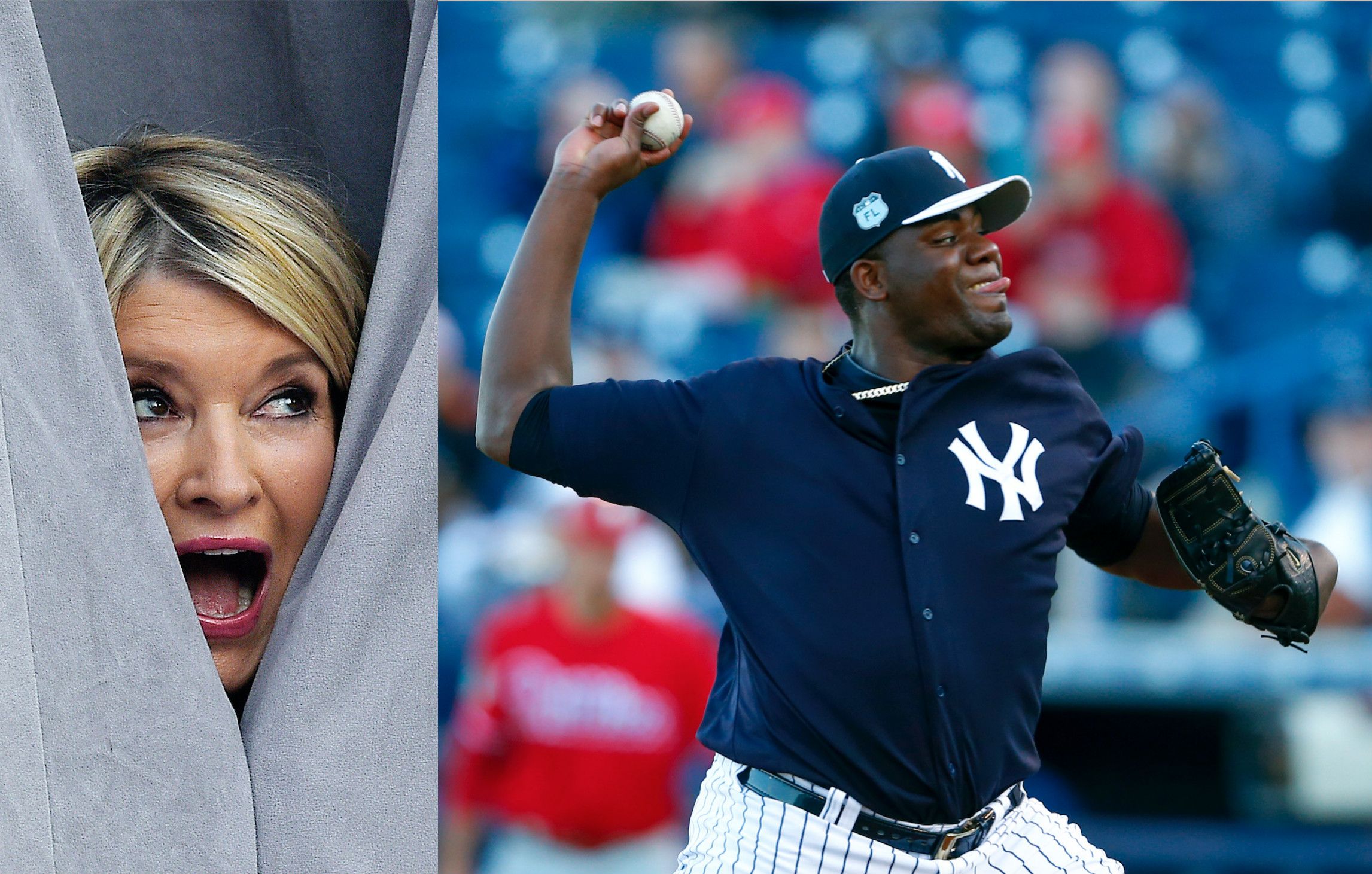 For a pitcher to throw a perfect game, he must retire every single batter he faces. No hits. No walks. No hit batters. A teammate can't even make an error. The box score must be as clean as a freshly bleached uniform. Therefore, it's baseball's most elusive achievement. The game has been around since the late 1800s and only 23 of them have ever been thrown. The last came in August 2012, when Seattle Mariners ace Felix Hernandez retired all 27 Tampa Bay Rays that strode to the plate, striking out 12 of them. There have been several close calls since then, but no pitcher has made it unblemished from the game's first pitch to its last.
Related: Why did Donald Trump decline to throw out the first pitch?
On Monday, Yankees pitcher Michael Pineda looked like he had a pretty good chance to log the first perfect game in nearly five years. Like Hernandez five years earlier, Pineda was facing the Rays, and through six innings was downright unhittable. He struck out the first batter of the seventh inning, giving him 11 Ks on the day. Pure dominance. Perfection was there for the taking.
And then, disaster.
Pineda was able to force the next hitter, Kevin Kiermaier, to fly out; but then, with only seven outs left to record, Rays third baseman Evan Longoria doubled to ruin Pineda's shot at history. And the only logical person to blame was Martha Stewart.
Rightfully so.
Baseball is a game filled with superstition. Some players make sure never to step on the foul lines. Some eat the same thing before every game, or unfasten and fasten their batting gloves a certain number of times before stepping into the batter's box. Some probably have weird chewing tobacco routines that we'd rather not think about. Like the baseball season itself, the fortune of its players comes in ebbs and flows, often without explanation. When there seems to be no good reason for a pitcher's sudden inability to throw a sharp breaking ball or a hitter's sudden inability to hit one, we are driven by human nature to search for an explanation. Just as people in ancient times thought a poor farming season was God's way of punishing them, so too will a baseball player attribute a string of poor plate appearances to putting on their uniform in the wrong order.
One of the most godly things that can happen on a baseball diamond is the perfect game. So much luck has to be involved for a pitcher to get through 27 hitters unscathed that it stands to reason that doing so has to be willed from above. Thus, it is the source of baseball's greatest superstition: never talking about a perfect game as it's happening. As soon as it becomes apparent that pitcher may have a chance at one (or at a no-hitter), any mention of the feat will jinx it.
Most are familiar with this unwritten rule of the game. Martha Stewart, it seems, wasn't—and on Monday she learned it the hard way. So too did the wife of former San Francisco Giants pitcher Yusmeiro Petit, who in 2013 left her seat when her husband was on the verge of perfection so she could be at the field to celebrate with him. With his wife out of her seat for the first time all game, Petit gave up a hit on a 3-2 count with 2 outs in the ninth inning. He was a single strike away from immortality.
Texas Rangers pitcher Yu Darvish was also perfect through 8 2/3 innings in 2013. Then he gave up a hit to Houston Astros infielder Marwin Gonzalez. Darvish released the pitch an instant after the Rangers' play-by-play announcer said "perfect game."
Petit and Darvish are two of a total of 13 pitchers in baseball history to lose a perfect game with two outs in the ninth inning, maybe the cruelest twist of fate in all of sports. There is simply no other explanation than the jinx.
The closer to the field one is, the greater the power one has jinx the pitcher by speaking of the feat. There is something of a gray area for fans watching at home, but Stewart tweeting it out to her nearly 4 million followers certainly wasn't a good omen. Fans that are actually in the stadium should exercise extra caution; if you must mention it, it's best to whisper it into a friend's ear rather than announcing it to your entire section. Despite the Rangers' announcer's gaffe, broadcasters have long debated how to properly call a perfect game, with some believing it should never be mentioned, while others seeing it as their duty to inform their viewers or listeners that history is in progress.
There is one thing that is for certain, however: it is never OK to mention a perfect game is on the field. Not only do players not discuss it as its happening, they also don't dare approach the pitcher in the dugout, shunning him entirely so as not to disturb his mojo. Camera shots of pitchers sitting by themselves with their head down in contemplation as their team takes its turn to hit are common, and a sign of what's to come. You can bet that from the fifth inning on not a word was said to Pineda.
Regardless of whether Pineda's teammates followed protocol Monday afternoon, Martha Stewart didn't, and there's no way to prove that the cosmos didn't funnel the bad karma of her tweet into Yankee Stadium and out through Pineda's fingertips as he released the pitch that Longoria would rip down the left field line. And as far as Yankees fans are concerned, it's the only logical explanation.