Why Did Donald Trump Decline to Throw Out the First Pitch on Opening Day?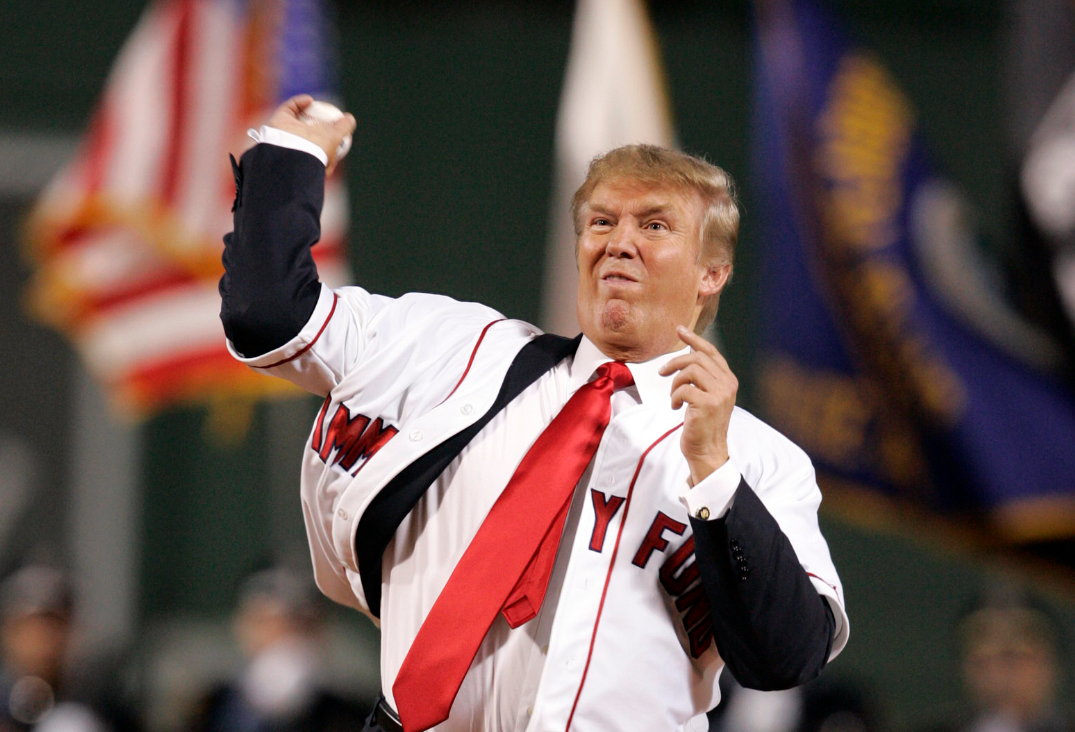 We know Donald Trump loves Tom Brady and the New England Patriots, who will visit the White House on April 19 to celebrate their Super Bowl title, but what does the president think of America's Pastime? We know he played in high school, and he's been spotted at Mets and Yankees games over the years. In 2012, he took issue with the Washington Nationals' decision to sit phenom pitcher Stephen Strasburg in the playoffs to protect his arm. At the age of 70, though, we're not sure President Trump has the attention span or patience to appreciate baseball, especially if he considers football to be boring.
Related: How are so many fans catching foul balls while holding babies?
That may be one reason why the White House on Tuesday declined an invitation from the hometown Nationals for Trump to throw out the ceremonial first pitch at the team's first game, next Monday. It was said to be because of a scheduling conflict, but as recently as Wednesday morning, Politico reported that the president was "in talks" to throw out the first pitch at the day game, and maybe even to spend an inning in the broadcast booth. Perhaps a conflict arose in the last few hours, or maybe the White House just deemed that it might not be a good idea to send Trump out to the mound.
It's long been a tradition, of course, for presidents to throw out first pitches at baseball games, particularly on Opening Day. William Howard Taft was the first to do it, in 1910, when he hurled one over the plate at a Washington Senators game. Barack Obama did it most recently, tossing one high and outside at Nationals Park in 2010.
George W. Bush is without question the greatest first-pitch thrower in presidential history. He also may be the biggest baseball fan. He owned the Texas Rangers from 1989 until he became the state's governor in 2004. Seven years after leaving the Rangers, Bush threw out the most famous ceremonial first pitch ever, prior to Game 3 of the World Series. The game was in New York, where less than two months earlier the Twin Towers had fallen. Bush threw a perfect strike, in what may have been the greatest moment of his presidency. ESPN even made a documentary short about it.
Bill Clinton, George H.W. Bush and Ronald Reagan all threw out first pitches, as well. In fact, so has every president since Taft, and most have done it on multiple occassions. Franklin D. Roosevelt threw out a first pitch a record 10 times while in office. Richard Nixon did it three times. It's hard to imagine anyone having worse form.
So what could be the real reason Trump is abstaining from this grand presidential tradition? He's even thrown out a first pitch before, in 2006 at Fenway Park in Boston. Isn't this exactly the type of pomp and circumstance he craves? One reason might be that Trump's athleticism has waned considerably in the last 11 years. He's never looked particularly coordinated on the golf course, and trying his hand at another sport might not be worth the risk of embarrassment.
The most likely reason, however, is pretty obvious. As the Dave Weigel of the Washington Post points out:
Maybe Trump will be at game next year if he can get his approval rating above 36 percent.
Read more from Newsweek.com:
- The baseball talent factory of the Arizona Fall League
- Bill 'Spaceman' Lee is as eccentric as ever
- Baseball's unhealthy obsession with starting pitchers is killing the game