Anthony Scaramucci Compares Trump to OJ Simpson, Says Both Didn't Get Away With Their Second Crimes
Former White House Communications Director Anthony Scaramucci compared President Donald Trump to O.J. Simpson, saying both men got away with one crime, but won't get away with a second criminal act.
Scaramucci ridiculed Trump and his Republican Party backers as "traitors to the Constitution" during a Monday morning appearance on CNN. He talked at length about the "historical rationality" of being a Trump supporter and argued that in five years the GOP will regret standing by the president's side as he coerced conservatives into allowing him to commit alleged criminal acts. Trump critics say the president once again reached out to a foreign government, in this case Ukraine, for help in winning the 2020 election as he was investigated and accused of doing in 2016 with Russia.
The former 10-day Trump White House official used an analogy with O.J. Simpson, saying Trump walked away from Special Counsel Robert Mueller's Russia investigation similar to how Simpson avoided punishment for allegedly murdering Nicole Brown and Ronald Goldman in June 1994.
"You know they didn't get O.J. on the original murder, but they got him on the sports memorabilia," Scaramucci said. "This is classically what President Trump has done. So he's been caught now in the Ukraine scandal and his only defense right now is if he can just get the Republicans to hold the line and accept his illegality."
Simpson was acquitted of the double-homicide charges in October 1995 but was found liable for the Brown, Goldman murders in a 1997 wrongful death civil trial. Despite walking away from all criminal charges stemming from the 1994 crimes, Simpson was found guilty and sentenced to 33 years in prison for stealing sports memorabilia in Las Vegas in December 2008.
Scaramucci, speaking Monday with CNN's Alisyn Camerota, implied Trump walked away from the Russian collusion allegations but he will be punished for allegedly committing a second high-profile crime regarding his quid pro quo dealings with Ukraine.
"Five years from now, people are going to look back and say, 'what exactly were you doing, you had a fever going on related to President Trump?'" Scaramucci said, again framing Trump's tenure through the lens of history and chastising fellow Republicans. "The guy broke the law, he's a traitor to the Constitution of the United States. You took an oath to the Constitution, so you're going to disavow your own oath to the Constitution for him? Why are you doing that?"
Camerota questioned if Scaramucci was using the "five years from now" framing because he believes Trump will win his 2020 reelection bid. The former short-lived White House communications director replied, "he could."
"I told you in August, the guy is nuts, he's going to do something really stupid it's a Trump meltdown, all of that unfolded," he added.
Scaramucci went on to compare GOP supporters of Trump to "Vichy Republicans," referring to French collaborators with Nazi Germany during World War II. When Camerota called that "a really strong charge," Scaramucci backed off the analogy and said, "I'm not comparing anyone to Hitler."
Scaramucci is not the first Trump critic to compare the president to Simpson. Last month, NBC News host Chuck Todd offered a similar analogy: "I'm having a quick flashback to the O.J. trial, frankly, where the facts were damning, but it didn't matter. And yet, he was innocent, but everybody knew he was guilty. Are we about to head into a situation like that where he's going to get acquitted and yet everybody knew he's guilty?"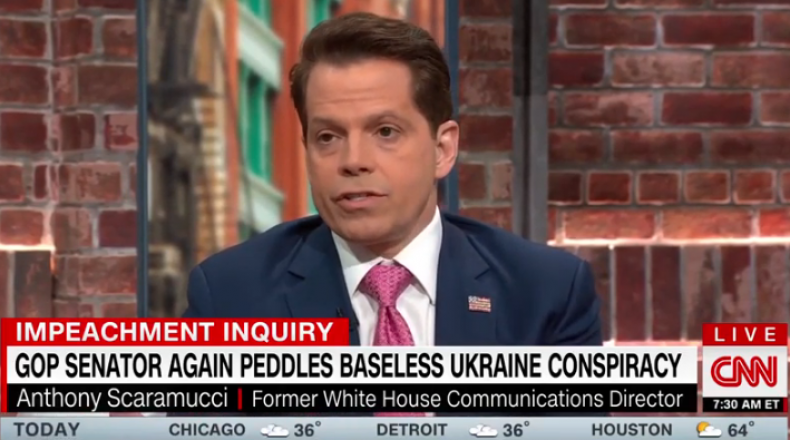 Simpson was released on parole in 2017 after serving nine of his 33-year sentence related to the armed robbery charges.