Anthony Scaramucci Threatens to Sue Tufts's Newspaper for Calling Him "Unethical Opportunist"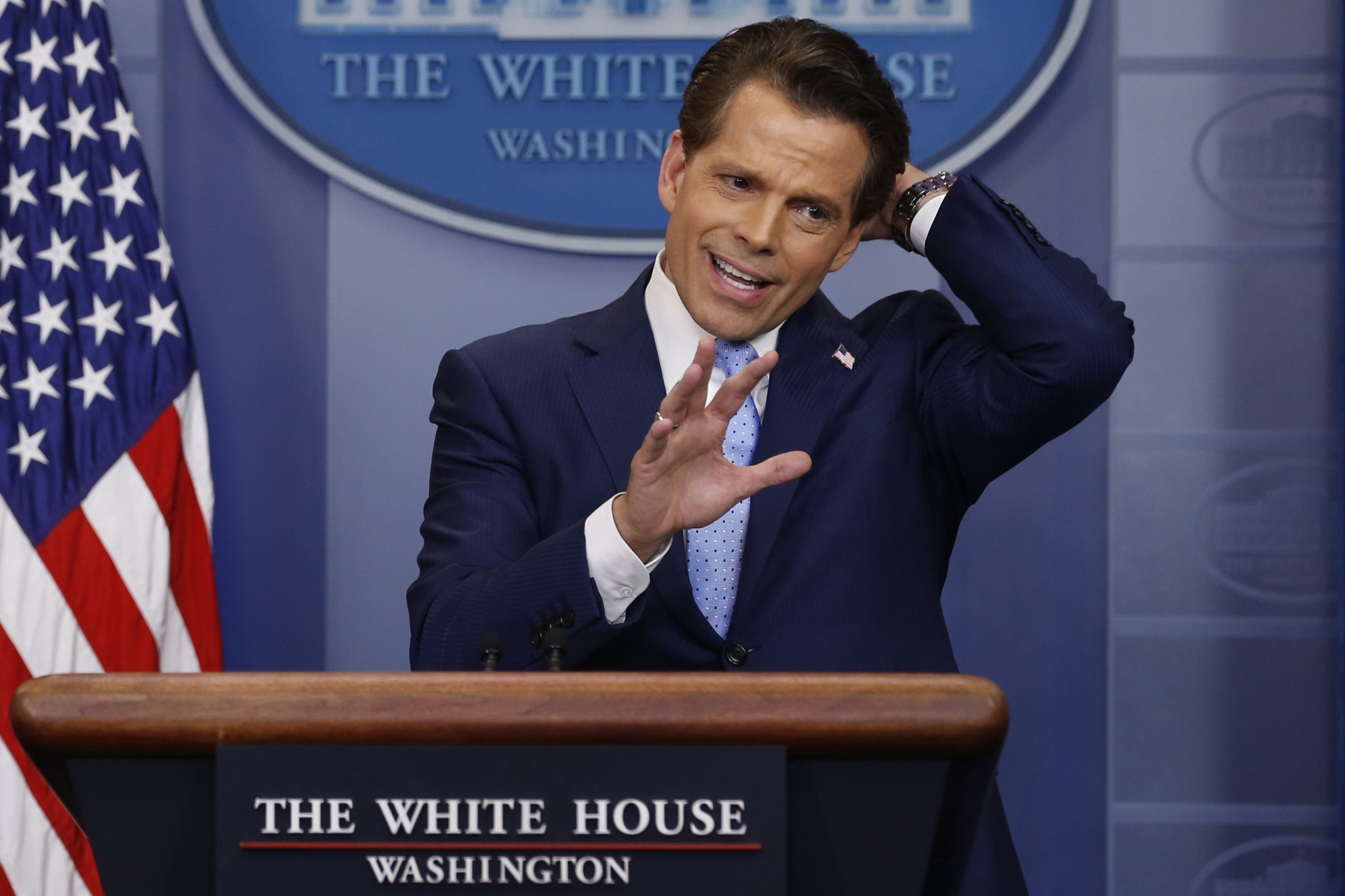 An opinion piece in the pages of Tufts University's student newspaper calling former White House Communications Director Anthony Scaramucci an "unethical opportunist" has him threatening to sue.
The Massachusetts institution has canceled a talk by Scaramucci set to take place Monday after his lawyers sent a letter last week to graduate student Camilo Caballero and The Tufts Daily newspaper threatening to sue them for defamation.
Scaramucci is demanding an apology from Caballero, the author of an op-ed titled "Seeking power of values over power of money," and the paper. In the article Caballero calls Scaramucci a "man who sold his soul in contradiction to his own purported beliefs for a seat in that White House."
Scaramucci was the Trump administration's director of communications for 10 days this summer before he was removed from the post after the swearing in of chief of staff John Kelly, who replaced Reince Priebus. During his time in the administration, Scaramucci said he would "kill all the leakers" and gave an expletive-filled interview insulting other senior staff, including Steve Bannon.
Since 2016 Scaramucci has sat on the board of Tufts's Fletcher School of Law and Diplomacy. A petition to remove him has gathered the signatures of 240 students and staff after Scaramucci's Twitter account, the Scaramucci Post, held a poll in late October asking readers how many Jews were killed in the Holocaust. Scaramucci said the post was made by his friend without his approval, and it has since been removed. He also said he supported the rights of students to make such a petition and wanted to discuss their views directly.
Caballero's article called for Scaramucci to be removed from the Fletcher board and called him "an unethical opportunist and who exuded the highest degree of disreputability."
Scaramucci's lawyer, Samuel J. Lieberman, responded to the piece saying, "Having published these false allegations, you cannot escape liability for these baseless allegations unless you retract them," going on to say that Caballero's article contained "false and defamatory allegations of fact." Scaramucci called on Caballero to retract his claims or face legal action.
Read more: Anthony Scaramucci couldn't sell White House memoir because publishers thought it sucked: report
Yet it may be very difficult for Scaramucci to make his case. "First of all, he would have to prove that they said something factual—not something that's an opinion—defamatory, and inaccurate," T. Barton Carter, professor in communication and law at Boston University told The Boston Globe. "Then he still has to prove that they had knowledge it was false, or at least had serious doubts."
An official from the university said they are "disappointed that Mr. Scaramucci has taken this action."
Early this month, Business Insider reported Scaramucci had scrapped plans to write a memoir about his time in the White House under the titles Inside Out and I Did It My Way after it was rejected by several major publishers. Scaramucci said that he abandoned the project because he didn't want to write a tell-all that could hurt President Donald Trump.
"He is someone that uses his money to gain power and his wealth to buy himself into things that will get him attention," said Caballero, 26, who is a graduate student at the Fletcher School, in an interview with the Globe. Scaramucci, he said, is using his wealth to quash free speech.
"He uses this power as a scare tactic," he said. "He's trying to stop me from exercising my First Amendment right, and that's plain wrong."
Anthony Scaramucci Threatens to Sue Tufts's Newspaper for Calling Him "Unethical Opportunist" | U.S.