Anthony Weiner Jokes of Selling His Laptop to MyPillow's Mike Lindell
Disgraced former congressman Anthony Weiner joked about selling his infamous laptop to MyPillow CEO Mike Lindell in a new interview with The New York Times.
The computer was seized by authorities after it was reported in September 2016 that Weiner had exchanged explicit messages with a 15-year-old girl from North Carolina.
Days before the 2016 presidential election, then FBI director James Comey announced that the emails had been discovered on the device that had led him to reopen the investigation into Hillary Clinton's emails. Weiner was at the time married to top Clinton aide Huma Abedin.
Ultimately, no incriminating evidence was found on the device, but some have cast blame on Weiner for prompting the chain of events that led to the reopening of the investigation. Clinton has said that Comey's decision to revive the inquiry into her use of a private email server while secretary of state cost her the election.
Weiner was sentenced to 21 months in prison after pleading guilty in 2017 to transferring obscene material to a minor.
He told Times columnist Ben Smith that people sometimes ask about the whereabouts of the laptop, which he says he keeps in a closet. "I'm wondering if I should call up the MyPillow guy and offer to sell him the laptop," Weiner said.
Lindell, an ardent Trump supporter, has promoted conspiracy theories about the 2020 election and the Clintons. Lindell has been contacted for comment.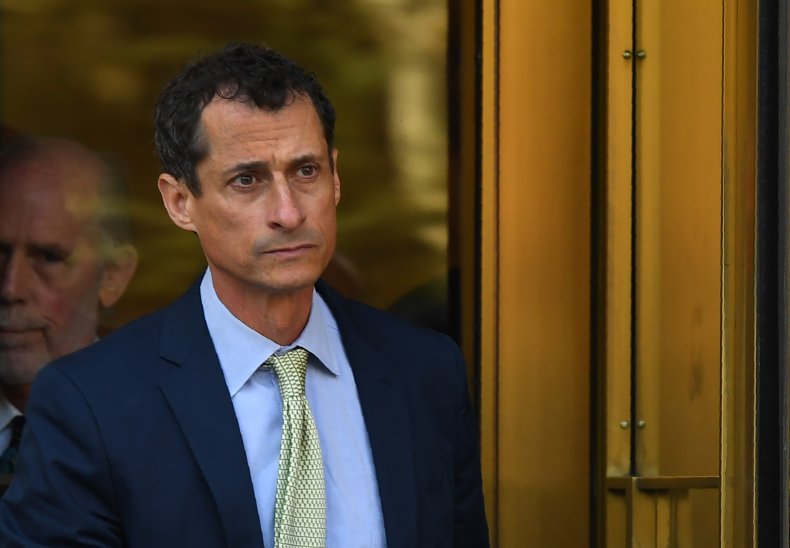 But Weiner is wondering more seriously about whether to cash in on his notoriety by selling the search warrant for his laptop, for instance, as a non-fungible token or NFT. "Cashing in would be nice," he said.
Weiner, who is in a 12-step program for sex addiction, also told the Times that his agent has shopped a book about sex addiction.
Once a rising star in the Democratic Party, Weiner's downfall began when he was sent a lewd picture to a college student on Twitter in 2011. He initially claimed his account had been hacked, then admitted in a news conference that he had exchanged explicit messages and photos with around six women while married to Abedin.
He resigned from Congress in June that year but tried to make a return to politics by entering New York City's mayoral race in 2013.
But he was hit by a second sexting scandal after it emerged that he had used the alias "Carlos Danger" to send explicit photos to a woman after his resignation from Congress.
The former congressman's exchanges with the 15-year-old led to his having to register as a sex offender.