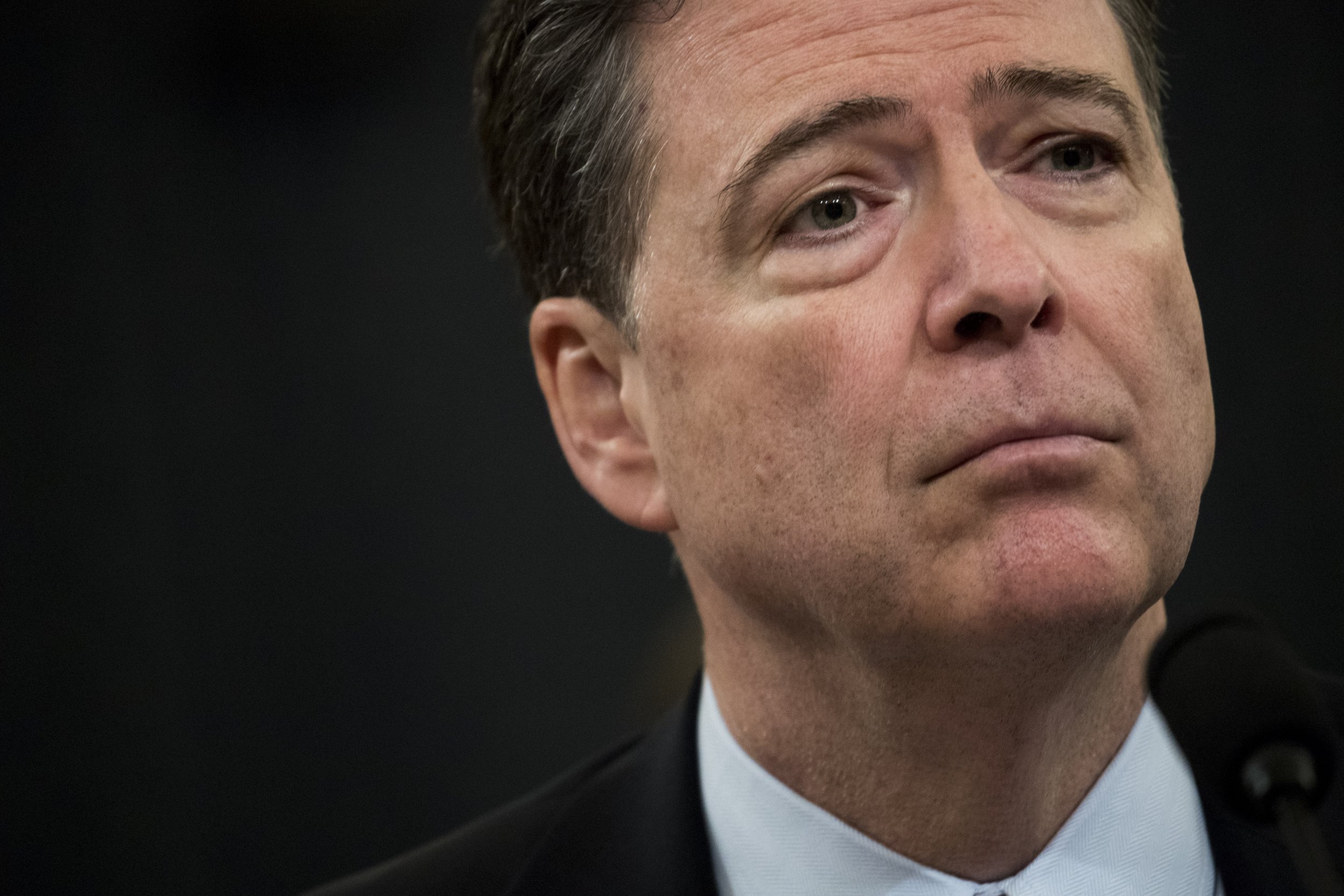 Updated | FBI Director James Comey has been fired and like nearly everything in U.S. politics in the past couple years, it might be because of Hillary Clinton's emails.
Authorities told the Washington Post and ProPublica that Comey misspoke last week when he told the Senate Judiciary Committee that Huma Abedin, Clinton's right-hand woman, regularly forwarded "hundreds and thousands" of classified emails to her husband, Anthony Weiner, to print out. Comey has "been terminated and removed from office," the White House said Tuesday.
Turns out, Comey's account was true, but his details were reportedly off—Abedin didn't regularly forward emails, they weren't classified at the time and there weren't thousands of them. The FBI pushed back against these reports in a letter Tuesday afternoon, saying that it had found 12 email chains that contained classified information.
There are so many political scandals—and, honestly, even just scandals involving Weiner—these days that it can be hard to keep up. Here's a simplified timeline of all you need to know.
1991: Weiner becomes a New York City councilman.
1996: Abedin gets an internship at the White House. Within years, she would become Clinton's personal adviser.
1998: Weiner is elected to the U.S. House of Representatives.
2001: Abedin meets Weiner at a Democratic National Committee retreat at Martha's Vineyard. She told Vogue "it didn't go so well," and that she "left to use the ladies' room and then never came back." They would later date.
2010: Abedin marries Weiner. Bill Clinton officiates their wedding.
May 27, 2011: Weiner's Twitter account tweets a picture of a man's crotch with the username of a Washington college student, Gennette Cordova. The tweet is quickly deleted, according to NBC News.
May 28, 2011: Conservative blogger Andrew Breitbart spreads the news of the Weiner tweet. Weiner tweets that he was hacked.
May 29, 2011: Cordova releases a statement saying she doesn't know Weiner, but she has been harassed before by a third party. "There have never been any inappropriate exchanges between Anthony Weiner and myself, including the tweet/picture in question, which had apparently been deleted before it reached me," she writes in the New York Daily News.
June 6, 2011: Breitbart shows up at Weiner's news conference claiming that what he wrote is true. Weiner then takes the lectern himself and confesses that "the picture was of me, and I sent it." He says he's been having "inappropriate communication" with several women but is not going to resign. ABC News identifies a woman, Meagan Broussard, who says she has had a digital relationship with the congressman for a month.
June 8, 2011: News leaks that Abedin is pregnant.
June 12, 2011: TMZ publishes shirtless photos of Weiner taken in the House Members Gym, saying that "the pics were sent online to at least one woman."
June 16, 2011: Weiner resigns.
December 2011: Abedin and Weiner's son is born.
May 2013: Weiner launches a campaign to be New York City mayor.
July 23, 2013: Gossip site TheDirty publishes screenshots of an explicit conversation between Weiner and another woman.
July 25, 2013: Weiner confesses to exchanging text messages and photos with several women. He says he used the name "Carlos Danger." Abedin says she'll stand by him. He eventually loses the mayoral race, according to USA Today.
April 2015: Clinton announces that she's running for president, just weeks after the New York Times breaks the news that she used a personal email server while secretary of state. Abedin is named her campaign vice-chairwoman.
July 2016: The FBI announces it doesn't recommend charging Clinton in connection with the email scandal. "Although we did not find clear evidence that Secretary Clinton or her colleagues intended to violate laws governing the handling of classified information, there is evidence that they were extremely careless in their handling of very sensitive, highly classified information," Comey says, later adding, "Our judgment is that no reasonable prosecutor would bring such a case."
Aug. 28, 2016: The New York Post releases a story claiming Weiner has been sexting another woman, at one point in 2015 even sending her a photo of himself in bed with his young son. The next day, Abedin says she's "made the decision to separate from my husband." Trump releases a statement saying, "I only worry for the country in that Hillary Clinton was careless and negligent in allowing Weiner to have such close proximity to highly classified information. Who knows what he learned and who he told?"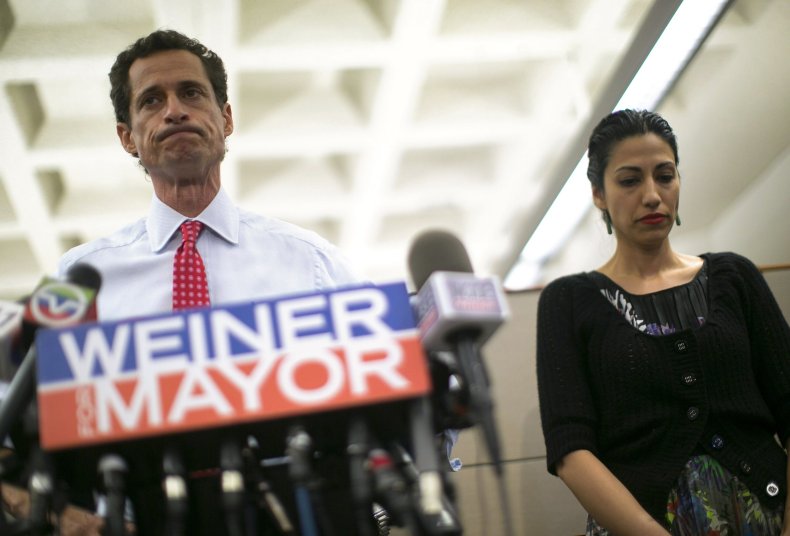 Sept. 21, 2016: A report in the Daily Mail claims Weiner has been maintaining an online relationship with a 15-year-old girl. Screenshots show he once said he'd have sex with her "so hard and so often that [she] would leak and limp for a week." Weiner suggests it's a hoax, but then tells the Mail in a statement that "I have repeatedly demonstrated terrible judgment about the people I have communicated with online and the things I have sent. I am filled with regret and heartbroken for those I have hurt." Authorities launch an investigation, and in doing so, take a laptop that belonged to Weiner and Abedin.
October 2016: Comey writes a letter to Congress saying there may be emails linked to the Clinton scandal on the laptop, according to the Times. Clinton demands the FBI "release all the information that it has," adding, "Let's get it out."
November 2016: Comey writes another letter saying the FBI didn't find anything new on the laptop. Newsweek reports that most of the emails in question on the laptop were ones Abedin forwarded so she could print them. Clinton loses the election to Trump.
January 2017:Trump is inaugurated. The Wall Street Journal reports Weiner could be facing child pornography charges.
May 3, 2017: Comey testifies about the emails and confirms that Abedin would send messages to Weiner to print out of convenience. He says he doesn't think Weiner read any classified materials, or that Abedin "had a sense what she was doing was in violation of the law." Comey alleges she "forwarded hundreds and thousands of e-mails, some of which contain classified information."
May 8, 2017: Citing sources close to the investigation, ProPublica releases its story about how Comey exaggerated the number.
May 9, 2017: The Washington Post and Associated Press follow up on ProPublica's article, claiming that none of the emails were designated as classified when sent. The FBI sends a letter to Chuck Grassley, the chairman of the Senate judiciary committee, about Comey's testimony. The letter says that the "hundreds and thousands" of messages Comey referred to included backups and forwarded emails, and investigators looked at 49,000 potentially relevant emails but "ultimately determined that two email chains containing classified information were manually forwarded to Mr. Weiner's account." Ten other chains with classified information were also on the laptop because of backup software, and together all 12 "previously had been reviewed by investigators."
Then, in a surprise twist, Trump fired Comey. The decision apparently came at the recommendation of Attorney General Jeff Sessions and Deputy Attorney General Rod Rosenstein, the latter of whom wrote a memo insisting that Comey needed to be terminated in order to restore Americans' confidence in the FBI after his mishandling of the Clinton probe.
Trump himself wrote in a letter to Comey that the director was "not able to effectively lead" the FBI. "It is essential that we find new leadership for the FBI that restores public trust and confidence in its vital law enforcement mission," Trump wrote. "I wish you the best of luck in your future endeavors."