Anti-Abortion Advocates Hope March For Life is the Last Before SCOTUS Ends Roe v. Wade
Thousands of anti-abortion activists participated in the annual March for Life rally at the U.S. capital Friday, hoping for this march to be the last as the U.S. Supreme Court is set to potentially overturn Roe v. Wade.
The protestors marched to the Supreme Court. Many were young people and students bussed in by schools and church groups, according to The Associated Press.
"Hopefully this will be the last March for Life," said Rev. Andrew Rudmann, a Catholic priest from New Orleans, AP reported.
The Supreme court has indicated that it will permit states to enforce stricter limitations on abortion in the upcoming months, according to AP. It has also signaled the possibility of overturning Roe v. Wade, which gives women the constitutional right to an abortion. The court is currently hearing a case involving the constitutionality of a Mississippi ban on abortion after 15 weeks, The Washington Post reported.
Many felt the overturning of Roe v. Wade is inevitable, according to AP.
"I feel like this year might be the year," Laura Nunez, a 28-year-old account manager from Philadelphia, said while gathering with other marchers on the National Mall, The New York Times reported. "If that happens, it would be a great win for all of us."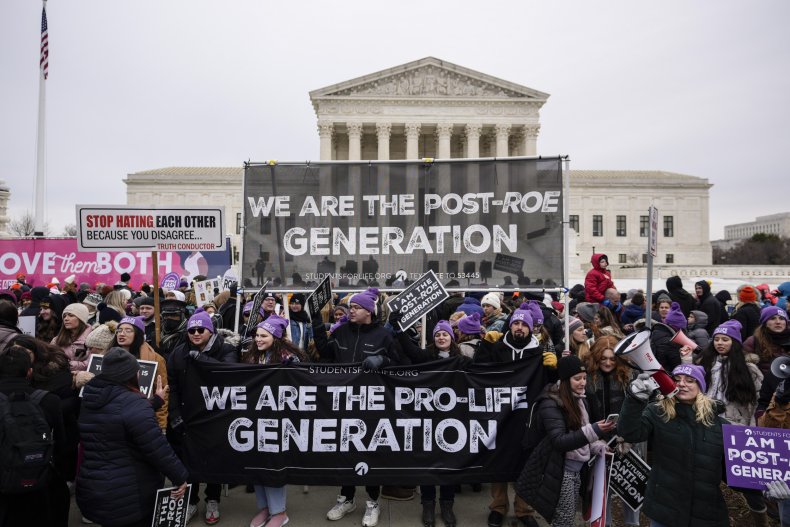 March for Life Education and Defense Fund President Jeanne Mancini told the crowd of protestors that Roe v. Wade is not settled law, according to AP.
"...We are hoping and praying that this year, 2022, will bring a historic change for life," she said according to the AP. "If Roe falls, the battle lines will change, but make no mistake the fight for life will need to continue in the states and here in D.C."
"Roe being reversed really is only the beginning, and that's what we've been preparing for," Kristan Hawkins, president of Students for Life of America, said earlier this week, according to The Washington Post. "Having this army for this ground game of this fight that will go state by state."
If Roe v. Wade is overturned, 26 states could outright ban abortion, with 21 of them certain to ban it as soon as possible, according to a policy analysis from the Guttmacher Institute in October. There are also 12 states with laws that will trigger bans immediately should Roe v. Wade be overturned, the analysis said. Additionally, several states have signaled that they will propose legislation similar to Texas' six-week abortion ban, the analysis said.
"It doesn't feel real. There's so much hope and vibrancy and happiness and joy at this thing," said Jordan Moorman of Cincinnati at the rally, AP reported. "I really do believe that we're in a post-Roe generation."