Amid a growing wave of anti-Asian discrimination and hate crimes, President Joe Biden has faced backlash from some in the Asian American and Pacific Islander community over what's been seen as a slow effort to bring AAPI voices into the White House.
"How sad it is that it takes these deaths and attacks to bring attention to long-standing concerns of the AAPI community?" Curtis S. Chin, former U.S. ambassador to the Asian Development Bank under Presidents George W. Bush and Barack Obama, told Newsweek. "It's not just an American reckoning over a heritage of injustice and mistreatment of minority communities, but also a reckoning for the Biden presidency, early on, over perceived slights and misjudgments by the new administration of an AAPI community that is no longer willing to remain silent."
Biden has repeatedly condemned attacks on members of the AAPI community, but the perceived slights started as Biden took office on January 20 the first president in two decades—Republican or Democrat—without an Asian American nominated to one of the 15 top cabinet secretary posts, creating a sense of distrust.
"I think there are still a lot of questions within the AAPI community who worked so hard to deliver Georgia, Arizona, Pennsylvania and other states to Joe Biden," Varun Nikore, executive director of the AAPI Action Alliance, a progressive group that advocates for Asian and Pacific Islander Americans, told Newsweek. "What did we work so hard for? We're happy that there've been several key AAPIs named in other areas, but it's sort of glaring to us that we didn't get the true recognition that we deserved politically."
The 15 Secretary appointees are now all Senate confirmed, so there will be no opportunity to appoint an Asian American for one of those posts unless someone is fired or resigns.
But Biden this week created a new, senior-level post in the West Wing that will serve as an outreach director to the AAPI community. The White House announcement of Erika Moritsugu's hire said "she will be a vital voice to advance the President and the administration's priorities."
"It's a positive step forward, but a lot of this is coming, sadly, very late," Chin said.
The AAPI liaison role came about amid mounting pressure from Democratic Senators Mazie Hirono of Hawaii and Tammy Duckworth of Illinois, who threatened to block confirmation of key Biden appointees.
"The fact we were forced to get to that level is very concerning," Nikore said.
Hirono and Duckworth, who both took part in a Congressional Asian Pacific American Caucus meeting with Biden this week, were unavailable to comment Friday for this story.
"I do want to give them credit that they reacted to the situation with Senator Duckworth very quickly," Nikore said.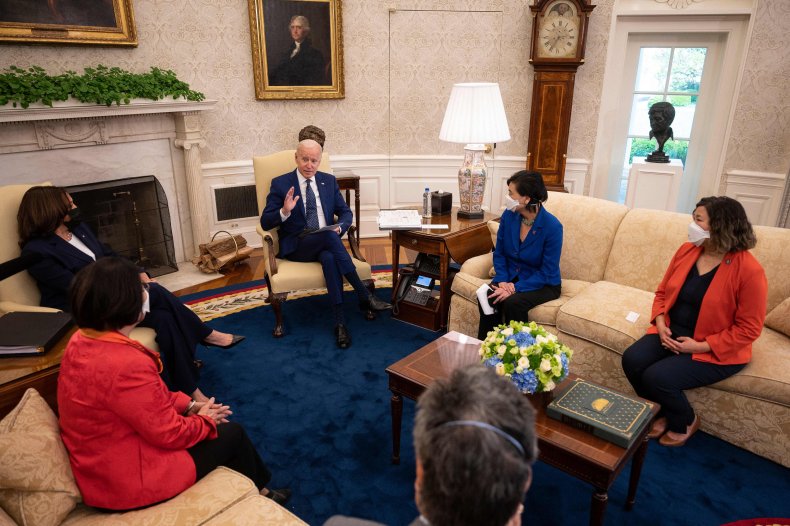 But deep concerns remain about Biden's commitment to the AAPI community, which is facing immense struggles amid the coronavirus pandemic and was taunted by Biden's predecessor, Donald Trump, who frequently referred to COVID-19 under racist monikers including "China virus" and "Kung Flu."
"Ultimately, Biden made a decision to exclude an Asian American from those top cabinet secretary positions," Chin said. "It's a political decision—which constituencies do you need to take care of?"
Representative Judy Chu, a California Democrat who chairs the Congressional Asian Pacific American Caucus, told Newsweek she found this week's White House meeting productive and she's optimistic about the White House's new AAPI liaison.
"I do not hesitate in saying that I was disappointed in the lack of AAPI representation on the cabinet, but I want to give credit where it's due," she said. "This will help us greatly."
Chu tried for a year to get a meeting with the Trump administration's Department of Justice to discuss hate crimes against Asian Americans, to no avail.
"It was very difficult to get attention to this issue with a president who was actively inflaming it," she said.
Shortly after taking office, Biden signed an executive order condemning racism against Asian Americans and Pacific Islanders and directing his administration to look for ways to explore ways to discourage discrimination. Last month, after eight people were gunned down in three Atlanta-area spas, he issued another order further attempting to address anti-Asian bias that has manifested in violent random attacks.
"Documented incidents against—of hate against Asian Americans have seen a skyrocketing spike over the last year, let alone the ones that happened and never get reported," Biden said during a prepared speech in Atlanta days after the shooting. He then quickly shifted his speech's focus to coronavirus recovery efforts and the successful package of a relief package he had championed.
Chin noted the White House in its announcement of Moritsugu's hire described the role as someone who will share Biden's priorities with the community. He questioned why the description didn't focus on the inverse—sharing AAPI concerns with the Biden administration.
"We want a White House that listens, that doesn't just talk to us," he said. "It's early on, but very clear the reckoning is still happening for this White House based on a misstep from the very beginning."
Nikore predicted there will be "ramifications" if the Biden administration is only paying lip service to the AAPI community.
"Patience will run thin if we don't see meaningful actions come through," he said.
Noting that May is AAPI Heritage Month, Nikore said the Biden administration will be under scrutiny in the next 30 days.
"We're looking not only for symbolic gestures of support but meaningful actions that the administration can propose," he said.