Anti-Beyoncé Protesters Hold 'Rally' at NFL Building, Two of Them Show Up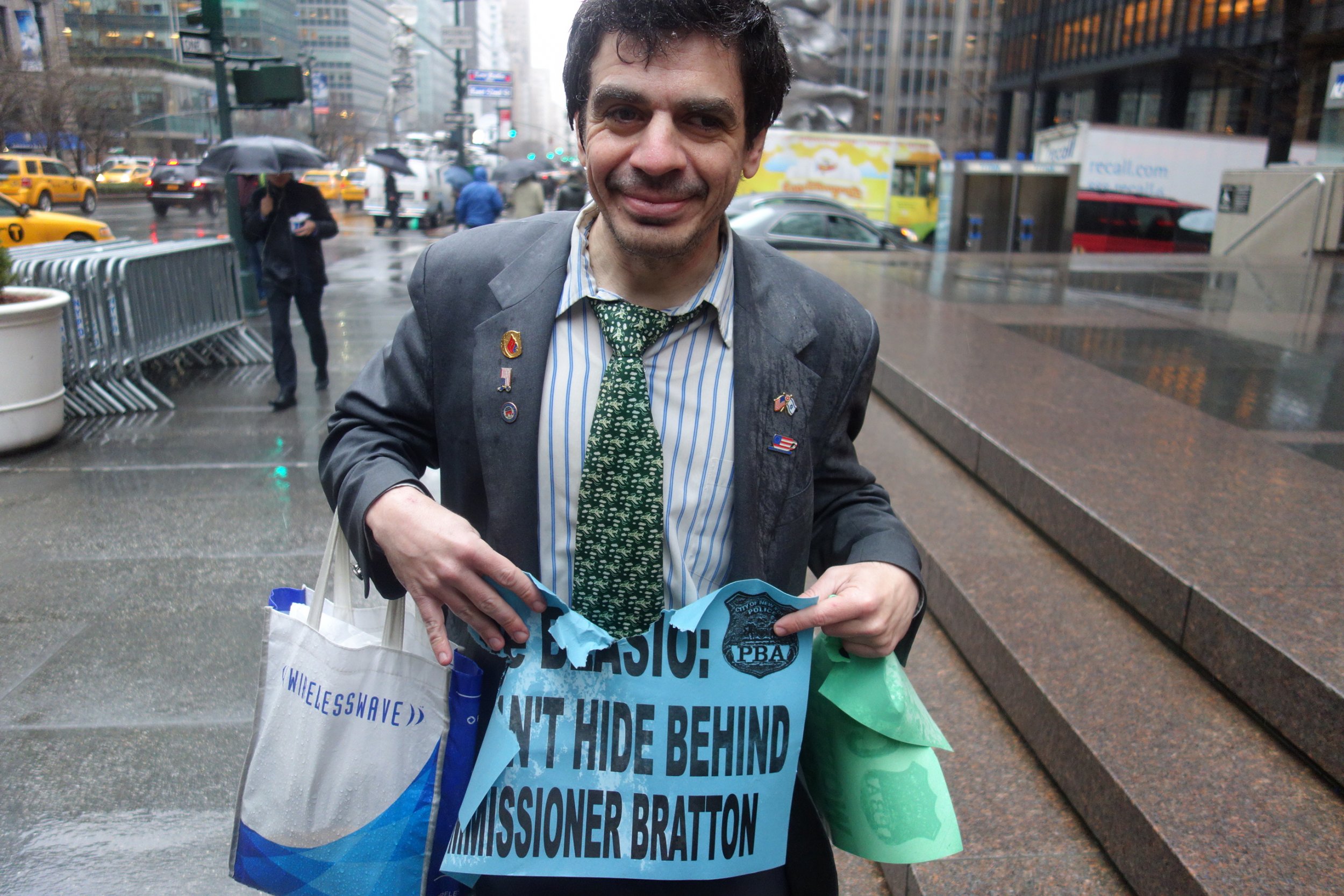 The event description was clear: This was going to be an anti-Beyoncé protest rally.
The Eventbrite page popped up in the aftermath of Beyoncé's Super Bowl performance of her new track "Formation," which angered members of the National Sheriff's Association because of its supposedly "anti-police" message. The pop star's music video referenced incidents of police brutality, including images of a graffitied wall proclaiming, "Stop shooting us," and her halftime performance included backup dancers dressed as Black Panthers.
So the rally description reflected this right-wing backlash. "Are you offended as an American that Beyoncé pulled her race-baiting stunt at the Superbowl?" the unsourced Eventbrite page asked beneath a photo of Rudy Giuliani (who publicly criticized Beyoncé's performance). "Do you agree that it was a slap in the face to law enforcement? Let's tell the NFL we don't want hate speech & racism at the Superbowl ever again!" The rally appeared to have been organized by the possibly nonexistent pro-police group Proud of the Blues, which urged supporters to wear blue and gather outside the NFL headquarters in Manhattan,
One problem: Hardly any Beyoncé haters bothered to show up.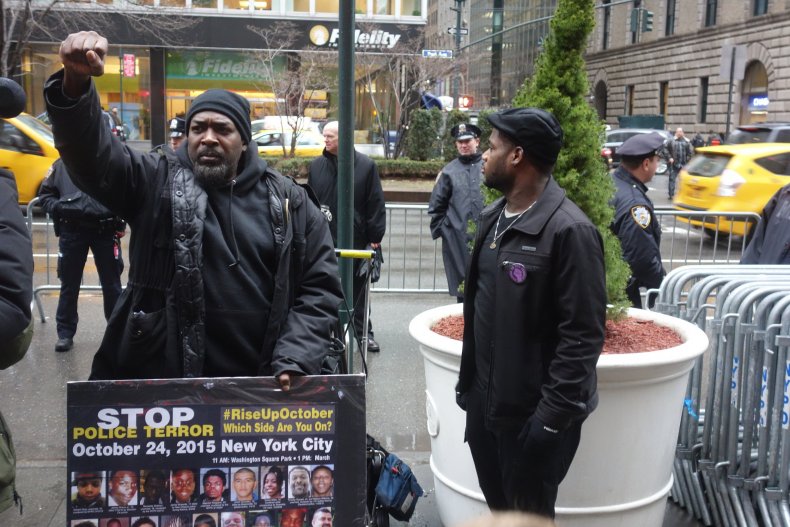 Dozens of publications had written about the impending protest event, which turned out to be a total bust: There were two dozen or so Black Lives Matter supporters who had gathered as a counterprotest, a gaggle of reporters looking pretty confused and exactly two protesters who were mad about Beyoncé. (Neither of them seemed to know where their allies in Beyoncé outrage were hiding.)
The bizarre mix of attendees mingled and exchanged the occasional barb under umbrellas, while rain lapped at their protest signs.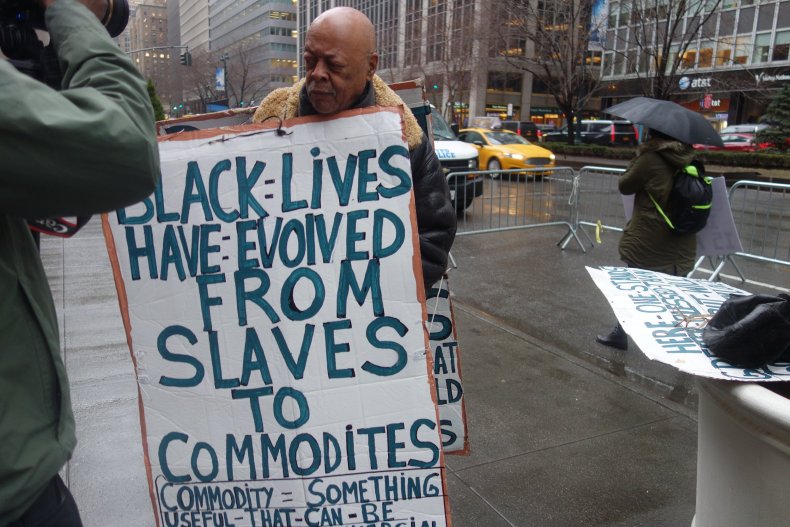 "I believe it was very disgusting that [Beyoncé] clearly doesn't have any respect for police officers," Ariel Kohane, one of the two protesters, told Newsweek. "For the National Football League to allow her to publicly denigrate police officers in front of the whole world is just beyond me.
"She said police officers should stop shooting black people," he argued, "which is not happening. They're shooting only in extreme situations. Especially the NYPD."
Dressed in a dark blazer and skullcap emblazoned with the Israeli flag, Kohane held up a sign that read, "Cops are worth more than 1% per year," referring to a 1 percent raise for NYPD officers. He said that he was a volunteer for Ted Cruz's presidential campaign. He was quickly mobbed by journalists, who had pretty limited anti-Beyoncé interview subjects to choose from.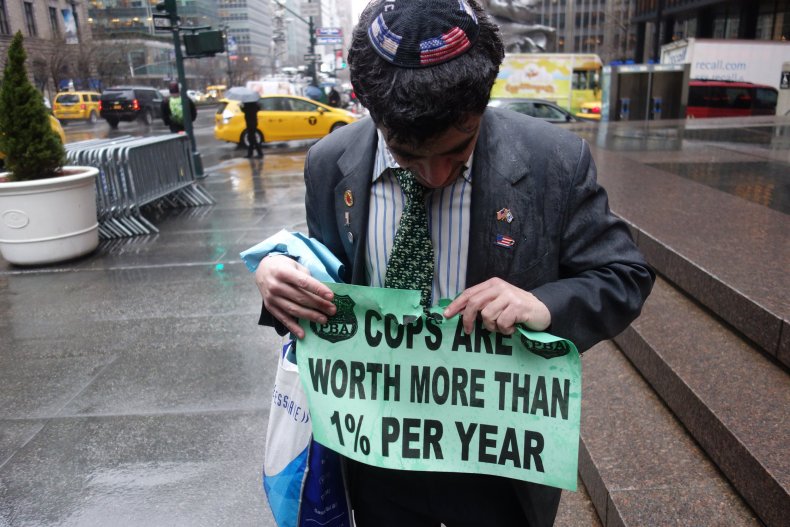 Kohane found out about the event from a police officer friend and through Facebook. He attributed the low turnout to the rainy weather and the fact that the rally was taking place on a Tuesday morning when people were likely to be at work, though these factors didn't seem to stop the counterprotest from taking place.
Kohane was surrounded by Black Lives Matter activists, who far outnumbered him. They carried signs displaying the faces of people killed by police brutality and slogans like, "Pro black is not anti white." Some of them chanted the instantly iconic refrain from Beyoncé's song, "Come on, ladies, now let's get in formation."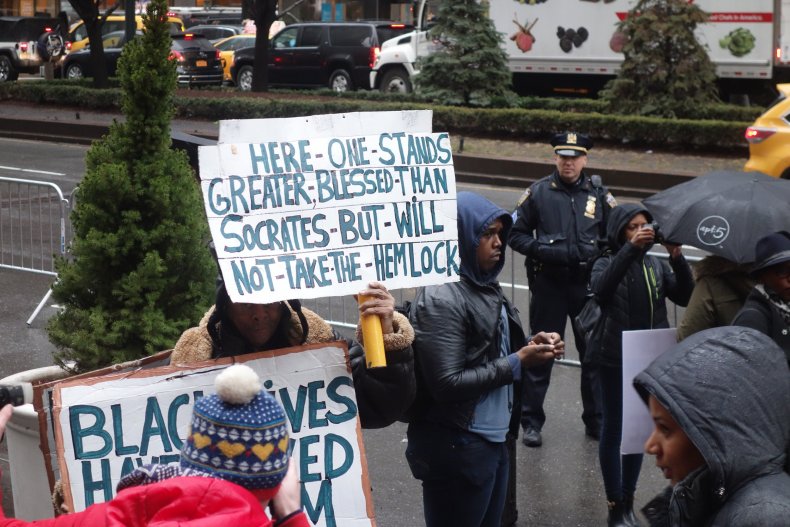 "I am here to give my support to Beyoncé for the bold move that she made supporting the Black Panther Party on its 50th anniversary," said Frank Sha Francois, a member of the group. "We're here to send a strong message to the rabid pigs that we will not be scared away, and we will continue to fight for freedom, justice and equality."
"We feel that Beyoncé is representing the time that we live in right now," said a fellow supporter, a member of Occupy Wall Street.
The only other protester taking a firm stance against Beyoncé was a woman wearing an NFL jersey and police hat. She was there because many of her friends are police officers, she said.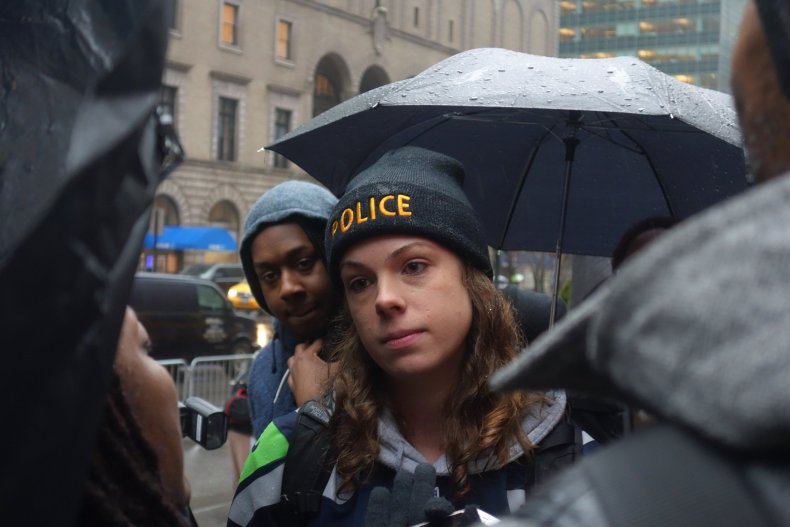 She huddled under shared umbrellas with Beyoncé fans while arguing with them about the politics and racial dynamics of police violence in 2016.
This "anti-Beyoncé rally" existed pretty much only on the Internet. So it seems about right that it devolved into the IRL equivalent of a Facebook comment thread.
Somewhere off in the distance, Beyoncé's career carried on, unharmed.