Anti-Drug Billboard Will Hurt Tourism In San Francisco, Groups Worry
Some tourism and business organizations in one of California's biggest cities are not too thrilled with a billboard that recently went up in a popular area.
A new billboard from Mother's Against Drug Deaths in San Francisco's Union Square District makes mention of the city's opioid problem, according to KPIX in San Francisco. But several groups in the city have stated their opposition to the billboard, claiming that it is just not the right time for the billboard's message.
The billboard states that "Famous the world over for our brains, beauty and now, dirt-cheap fentanyl." It goes on to read, "It's time to close open-air drug markets."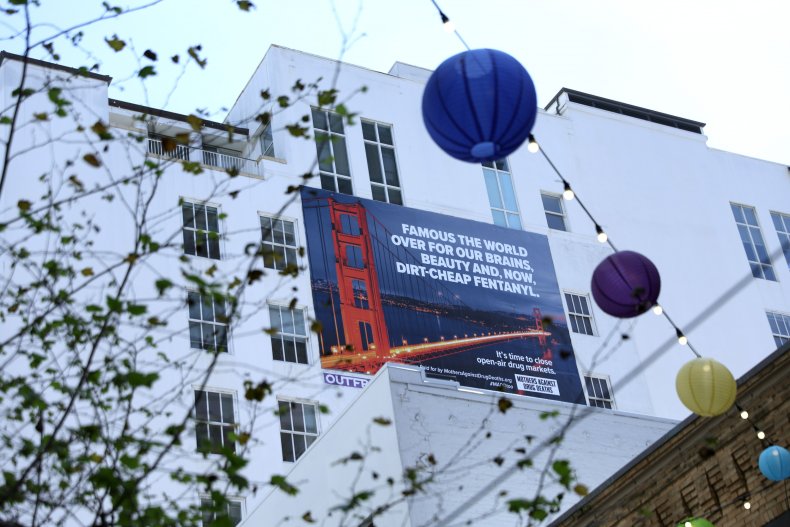 According to KPIX, a joint statement from the San Francisco Travel Association, The Hotel Council of San Francisco, the Union Square Alliance and The Golden Gate Restaurant Association mentioned that the "passionate campaign being launched today...although impactful" is not the right approach.
The full statement reads:
"There are no words sufficient to console the pain of those impacted by addiction across the United States. Here in San Francisco, our hospitality community has been proactive and focused in our efforts to push our elected officials to clean up the open air drug dealing that's sadly visible in parts of our city. The passionate campaign being launched today by MADD, although impactful, is not the solution as it will only hurt local small businesses and our hospitality workers who just now are beginning to crawl out of the economic disaster caused by COVID and its continuing fallout. We respectfully ask that MADD join with us in pushing for solutions while supporting our tourism industry workers."
The billboard, according to KGO-TV, cost the group $25,000 to put up in Union Square, which its website claims is the "vibrant heart of San Francisco"
However, while those local business and tourism groups don't care for the billboard and Mothers Against Drug Deaths' new campaign, several tourists who spoke to KPIX said they appreciated the billboard.
"I am a parent, I have two baby girls myself, I think it's sad, at least they're doing something about it, informing everybody," Maggie Ramirez told KPIX.
Another person, who said she was a recovering addict, also appreciated the billboard's message.
"I think education is our way out of that, if there's a way out of substance abuse, people dying. Addiction is a sad disease," Meghan Emmons said to KPIX.
Jacqui Berlinn, lead organizer for Mothers Against Drug Deaths, according to ABC7, decided to start the campaign after San Francisco's mayor, London Breed, announced an end to the state of emergency in the city's Tenderloin neighborhood. Late last year, Breed announced a state of emergency due to the drug situation in the area.
Berlinn also questioned, the station reports, the mayor's trip to Europe, pitching the city as a fun and safe tourism destination.
"And we're like, wait a minute, it's not changed. We should still be in a state of emergency. And then she went to Europe and said, 'Come to San Francisco. It's fine.' Um, no, it's not fine. It's really not," Berlinn told ABC7.
Berlinn, the station reports, is the mother of an addict who is currently living on the city's streets.
On their website, Mothers Against Drug Deaths describes themselves as "moms who want to keep kids from losing their lives and futures to fentanyl."
They go on to mention that many have stepped up to do this as "parents, and citizens of California" in order to demand that "we shut down the drug death markets, create psychiatry for all, and adopt a 'Shelter First' policy for drug addicted homeless, so they can get the help they need."
Mothers Against Drug Deaths isn't the only group concerned about safety and well-being in San Francisco.
In March, a new poll shows Democrats in the city support the recall of their district attorney amid an increase in crime.
City Supervisor Ahsha Safai tweeted after a shooting near a playground that he's "100% committed to making sure our community is safe."
Newsweek reached out to Mothers Against Drug Deaths for comment but did not hear back before publication.