Anti-ISIS Coalition 'Using White Phosphorus' in Iraq and Syria, Endangering Civilians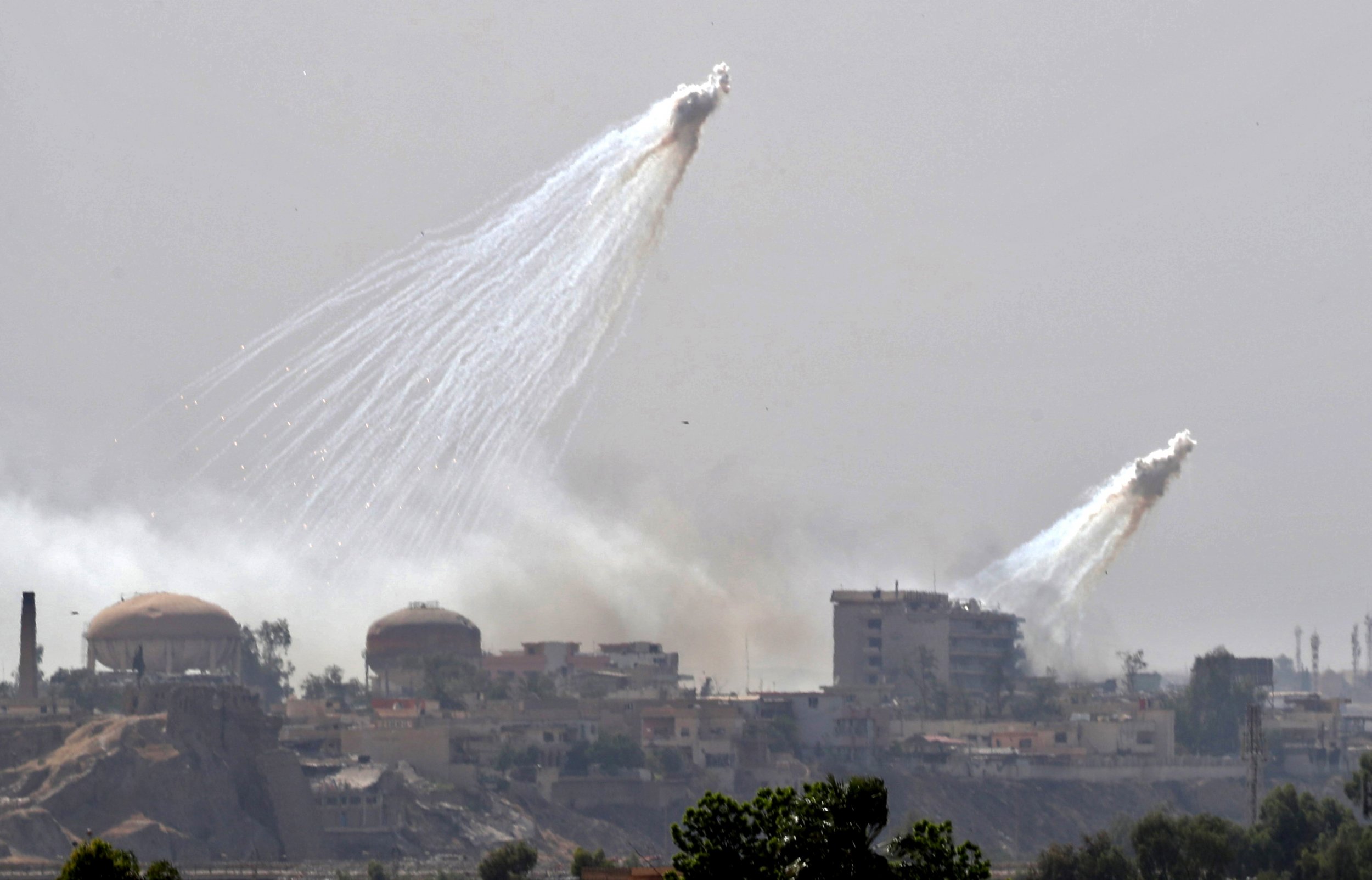 The U.S.-led coalition battling the Islamic State militant group (ISIS) in Iraq and Syria is employing the use of white phosphorus, endangering civilians trapped in the cities of Raqqa and Mosul, Human Rights Watch said Wednesday.
The rights group said the coalition is using the white phosphorus-loaded munitions in the two largest cities under ISIS's control: the eastern Syrian city of Raqqa and the northern Iraqi city of Mosul. HRW said it could not confirm if its use had resulted in any civilian casualties but said it risked causing civilians long-term damage at least.
"No matter how white phosphorus is used, it poses a high risk of horrific and long-lasting harm in crowded cities like Raqqa and Mosul and any other areas with concentrations of civilians," said Steve Goose, arms director at Human Rights Watch.
"US-led forces should take all feasible precautions to minimize civilian harm when using white phosphorus in Iraq and Syria."
The munition, if coming into contact with the human skin, can burn through flesh and to the bone. International law, under the 1980 Convention on Conventional Weapons, bans the use of the weapon on enemy combatants in civilian-populated areas.
The U.S-led coalition, responding to Newsweek 's request for comment, said it was "looking into" the accusations. But a general, New Zealand Brigadier Hugh McAslan acknowledged late Tuesday that the forces had used the munition in Mosul, but not to target combatants. "We have utilized white phosphorous to screen areas within west Mosul to get civilians out safely," he told NPR.
The weapon can be used to mark enemy territory or as a smokescreen. But the intense heat it creates can also be used to burn buildings and combatants.
Read more: The final push for Mosul, a "matter of time" until ISIS flag falls
Since June 1, residents in Raqqa and ISIS itself have both posted footage of alleged coalition use of white phosphorus, on Facebook and the Amaq news agency respectively. ISIS has made the claim on several occasions, but more as an attempt to discredit the coalition as part of its propaganda campaign. Footage has also emerged from Mosul, shared on Twitter but shot by Kurdish broadcaster Kurdistan24.
The weapon is recognizable by the bright flames it creates when fired as the chemical ignites with the air. It continues to burn until deprived of oxygen. The Israeli military has previously used the weapon in its wars with Palestinian militant group Hamas in the Gaza Strip and Lebanese militant group Hezbollah. Shiite Houthi rebels have previously accused Saudi Arabia of dropping phosphorous bombs in Yemen.