Anti-Lockdown Pastor Holds 35,000-Person Maskless Music Concert in D.C. National Mall
Failed congressional candidate, Christian musician and activist Sean Feucht held the final stop of his "Let Us Worship" concert tour at the National Mall in Washington D.C. on Sunday.
But while Feucht and other Christian media outlets such as the Christian Broadcasting Network claimed that 35,000 to 40,000 people attended the event, local news reporters with WUSA9 estimated the largely maskless crowd only to be in the "hundreds."
The event, which went from 4 to 8 p.m. local time, featured Feucht and other musicians as well as on-site prayers and baptisms. Republican Missouri Senator Josh Hawley also made an appearance on stage to pray for then-Supreme Court nominee Amy Coney Barrett.
The permit for the event included "a COVID-19 mitigation plan" with sanitation stations near portable toilets, masks and gloves for stage crew and "a sign placed at the table where we will give away Bibles," WUSA9 reports.
However, the station's reporters say they saw "virtually no social distancing or mask-wearing," adding that "Feucht's staff, are seen not wearing masks or abiding by social distancing restrictions per [guidelines from the U.S. Centers for Disease Control and Prevention]."
An official with the National Park Service, which oversees the maintenance of the National Mall, told the station, "While the National Park Service strongly encourages social distancing, the use of face coverings and other measures to prevent the spread of infectious diseases, we will not require nor enforce their use."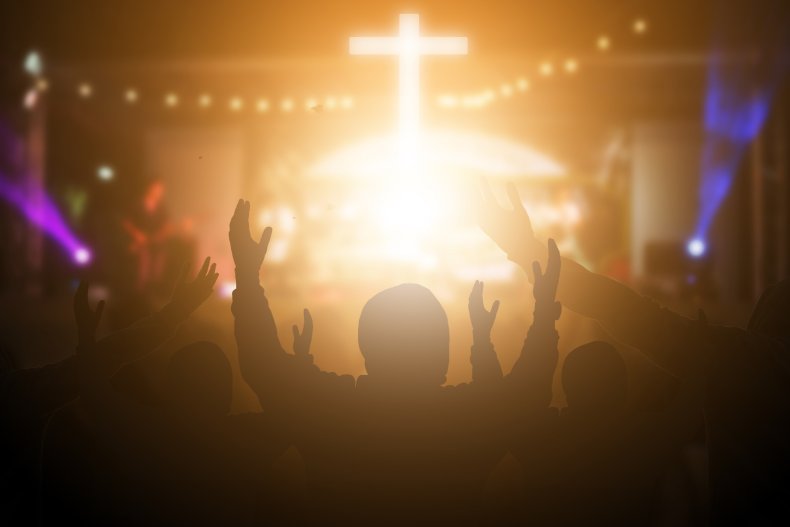 In a tweet published on the morning of October 26, Feucht wrote of the concert, stating, "Over 35,000 Americans gathered to pray, worship and fill Washington DC with HOPE, LIFE & FAITH yesterday! A new Jesus people movement is sweeping the nation!"
Feucht is the leading force behind "Let Us Worship," a group that opposes church-related lockdown measures as a violation of religious liberty. He has held similar events in California, Maine, Oregon, Colorado, Florida and Nashville, Tennessee, the last of which was held without his first acquiring a permit for the event.
Videos of Feucht's past "Let Us Worship" events posted on his personal YouTube account have shown mostly white audience members without face masks and not practicing social distancing measures.
Feucht has called his events "protests" to circumvent municipal coronavirus requirements under the banner of free speech. Republican President Donald Trump has done the same thing in order to hold his large rallies without face masks or social distancing either, according to the Associated Press.
Earlier this year, Feucht ran an unsuccessful campaign to become a Republican House representative for the state of California. His campaign ended when he lost his state's March 3 primary election.