Anti-lockdown Pastor Holds Massive Tennessee Gathering as State Reaches 211,000 COVID-19 Cases
The Nashville Metro Health Department is investigating a 9,000-person religious gathering held on Sunday by Sean Feucht, a pastor who has held similar gatherings in other states as protests against COVID-19 restrictions on church meetings.
Feucht's event occurred on a weekend in which the state confirmed 5,161 additional coronavirus cases and 35 related deaths. As of October 12, Tennessee has had over 211,000 confirmed cases and 2,738 deaths total since the start of the epidemic.
Feucht is the musician and leading force behind "Let Us Worship," a group that opposes church-related lockdown measures as a violation of religious liberty. Nashville churches aren't closed for indoor services, but the state's Republican Governor, Bill Lee, has suggested precautionary measures to help prevent outbreaks in houses of worship.
The event organizer allegedly didn't submit an application for his gathering to any city department before hosting a concert on the steps of a downtown courthouse.
Video of the event posted by Feucht on his personal YouTube account showed a mostly white audience crowding the courthouse lawn with no observable face masks or social distancing measures in use.
"We have worked very hard to slow the spread of COVID by taking a measured approach to protect the community," Nashville Health Department spokesperson Brian Todd said in a statement Monday. "The Health Department is very concerned by the actions that took place at the event and we are investigating and will pursue appropriate penalties against the organizer."
Nashville's COVID-19 ordinances limit non-city-approved gatherings to 25 people, and approved gatherings to a maximum of 500 people with required face masks.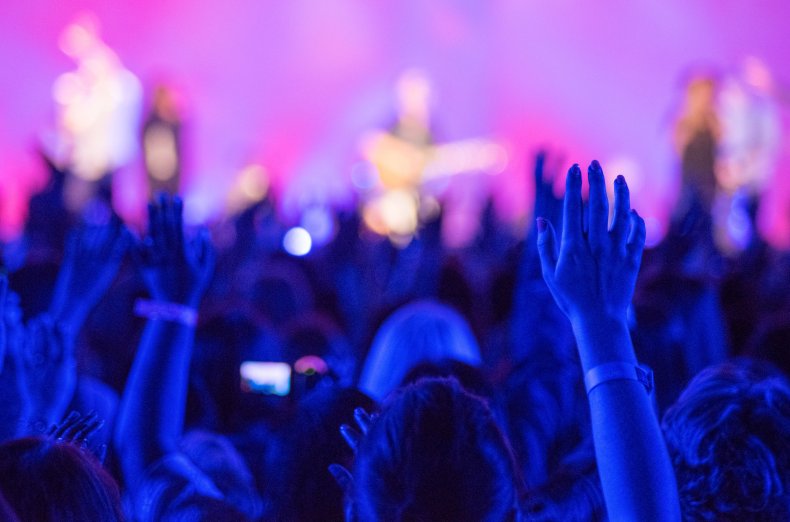 Feucht has held similar events in California, Maine, Oregon, Colorado and Florida, calling them as "protests" to circumvent municipal coronavirus requirements under the banner of free speech. Republican President Donald Trump has done the same thing in order to hold his large rallies without face masks or social distancing either, according to the Associated Press.
In Tennessee, coronavirus-related hospitalizations have surged over the last three months, with the state reporting anywhere from 800 to 1,000 occupied hospital beds per day. Last week, the state reported its third-highest number of coronavirus deaths and an increase in cases amongst children ages five to 18, according to Nashville News Five.
On Monday, municipal officials announced the coronavirus-related death of Lonnie Norman, the mayor of Manchester, the Tennessee town which hosts the annual Bonaroo Music Festival.
"At a time when Nashville has been making real progress at controlling the spread of the coronavirus, I am greatly disappointed that the organizer of Sunday's event and those in attendance did not better prioritize their health and the health of others through social distancing and the wearing of face coverings," said interim Metro Nashville Police Chief John Drake.
"Personal responsibility is a necessity regardless of the purpose for a public event," he added.
Newsweek contacted the Metro Nashville Police Department for comment.