Anti-Mask Group Lobbies Students, Using Food Coupons to Reject COVID Protocols
Members of one group in Oregon are using coupons to encourage high school students to stand up against mask use in schools.
Those belonging to People's Rights gathered outside of Redmond High School on Thursday, according to KTVZ, a television station in Bend, Oregon. It's part of a 10-day protest against, what they say, is Oregon's "illegal and expired mask mandate."
While there have been many anti-mask protests around the country, People's Rights is using a somewhat unique tactic: food coupons. As students approached members of the group, they received materials with information and coupons for food worth up to $5. With several students gathered around, Scott Stuart, one of the organizers of the protest, could be heard asking students: "Does the vaccine prevent you from getting COVID or spreading COVID? No, then why are you being told you gotta get a vaccine."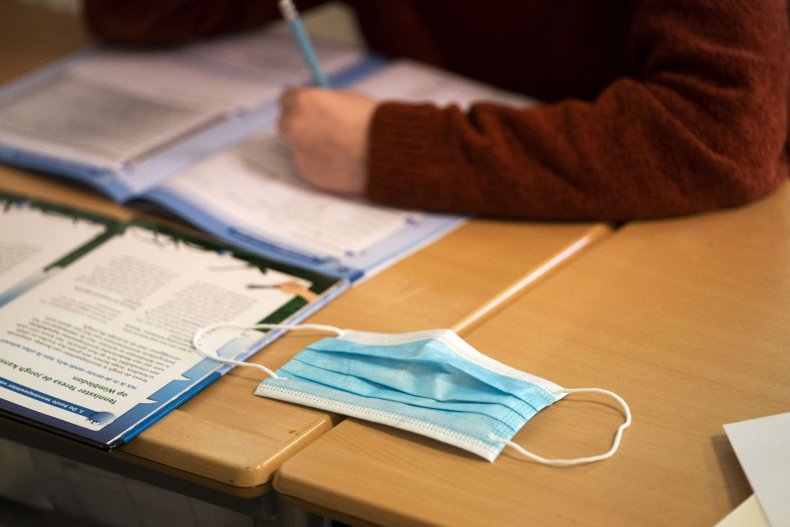 According to the Oregon Health Authority's website, masks are currently "required in all indoor spaces." The site goes on to define all indoor spaces as "anywhere indoors, including but not limited to public and private workplaces, businesses, indoor areas open to the public, building lobbies, common or shared spaces, classrooms, elevators, bathrooms, transportation services and other indoor space where people may gather for any purpose."
In addition to People's Rights saying that requiring students to wear masks is illegal, Stuart feels that wearing a mask can damage a person's physical well-being. After one person commented that they didn't believe their breathing was being hampered by wearing a mask, Stuart responded, "You're very abnormal."
One student appreciated the group's efforts saying, "Honestly, it's kind of nice to walk out after getting yelled at all the time by teachers and people all the time to put on their mask."
Another student concurred, "I think it's a good thing. Honestly, my parents love it."
However, a third student told KTVZ that the People's Rights efforts may be in vain.
"A lot of kids at school are already, like, protesting against it by just taking their masks off and not wearing them. What's the difference that this is going to do?"
However, one student, while he wasn't supportive of the group's message did appreciate the $5 coupons: "It's our lunch money. I just bought two pounds of food, worth of M&W over there. So, I mean it works. It's worth it. I just, it's bogus. They don't need to do this."
On its website, the People's Rights says "YOU HAVE A RIGHT TO LIFE!! You are not a plant, an animal, or an inanimate object. You are a human being endowed by our Creator with unalienable rights, one of which is the RIGHT TO LIFE, which you should not be deprived of without due process of law."
The group's site goes on to make mention of and explain liberty and the pursuit of happiness stating, "The Pursuit of Happiness sounds vague but as the Supreme Court stated, it goes hand in hand with liberty. How does one pursue happiness? By living one's life free from unreasonable restraint!"
In response to Newsweek, the People's Rights sponsor of the rally at Redmond High School, Scott Stuart, wrote in an email Sunday:
"The Central Oregon People's Rights group sponsored a Student Choice No Mask Rally for 2 weeks at Redmond High School in Redmond, Oregon. It culminated with over 200 adults Rallying outside the school and 75 students who walked out of classes on Friday, February 4th, 2022. The goal of the People's Rights group was to raise awareness in the community that Governor Kate Brown's Executive Orders are un-Constitutional and expired. The students are being held hostage by Oregon Department of Education's (ODE) draconian measures of mandatory testing for COVID 19 twice per week as well as mandatory masks inside the school building. The People's Rights group passed out Constitutions and State Statutes that protect the students from State government overreach. Parents joined in the Rally after reading about Oregon Health Authority's new rule based upon the Governor's mandate that all Oregonians must wear masks in indoor spaces with no timelines attached to the rules. Some of the students had quite a bit to say about this in several videos."
Newsweek reached out to Redmond High School for comment but did not hear back before publication.
This article was updated on Sunday evening with Stuart's response.