Anti-Mask Protest Outside California Chicken and Waffles Restaurant Turns Violent
An anti-mask protest outside of a popular chicken and waffles restaurant in southern California turned violent over the weekend as the debate over mask mandates continue.
Video posted to social media showed a man being dragged out of Roscoe's House of Chicken and Waffles in Anaheim by security guards while a woman can be heard shouting "brutality."
"Let go of him," another person can be heard yelling.
Officers responded to the scene following reports that someone had been pepper sprayed, but no one was injured or arrested in the protest, KCAL-TV, a Los Angeles television news station, reported.
One week earlier, a video went viral of a woman harassing the restaurant's employees, comparing mask requirements to segregation, after she was asked to wear a mask, according to KCAL.
In a statement to Newsweek, Roscoe's wrote, "We welcomed a peaceful protest. After all, it's the American way. As a veteran, our owner fought for those rights. Roscoe's does not tolerate racism or discrimination of any kind. When the protesters didn't remain peaceful, the security was instructed to remove the unmasked individual from further harassing our customers and employees."
In Anaheim, fully vaccinated people are not required to wear masks indoors, but individual businesses are allowed to institute their own mask mandates, according to the city's website. Anaheim is a city of just under 350,000 people in Orange County and is notably home to Disneyland.
COVID-19 cases in Orange County began to climb in July, as the Delta variant became dominant across the United States. Cases still remain higher than they were for several months leading to the late-summer spike, though they have declined slightly recently. On Sunday, the county had a seven-day average of 385 new cases per day.
Across the United States, anti-mask and anti-vaccine mandate activists have held protests in defiance of what they believe to be overreaching government policies—even as COVID-19 cases in the U.S. remain high.
A video of anti-mandate advocates storming a food court on Staten Island has been viewed 2 million times. The video did not show mall security confronting them, despite signs saying the vaccine was required to sit in the food court.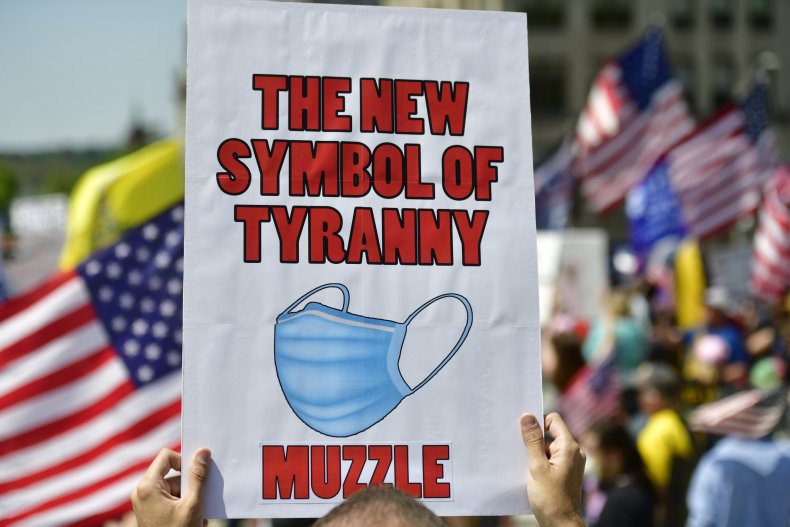 Video posted to social media showed the protestors sitting at tables chanting "F**k Joe Biden," some wearing pro-Trump t-shirts and waving American flags.
In Tennessee, anti-mask activists threatened to halt entry into some schools after a district judge introduced a mask mandate inside the schools, prompting outage from some. State Representative Gloria Johnson wrote in a tweet, "this is not a group that cares about kids."
Three schools in Vancouver, Washington went into lockdown earlier in September after a group of people protesting mask mandates tried to enter one of the schools.
Despite the protests, many public health officials continue to recommend people to wear masks in some situations including while in school. Some school districts have implemented mask mandates for students, and some places including New York City have required vaccinations to participate in some public activities including dining out and going to the gym.