School Classes Canceled Amid Event Asking to Block Entry Over Mask Mandate
Anti-mask activists have reportedly threatened "to halt" entry to certain Tennessee schools after a district judge introduced a mandate enforcing face coverings inside the buildings.
According to The Knoxville News Sentinel, Knox County schools will close their doors Monday in order to comply with Judge Ronnie Greer's Friday ruling that masks be worn by students and staff.
The ruling effectively blocks Republican Tennessee Governor Bill Lee's earlier executive order allowing schools to opt out of mask mandates, although it only applies in the county.
According to the outlet, the ruling was made after four families introduced a lawsuit that argued the school board had failed to make "reasonable accommodations" for their disabled children, who are at a greater risk of becoming seriously from COVID-19.
In response, a group of anti-mask activists apparently met over the weekend to protest the ruling and allegedly asked people to stop others from entering schools.
Tennessee State Representative Gloria Johnson (D) hit out against the group in a Sunday Twitter post.
The retired teacher said: "Really concerning to me that an anti-mask group just met saying they need to bring Knox County Schools to a halt (to applause) and asked folks to block the entrance to schools with their cars-including not letting school buses in. This is not a group that cares about kids."
Rep. Johnson then shared a video of an unidentified man giving a speech against the mandate, saying: "We need to bring Knox County Schools to a screeching halt."
In a later statement sent to Newsweek, Johnson added: "Covid-19 is still a very real threat to students and teachers.
"We know this because the number of kids and teenagers who have died from Covid has doubled since the school year started. We also know of more than a dozen teachers and faculty statewide have died from the disease this school year.
"The judge's ruling affirms that every child has a constitutional right to a healthy and safe school—and teachers, many of whom have high-risk health conditions, also have a right to a safe working environment.
"Tennessee has been at the top in the nation in COVID cases, if elected officials in our state will not protect people who want to live free from Covid, the courts have a duty to step in and secure our constitutional rights."
A petition that asked people to oppose Judge Greer's mask mandates in Knox County schools has also been launched.
The change.org petition started on Friday said: "There is NOT a mask mandate in Knox County which should mean the freedom to be mask-free in our classrooms as well. Each person has the right to do what makes them feel safe, and if that is a mask for your child, that is ok! But those of us who are against them have the same right to not enforce on our children."
Since it was launched, the petition has gathered more than 4,500 signatures out of a target of 5,000, as of Monday morning.
Knox County schools will be closed Monday as they prepare to introduce the new measures and ensure they comply.
The Knoxville News Sentinel obtained a letter sent to families, which read: "As we shared with you on Friday afternoon, we were notified that U.S. district judge Ronnie Greer had issued a federal order requiring face coverings for all students, staff and visitors when indoors at our facilities.
"In an effort to ensure that we are in compliance with this federal order, Knox County Schools will be closed on Monday, Sept 27."
It concluded: "We will be using this time to work with our administration and staff who will report to work as normal, to make sure our schools are ready for students on Tuesday."
Following Friday's ruling, Superintendent Bob Thomas wrote to families explaining the situation.
The Knoxville News Sentinel reported superintendent Thomas as having said: "We recognize that this is a sensitive topic and that there are a wide variety of strongly held feelings about COVID-19 mitigation measures.
"At the same time, I want to make very clear that we are required to implement this order."
Newsweek has contacted Knox County Schools Superintendent Thomas, Rep. Johnson and the change.org petition organizer Tina Roper for comment.
Mask mandates became highly contested in many parts of the U.S. with those arguing for them saying it keeps people safer from COVID, while those opposing believe it is a violation of individual rights.
New data from the Centers for Disease Control and Prevention found that schools that did not require indoor masking were 3.5 times more likely than those with mask requirements to suffer a COVID outbreak.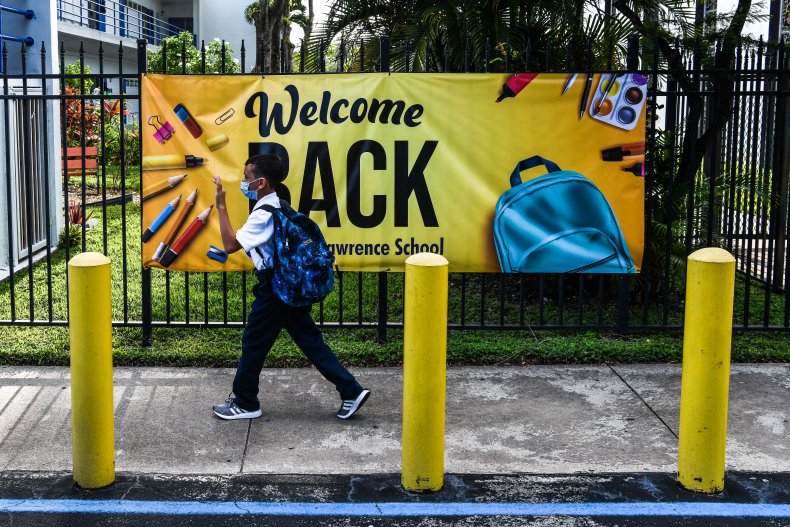 UPDATE 9/27/21 11:26 a.m. ET: This article was updated to include comments from Tennessee State Representative Gloria Johnson.