Anti-Masker Launches Into COVID Tirade Using Megaphone Inside Costco Store
An anti-masker used a megaphone inside a Costco store to criticize the use of face coverings in tackling the coronavirus pandemic.
The unidentified man was seen on top of a clothing display at the store in Tustin, California, on Sunday shouting: "We have got to stand up for ourselves...It's a beautiful day outside and what are we doing, covering up with our masks."
As the number of COVID deaths soars, California has made wearing face coverings mandatory in most situations outside the home. Since mid-November, Costco customers unable to wear a mask due to a medical condition must wear a face shield at all stores.
During his rant, the man falsely suggested COVID was no more of a risk to public health than the common flu and that covering your face and nose does not help prevent the spread of the coronavirus.
"If masks really work, why is this still a problem? Because the masks don't do anything. It's just the flu—we've already been exposed to it folks."
While both influenza (Flu) and COVID-19 are contagious respiratory illnesses, they are caused by different viruses and can have different effects, the Centers for Disease Control and Prevention notes on its website.
The CDC has said that the COVID virus is able to spread quicker than influenza, that it can cause more serious illnesses in some, and that—unlike the flu—there has been no vaccine for COVID-19 until recently.
"The best way to prevent infection is to avoid being exposed to the virus," it adds.
Across the U.S., almost 300,000 people are known to have died with COVID-19. In comparison, an estimated 22,000 died due to influenza last year, the CDC reports, although the figure does vary each year. It hit 61,000 just two years ago.
In another outburst the man, who is wearing a face mask below his chin, also hits out at previous predictions of how many people COVID could kill.
Cases and death tallies have been rising in California and across the U.S. recently.
A record 1,112 COVID-19 deaths were reported in California last week, taking the total number to 21,040 from 1,585,378 recorded cases, according to John Hopkins University (JHU).
Across the U.S., almost 300,000 people are known to have died with COVID-19. Globally, more than 1.6 million have died, according to JHU.
"We were told that 2.5 million people were going to die," the man continued. "But do you know that 2.5 million people haven't died in the world? And there are 7.5 billion people on this planet."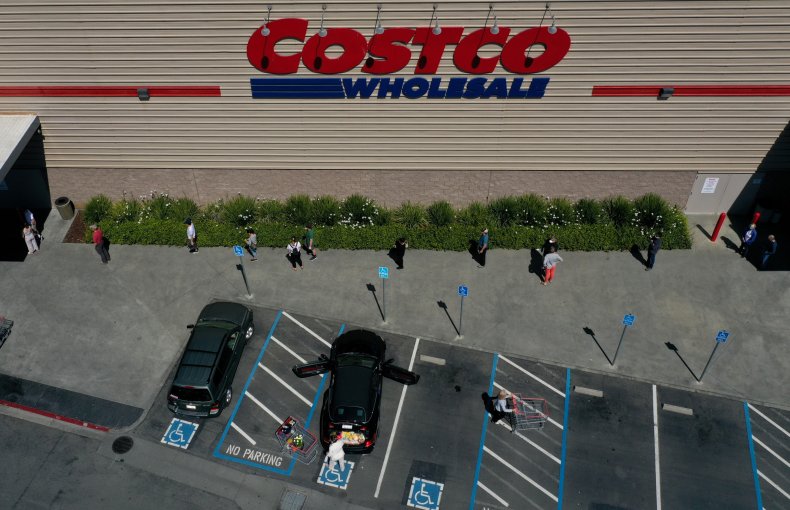 An influential report from scientists at Imperial College in London, England, forecasted up to 2.2 million in the U.S. if the virus was allowed to transmit freely, without controls in place.
Five months later, President Trump told reporters that without action to tackle COVID "you'd have 2.5 million deaths" in the U.S.
Reaction to the man's anti-mask broadside was mixed.
Some people in the store offered fist-bumps, while others called for him to hush, according to KCBS-TV, the TV station which first reported the incident.
The Wider Picture
The virus has infected more than 72.3 million people, including over 16.2 million in the U.S., since it was first reported in Wuhan, China. More than 47.3 million have recovered as of Monday, according to JHU.
The graphic below, produced by Statista, shows the spread of COVID-19 cases in the U.S.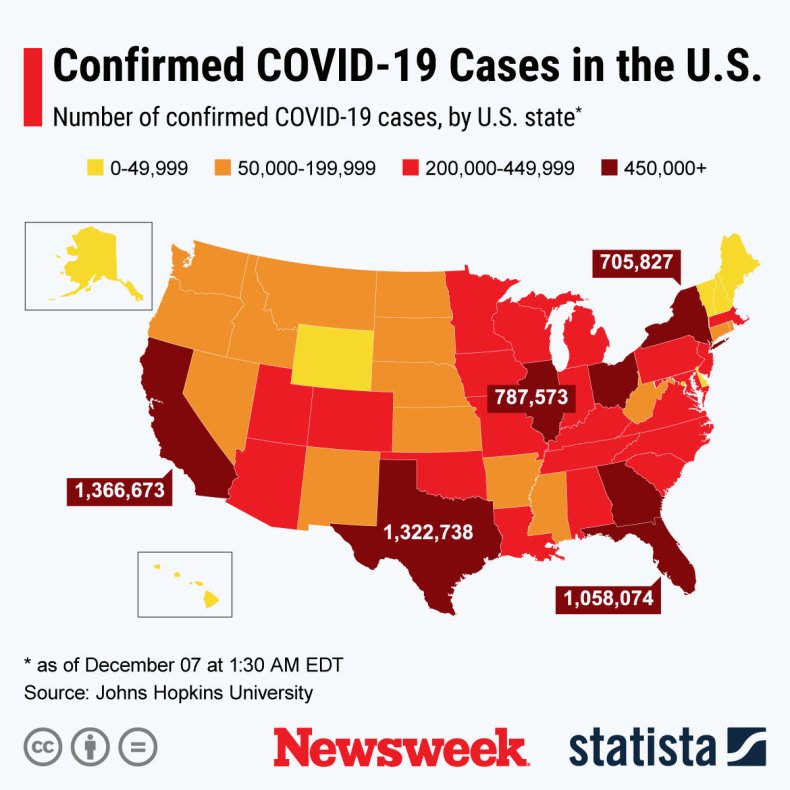 The next graphic, also created by Statista, shows the distribution of COVID-19 deaths among the U.S. population.