Anti-Maskers in MAGA Gear Parade Through Florida Target, Yelling for People to Remove Masks
A video spreading on social media shows a group of anti-maskers walking together through a Target store and encouraging customers to discard their masks.
The video was shared on Twitter on Tuesday by @davenewworld_2, who included with the video a caption that read, "Anti-maskers in Florida invade a Target."
At least nine young adults and children are seen walking together in the video. None of them are wearing masks, but at least two are wearing "Make America Great Again" gear, and one individual with a MAGA hat is also wearing a T-shirt that appears to depict former President Barack Obama wearing a MAGA hat of his own.
As the group walks down one aisle, the song "We're Not Gonna Take It" by Twisted Sister can be heard playing from one of their phones.
"We're not gonna take it anymore," one person yells.
Others can be heard yelling, "Take your mask off" and "Yeah, take it off" as they march through the store.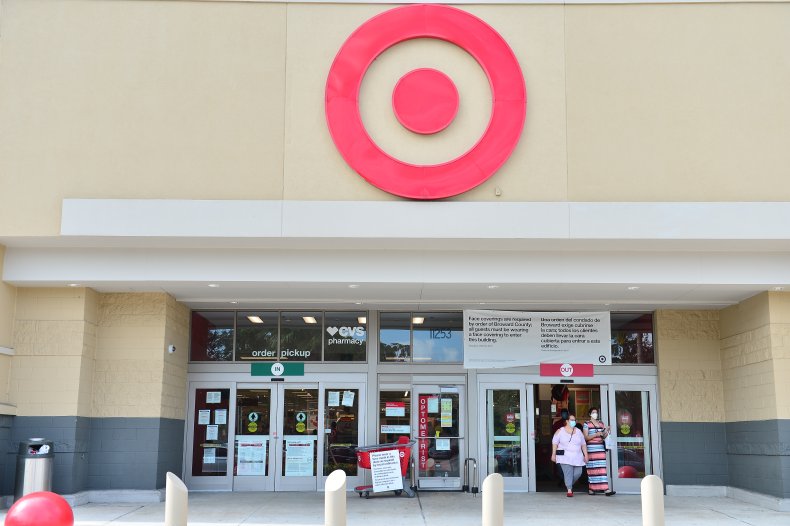 One customer watching the procession out of view of the camera can be heard saying of the group, "F***ing idiots."
Target launched a company-wide policy requiring all employees and customers—except those with underlying health conditions or young children—to wear masks inside its stores on August 1. In a news release announcing the requirement, Target said that about 90 percent of its stores required masks prior to the policy due to local mask mandates.
In the event that a customer arrives at a Target store without a mask, the company said it has disposable masks available for their use. The company said it also has audio and visual directives throughout its stores to remind customers of the requirement while they're shopping.
Florida does not have a statewide face covering requirement, but several mayors within the state have issued mask mandates of their own. The Florida Department of Health does encourage all Floridians to wear masks when they are around other people or in public places, such as inside a market or department store.
A Target spokesperson told Newsweek that the incident captured on video took place inside a store in Fort Lauderdale, a city north of Miami that is located in Broward County. All people in Broward County are required to wear face coverings in public and private spaces where social distancing is not possible, according to local health ordinances.
"Our priority remains the health and safety of our team and guests and we communicate our mask requirement through signs in our stores, overhead announcements and reminders from team members at the front of our stores," the Target spokesperson told Newsweek. "We're aware of the group of guests who came into the store last night and we asked them to leave after they removed their masks and became disruptive and rude to other shoppers."
Though not every governor in the U.S. has implemented a statewide mask mandate, most health officials agree that wearing face coverings can reduce the risk of COVID-19 transmission at times when social distancing is difficult to maintain. At the national level, the Centers for Disease Control and Prevention began encouraging Americans to wear masks in early April.
While President Donald Trump was infrequently seen wearing face coverings for the first several months of the pandemic, he began encouraging Americans to wear them in July. By mid-August, a survey conducted by Pew Research Center found that about 85 percent of Americans said they were regularly wearing face coverings while shopping inside stores.
Update (9/16/2020, 6:40 p.m. ET): This article has been updated to include a response from Target.