How Trump Went From Avoiding Masks to Calling Them Patriotic
President Donald Trump has shifted from an aversion to wearing face masks and a reluctance to endorse them to suggesting they are patriotic, while sharing a photo of himself wearing one.
His volteface on face coverings was apparent in a tweet he posted Monday, stating: "We are United in our effort to defeat the Invisible China Virus, and many people say that it is Patriotic to wear a face mask when you can't socially distance.
"There is nobody more Patriotic than me, your favorite President!"
Below, Newsweek takes a closer look at Trump's conversion to mask-wearing.
Avoiding masks
The latest post from the president marks a change from previous comments, with him stating in early April: "I just don't want to wear one myself."
Those comments came as the Centers for Disease Control recommended the public begin voluntarily wearing face coverings, particularly in circumstances where social distancing is difficult.
Nevertheless, Trump said: "Somehow, sitting in the Oval Office behind that beautiful resolute desk, the great resolute desk, I think wearing a face mask as I greet presidents, prime ministers, dictators, kings, queens, I don't know. Somehow, I don't see it for myself. I just don't."
At the time, he indicated he could change his mind but that he hoped "this will pass and hopefully it will pass very quickly."
Following this, in May he chose not to wear a mask during public sections of a trip to a Ford plant in Michigan.
Explaining why, he stated: "I didn't want to give the press the pleasure of seeing it."
The president even shared a post which appeared to mock his rival Joe Biden for wearing a mask, after the Democratic presidential candidate wore one as he laid a wreath at a Memorial Day ceremony.
Fox News political analyst Brit Hume shared a photo of Biden from the event on Twitter and wrote: "This might help explain why Trump doesn't like to wear a mask in public. Biden today."
Trump did not wear a mask at events he attended on Memorial Day.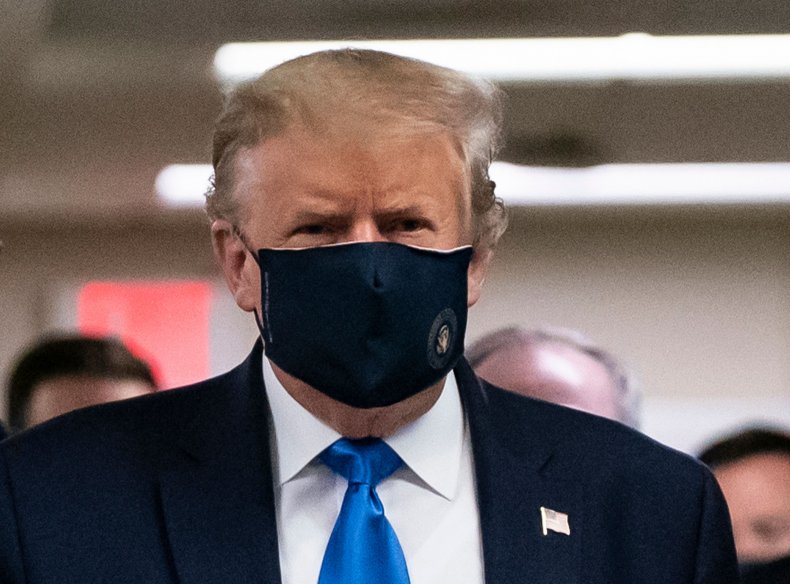 Switch to masks
Earlier this month, in a visit to the Walter Reed National Military Medical Center, Trump chose to wear a face covering—opting for a navy blue mask with a gold presidential emblem on the side.
Before the visit, he suggested he would do so due to the circumstances.
"Well, I'll probably have a mask, if you must know. I mean, I'll probably have a mask. I think when you're in a hospital, especially in that particular setting, where you're talking to a lot of soldiers and people that, in some cases, just got off the operating tables, I think it's a great thing to wear a mask," he said.
Commenting on his own previous remarks on masks, he said: "I've never been against masks, but I do believe they have a time and a place."
Earlier in July he said he was "all for masks" and said he "sort of liked" his appearance wearing one, suggesting he "looked like the Lone Ranger."
"If I were in a tight situation with people, I would absolutely wear one," the president said.
However, despite this shift and his fresh commendation of mask wearing, he has still stopped short of pushing for their use to be mandated.
"No, I want people to have a certain freedom, and I don't believe in that, no," he said, when asked by Fox News' Chris Wallace if he would consider making mask-wearing in public mandatory.
Public opinion
Trump's switch in tack comes as public opinion over his handling of the pandemic plummets.
Polling from the ABC News/The Washington Post conducted from July 12 to 15, showed 54 percent of Americans said they trust Biden more to handle the pandemic than Trump. Of the 1,006 respondents, 34 percent favored Trump in this regard.
This showed a major shift from similar polling in March, in which 45 percent said they trusted the president more compared to 43 percent who said Biden would do a better job.
Among Republicans, recent polling also showed a drop in approval for the president in terms of handling the pandemic.
According to an ABC News/Ipsos poll, which surveyed 711 U.S. adults from July 7 to 8, 78 percent of Republican respondents approved of his handling of the situation.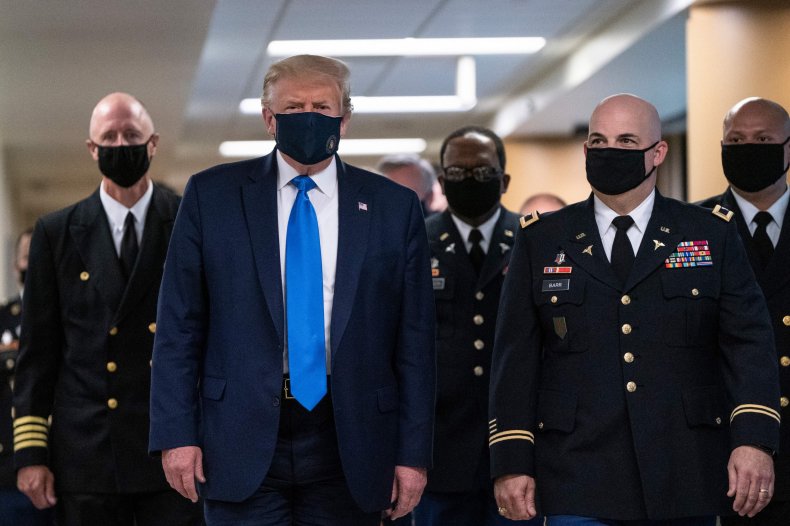 This was down from 90 percent in similar ABC News/Ipsos polling from mid-June.
With political affiliation taken out, overall 67 percent of respondents in the July survey said they disapproved of Trump's handling of the outbreak.
A third, 33 percent, approved, down from 41 percent in the mid-June results.
Previous polling also suggested that most people believed Trump should wear a face mask in public.
Of 1,323 people asked from May 14 to 18 by Quinnipiac University, 67 percent were of the opinion he should
Political pressure
As well as public opinion going against him, the president has faced political allies also backing the use of face masks.
Vice President Mike Pence has urged people to wear face coverings, while Senate Majority Leader Mitch McConnell said "we must have no stigma—none—about wearing masks when we leave our homes and come near other people."
Other Republican lawmakers have also indicated their support for masks and desire that Trump wear one, such as Marco Rubio (R-FL) who said previously: "I'd prefer he wore it just because people follow an example."
GOP governors have also advocated the use of masks, with Arkansas Governor Asa Hutchinson having said the "national leadership" needs to set an example on face masks.
Georgia's Governor Brian Kemp previously spoke of the issue not being political, stating: "We really have not got time to deal in politics right now.
"We are working on saving lives and the livelihoods of all of our citizens."
The National Institutes of Health Director Francis Collins said he thought it is "bizarre that we have turned mask-wearing into something political."j
"Our best chance is for all of us to get together and do the right thing, and stop fighting so much about the divide between different political perspectives, which is just getting in the way," he told Meet the Press.
Dr. Anthony Fauci, director of the National Institute of Allergy and Infectious Diseases, has also strongly backed the use of masks.
"I can say as a public health official that I would urge the leaders, the local, political and other leaders, in states and cities and towns, to be as forceful as possible in getting your citizenry to wear masks," he said in a virtual interview with the U.S. Chamber of Commerce.
Newsweek has contacted the White House and the Trump campaign for comment on the president's latest mask comments.
COVID-19 cases continue to rise across the U.S., with an increase in numbers as states look to lift lockdown measures that were previously in place.
More than 3.8 million cases have been confirmed across the U.S., according to Johns Hopkins University figures.
The graphic below, from Statista, shows the states with the highest numbers of confirmed cases.