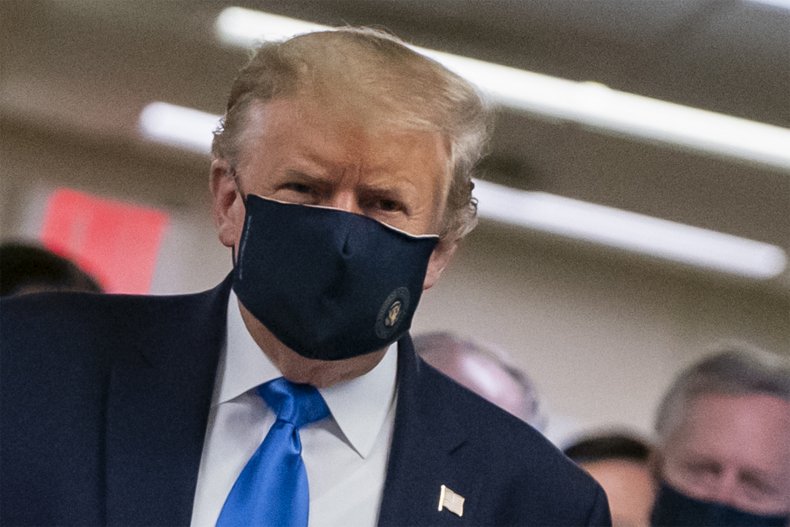 President Donald Trump wore a mask on his visit to the Walter Reed National Military Medical Center on Saturday, after months of criticism over his reluctance to personally endorse face-coverings as a practice will help contain the pandemic.
Mask-wearing, described by health experts as a common sense way to slow the spread of COVID-19, has become a political issue with many Americans refusing to comply with orders from local governments or companies to cover their faces in public.
A photograph shared by reporter Misyrlena Egkolfopoulou shows the president wearing a dark blue face mask as he walks through the halls of the hospital.
Before leaving on Marine One for the hospital, Trump indicated he'd likely wear one.
"Well, I'll probably have a mask, if you must know. I mean, I'll probably have a mask. I think when you're in a hospital, especially in that particular setting, where you're talking to a lot of soldiers and people that, in some cases, just got off the operating tables, I think it's a great thing to wear a mask. I've never been against masks, but I do believe they have a time and a place," Trump told reporters.
Andrew Bates, the Director of Rapid Response for former Vice President Joe Biden's presidential campaign had harsh words for Trump for not wearing a mask earlier.
"Donald Trump spent months ignoring the advice of medical experts and politicizing wearing a mask, one of the most important things we can do to prevent the spread of the virus. Rather than taking responsibility and leading, he wasted four months that Americans have been making sacrifices by stoking divisions and actively discouraging people from taking a very basic step to protect each other," Bates told Newsweek.
"By contrast, Joe Biden has led by example from the start and as President will make decisions informed by science to protect the American people and defeat the virus," he added.
Trump has been reluctant to be seen in a face mask in the past, despite the spike in Coronavirus numbers. He's said that he's rarely in close contact with people and that every person he meets is required to be tested for coronavirus before they can see the president. At his recent rally in Tulsa, though masks were provided to attendees, they were not required, and few were seen in the audience.
This is not the first time Trump has worn a mask in public, however. In June, Trump wore a dark blue mask as he visited a ventilator plant. In May, Trump said he wore a mask during a tour of a Ford factory in Michigan, but it was in an area the press couldn't access because, "I didn't want to give the press the pleasure of seeing it."
In April, Trump said he didn't want to wear a mask.
"Somehow, sitting in the Oval Office behind that beautiful resolute desk, the great resolute desk, I think wearing a face mask as I greet presidents, prime ministers, dictators, kings, queens, I don't know," Trump said at the time. "Somehow, I don't see it for myself. I just don't."
However, he appears to have softened on his stance, saying on July 1 during an interview with Fox Business that he's "all for masks—I think masks are good."
"I've had a mask on, and I sort of liked the way I looked," he continued, noting that he "looked like the Lone Ranger," and that if he were in "a tight situation with people, I would absolutely wear one."
Update (7/11/2020, 9:00 p.m.): This article has been updated to include comment from Andrew Bates from the Biden campaign.