Donald Trump Shares Joe Biden Photo Suggesting Why President 'Doesn't Like to Wear a Mask'
Donald Trump has shared a photo of Joe Biden wearing a face mask at a Memorial Day ceremony, after Fox News commentator Brit Hume said the image might explain why the president "doesn't like to wear a mask in public."
Presumptive Democratic presidential nominee Biden laid a wreath at the Delaware Memorial Bridge Veteran's Memorial Park along with his wife Jill on Monday, both of them wearing face coverings as many have done throughout the COVID-19 crisis.
It was Biden's first public appearance outside of his home since March, during which time he has been conducting his campaign digitally due to the coronavirus pandemic.
Fox News political analyst Hume shared a photo of Biden from Monday's event and wrote: "This might help explain why Trump doesn't like to wear a mask in public. Biden today."
This was later retweeted by the president, who did not wear a facemask during Memorial Day events he attended with wife Melania on Monday.
Rufus Gifford, Biden's deputy campaign manager, responded to Hume's original tweet and described it as "shameful."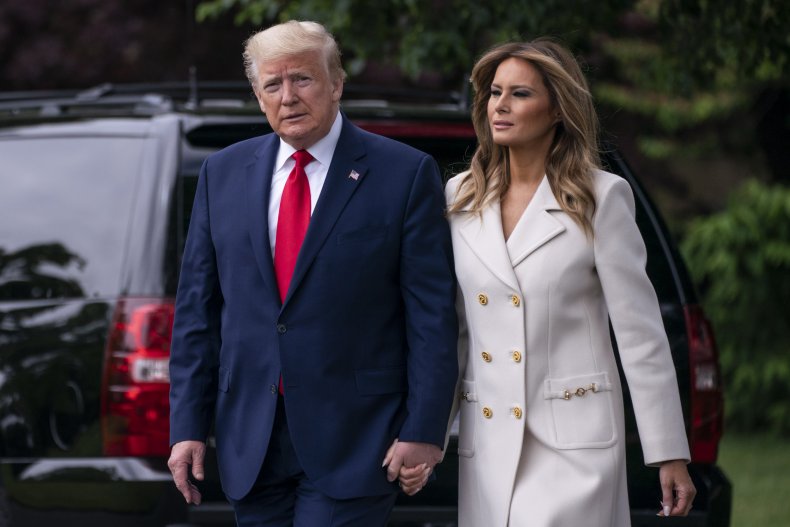 He said: "The equivalent of mocking someone for wearing a seatbelt.
"Or a bike helmet.
"Such a shameful and embarrassing post."
Gifford previously shared an image of Biden and his wife walking to lay their wreath describing it as: "Responsible. Thoughtful. Respectful. Patriotic."
Trump and the First Lady attended a Memorial Day service at Fort McHenry National Monument and Historic Shrine in Baltimore, Maryland, during which neither wore face coverings.
In a visit to a Ford factory in Michigan last week Trump was pictured not wearing a mask, though stated he had had done so in an area not accessible to the press.
"I didn't want to give the press the pleasure of seeing it," Trump, who did practice social distancing during the visit, said.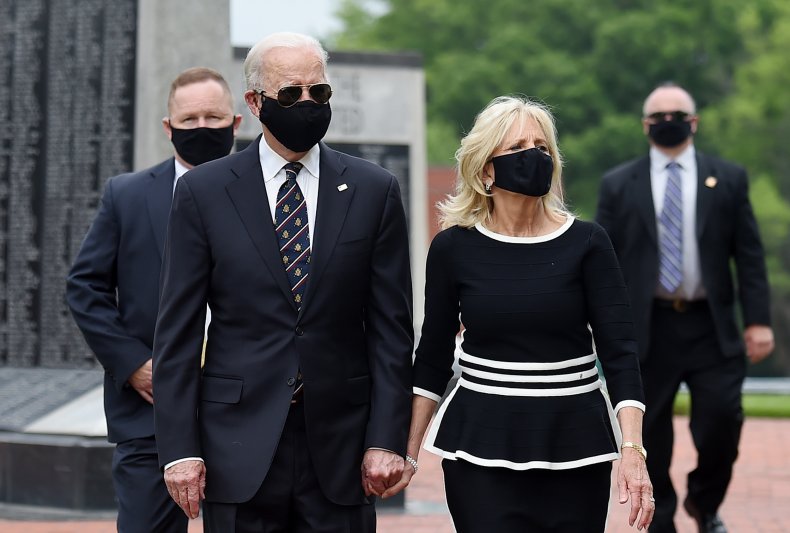 Trump is not the only state leader to be seen publicly not wearing a face mask, as reported by Newsweek previously, with a number seen not doing so during engagements in recent months.
The Centers for Disease Control and Prevention (CDC) recommends wearing a face mask in settings in which social distancing is difficult.
It says on its website: "CDC recommends wearing cloth face coverings in public settings where other social distancing measures are difficult to maintain."
It adds that such coverings "may slow the spread of the virus and help people who may have the virus and do not know it from transmitting it to others."
Newsweek has contacted the White House, Biden and Fox News for comment.
Coronavirus case numbers continue to rise in the U.S., with more than 1.6 million confirmed, according to Johns Hopkins University figures.
More than 98,000 people who have contracted COVID-19 across the U.S. have died. While more than 379,000 are said to have recovered, according to the statistics.
The graphic below, from Statista, shows the worst-hit states as of May 25.