Donald Trump Isn't the Only World Leader Seen Without a Mask in Public
Amid the ongoing novel coronavirus outbreak, several world leaders have been pictured recently without wearing a mask in public in their respective countries.
The leaders who have chosen not to wear facial coverings include the presidents of the U.S., Russia and Brazil (the three nations with the current highest number of cases in the world) as well as China (where the virus was first reported), among other countries.
President Donald Trump has been pictured many times without wearing a facial covering in public, including this week during a visit to a Ford car factory in Michigan that's been converted to produce ventilators and personal protective equipment, while other Ford executives were wearing masks.
The company was reported to have notified Trump prior to his visit that he should wear a mask at the factory.
"Bill Ford [executive chairman of Ford] encouraged President Trump to wear a mask when he arrived. He wore a mask during a private viewing of three Ford GTs from over the years. The President later removed the mask for the remainder of the visit," according to a statement from Ford.
Trump claimed he wore a mask out of the view of cameras. "I had one on before. I wore one in the back area. I didn't want to give the press the pleasure of seeing it," he told reporters.
Chinese President Xi Jinping was pictured Friday without a mask as he arrived at the opening session of China's National People's Congress at the Great Hall of the People in Beijing, the Chinese capital. The president was greeted by several government officials who were wearing masks.
Jinping was also pictured without a mask Thursday as he kicked off the Chinese People's Political Consultative Conference, where most others in attendance were reported to have been wearing masks while standing close to each other.
While the outbreak was claimed to have been largely contained in China, without lockdown measures eased from April, fears over a second wave of cases have been looming.
New clusters of cases were reported in recent weeks, including in Wuhan, the Chinese city where the first-ever confirmed case of the novel coronavirus was reported. New lockdown measures were introduced in parts of the country, including in Shulan in the Jilin province of northeast China.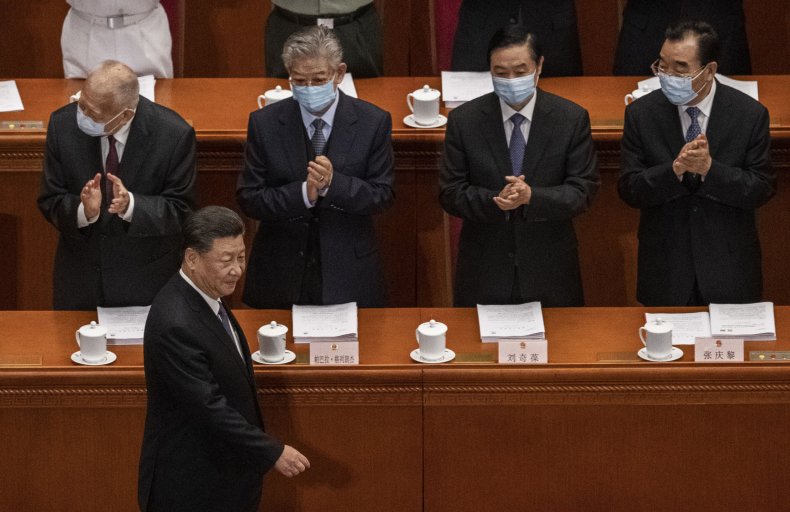 Dr. Zhong Nanshan, the 83-year-old epidemiologist and senior medical adviser to the Chinese government who is known for helping to fight the SARS epidemic in 2002-2003, warned last Sunday:
"The majority of Chinese at the moment are still susceptible [to] the COVID-19 infection, because [of] a lack of immunity. We are facing [a] big challenge, it's not better than the foreign countries I think at the moment," he told CNN last Sunday.
Earlier this week, South Korean President Moon Jae-in was also seen without a mask on May 18 while giving a speech at a ceremony marking the 40th anniversary of the Gwangju Uprising, which saw a mass demonstration against military dictator Chun Doo-hwan at the time.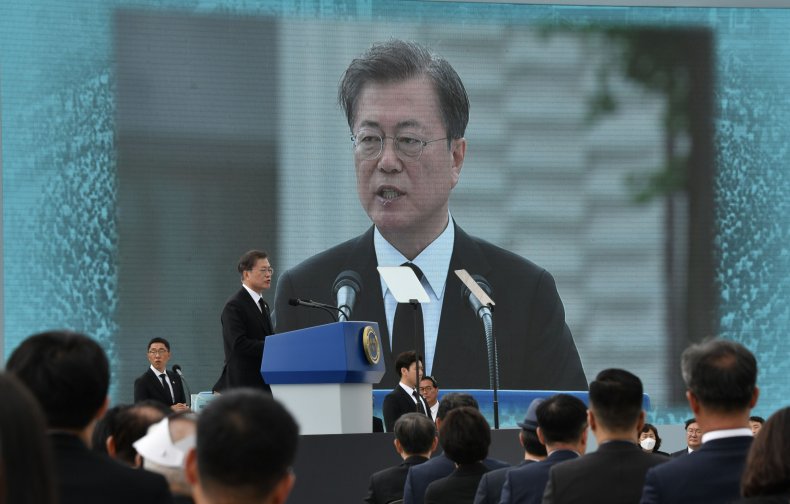 The country was known for having managed to contain the virus through robust testing across the nation. But the nation has reported a new outbreak of cases after a 29-year-old man visited several nightclubs and bars in Itaewon, a neighborhood in the South Korean capital of Seoul, before testing positive for the virus.
The "rate of spread is very high," Seoul Mayor Park Won-soon said last week, with at least 36 percent of the cases reported to be asymptomatic at the time.
In neighboring North Korea, the country's leader Kim Jong-un was also seen without a mask at the opening of a fertilizer factory just north of the North Korean capital Pyongyang, according to photos released by state media.
While new cases emerge in North Korea's neigboring countries of China and South Korea, both of which suffered an explosion of infections in the wake of the outbreak, the country continues to deny any cases have been confirmed in North Korea.
The latest situation report published Tuesday by the World Health Organization (WHO) said North Korea registered no cases of COVID-19.
British Prime Minister Boris Johnson, who recently recovered from COVID-19 infection, was also pictured without a mask on his way to work on several occasions this month.
The U.K. currently has the second-highest death toll in the world and fourth highest number of confirmed cases, as of Friday, according to the latest figures from Johns Hopkins University.
The country has begun easing some lockdown restrictions earlier this month and has claimed earlier this week that deaths were decreasing.
A spokesperson for Johnson said: "Deaths in all settings including care homes are falling...but we need to do all we can to continue to protect the most vulnerable in our care homes," where the number of deaths were reported to have exceeded 10,000, as of May 8, Reuters reports.
Both Russian President Vladmir Putin as well as German Chancellor Angela Merkel and German President Frank-Walter Steinmeier were seen without masks during World War II memorials ceremonies in their respective countries earlier this month.
Speaking to Newsweek, a spokesperson for the German government said: "As for any citizen, the recommendations for action published by the Robert Koch Institute are decisive for the Federal Chancellor. This is true regardless of the fact that there are still no published photos with her [Merkel] wearing a mask.
Russia currently has the second-highest number of cases in the world, with over 317,500 infections. Last week reported a daily case count of more than 10,000 for 10 consecutive days, including a record 11,656 cases reported last Monday, the highest daily case count since the outbreak began.
Germany has the fifth-highest number of cases in Europe, and eighth-highest in the world, as of Friday, according to the latest figures from Johns Hopkins University.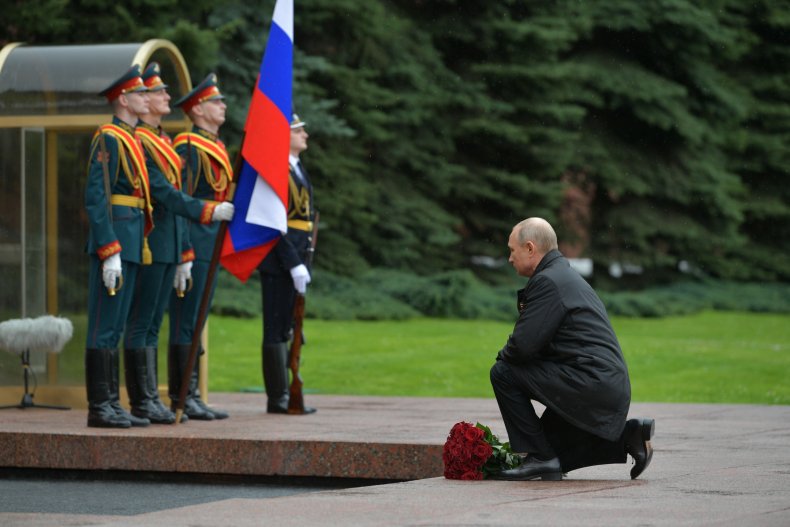 Earlier this month, Merkel urged residents to follow social distancing measures and wear facial coverings, after many residents were reported to have not been adhering to restrictions, including the requirement to wear masks in supermarkets.
Merkel urged: "Keep your distance, and wear mouth and nose protection. Respect each other. This is very important."
Brazilian President Jair Bolsonaro has been seen not wearing a mask on various occasions, including last month when he reportedly shook hands with locals and hugged people while meeting supporters, the Associated Press reported.
Earlier this month he was also seen wearing a mask while addressing the public. But he continued to ignore social distancing rules, surrounded by ministers, approaching supporters and posing for photographs with children, Reuters reports.
The country has the third-highest number of cases in the world and Bolsonaro has previously downplayed the severity of the outbreak and the country lost two health ministers who left their positions after clashing with the president over the country's COVID-19 response.
Earlier this month, the Brazilian leader demanded former health minister Nelson Teich issue federal guidelines for the early use of hydroxychloroquine, an anti-malarial drug yet to be proven for its effectiveness in fighting the novel coronavirus.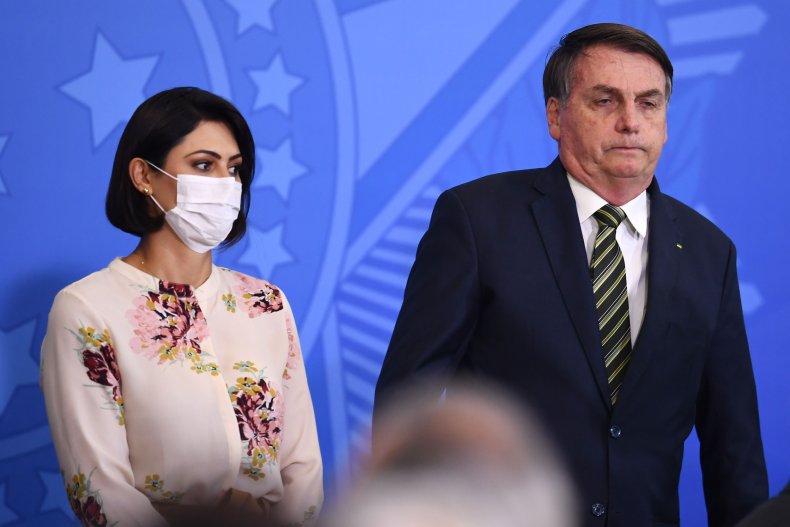 George Gao, director-general of the Chinese Center for Disease Control and Prevention previously warned not wearing masks is a "big mistake."
"The big mistake in the U.S. and Europe, in my opinion, is that people aren't wearing masks. This virus is transmitted by droplets and close contact. Droplets play a very important role—you've got to wear a mask, because when you speak, there are always droplets coming out of your mouth," Gao told Science magazine at the end of March.
"Many people have asymptomatic or presymptomatic infections. If they are wearing face masks, it can prevent droplets that carry the virus from escaping and infecting others," he added.
Last month, the U.S. Centers for Disease Control and Prevention (CDC) issued advice stating it "recommends wearing cloth face coverings in public settings where other social distancing measures are difficult to maintain (e.g., grocery stores and pharmacies), especially in areas of significant community-based transmission."
"CDC also advises the use of simple cloth face coverings to slow the spread of the virus and help people who may have the virus and do not know it from transmitting it to others," it added.
Speaking to Newsweek, WHO spokesperson Christian Lindmeier said: "The WHO recommendations on use of masks has not changed. If people wear masks, they should use them safely and properly as per WHO's advice to public on masks.
"In the community, we recommend the use of medical masks by people who are sick and those who are caring for a sick person at home.
"We encourage countries that are considering the use of masks for the general population to study their effectiveness, so we can all learn from their experience," Lindmeier said.
Back in early April, WHO advised: "Potential advantages of the use of mask by healthy people in the community setting include reducing potential exposure risk from infected person during the 'pre-symptomatic' period and stigmatization of individuals wearing mask for source control."
"The wide use of masks by healthy people in the community setting is not supported by current evidence and carries uncertainties and critical risks," it said.
WHO added that local authorities should "apply a risk-based approach" when it comes to deciding whether masks should be worn in their respective regions, such as the risk of exposure and the level of vulnerability in the population of the area, among several other factors.
Newsweek has contacted the White House and the respective government offices for the world leaders mentioned in this article for a comment.
The novel coronavirus has infected more than 5.1 million people across the globe. Over 333,000 have died while more than 1.9 million have reportedly recovered from infection, as of Friday, according to the latest figures from Johns Hopkins University.
The graphic below, provided by Statista, illustrates countries with the most confirmed COVID-19 cases.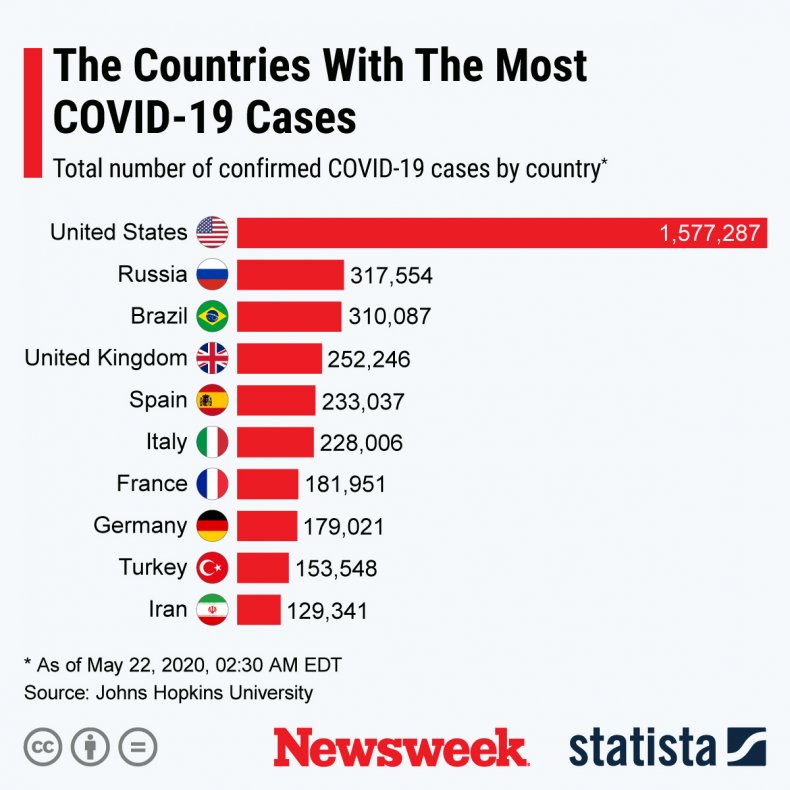 This article has been updated with comment from WHO and the German government.