Georgia's Republican Governor Says There's No Time For Politics While Promoting Face Masks
Georgia Governor Brian Kemp said Thursday it was no time for politics as new coronavirus cases in the state and throughout the country rise at a faster rate than ever before.
During a statewide "Wear a Mask" tour the Republican governor launched Wednesday, Kemp encouraged Georgians to wear face coverings to reduce the spread of the virus, a recommendation U.S. Surgeon General Jerome Adams echoed when he joined Kemp in Georgia on Thursday.
"We really have not got time to deal in politics right now," Kemp said at a news conference in Dalton, Georgia. "We are working on saving lives and the livelihoods of all of our citizens."
Georgia, which was one of the first states to reopen in late April after imposing pandemic restrictions earlier in the spring, has so far not issued a statewide face covering mandate. Though one of Kemp's executive orders said local governments did not have the authority to impose their own pandemic restrictions, the Atlanta-based TV station CBS 46 reported he did not intend to block mayor orders requiring residents to wear masks.
"What we should do is take individual responsibility," Kemp said. "Wear the mask when you're out in public."
Newsweek reached out to Kemp's office for further comment but did not receive a response in time for publication.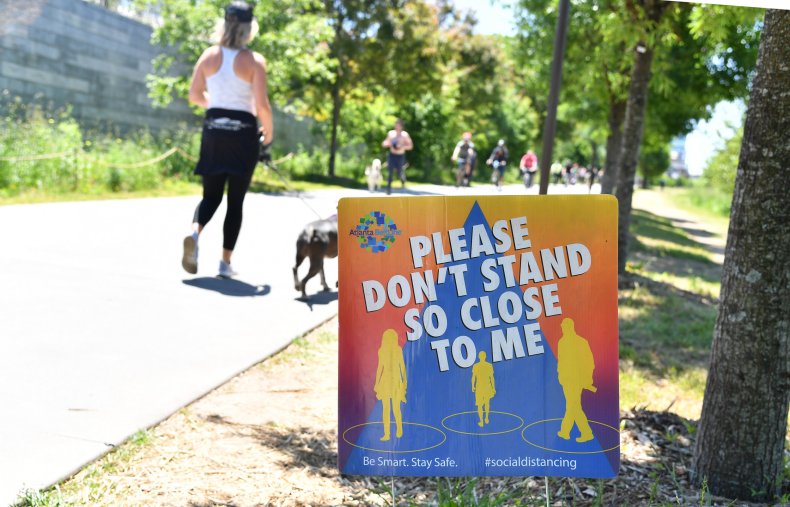 One month after Georgia began lifting its pandemic restrictions, the state began reporting new record highs in single-day case increases. On Thursday, July 2, the Georgia Department of Public Health said 87,709 cases and 2,849 deaths had been reported statewide. The 3,472 new cases reported marked the greatest single-day jump the state has seen since the pandemic began.
Georgia was not alone in reporting surging case counts. In Arizona, California, Florida and Texas, new cases were also spiking, causing governors to roll back their reopening plans and, in some cases, require residents to wear face coverings when occupying both indoor and outdoor public spaces.
The question over whether face coverings should be required has transformed into a hotly contested political debate over the last few months. While health officials have strongly recommended people use them, many Republican leaders have resisted—including President Donald Trump.
The attitude toward face coverings began to shift in recent days as states and the country as a whole reached new COVID-19 highs. While Kemp was touring his state and posting mask promotion videos on social media, Texas Governor Greg Abbott joined a growing list of governors who now require residents in virus-heavy areas to wear face coverings while in public.