Anti-Putin Pussy Riot Singer and Activist Talks Abortion, Ukraine and NFTs
Pussy Riot is not a band, despite what you might have heard. While it's true that Pussy Riot releases music—and plays festivals, including Life Is Beautiful in Las Vegas on September 18—frontwoman Nadya Tolokonnikova is quick to clarify that the mission is bigger than that.
Pussy Riot is a feminist protest collective. The group raises money for Ukrainian creatives, participates in NFT and Web 3.0 projects and staged a protest for reproductive rights at the Texas state capitol earlier this summer.
Tolokonnikova, who served nearly two years in prison over an anti-Putin performance in 2012, is as vocal as ever in the face of escalating censorship—as well as her status as a registered foreign agent against Vladimir Putin's government.
Newsweek caught up with Tolokonnikova ahead of Pussy Riot's performance on the final day of Life Is Beautiful 2022. Here's the Q&A with Tolokonnikova: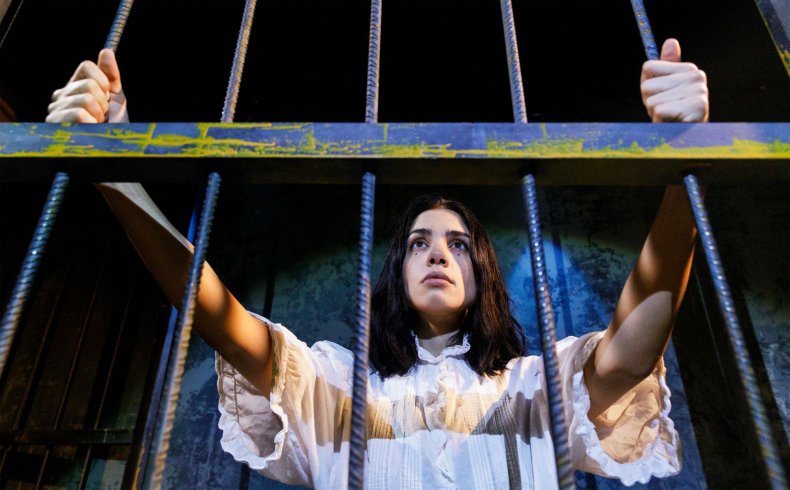 Newsweek: Pussy Riot's social accounts shared an announcement from Russian singer Alla Pugacheva today, in which she asked the Russian government to designate her a foreign agent. She said she's doing so in support of her husband, as they're both against the war in Ukraine. Can you talk a little about what this means?
Tolokonnikova: She's one of the biggest artists in Russia. She's a grandmother of Russian pop music; I don't even know who would be analogous to your country. But I feel like multiple generations grew up listening to Alla Pugacheva, and she is a person who manages to maintain respect from literally every generation. Normally, it's, you know, kids hate what their parents listened to. And it's not the case; somehow she remains cool for everyone.
I remember listening to her music when I was growing up as well. And I woke up today to this news! it's really exciting to me, because it's a symptom of a discontent growing inside of Russian people. The reach that she has, it's difficult to compare with anyone. So I definitely can see how Russians are getting angrier and angrier about the war. Because besides it bringing tragedy to Ukraine, it also really damages the Russian people. We were not welcome in the world anymore. The Russian economy is not doing really well because of sanctions. The biggest companies left Russia. Nobody wants to buy Russian oil and gas.
For a regular Russian person who maybe was not interested in politics before, all of a sudden, they have to — just because their standard of living has dropped since the beginning of the war.
Newsweek: You're a foreign agent, according to the Russian government. If you're Alla Pugacheva, is this announcement meant to be a performance of sorts?
Tolokonnikova: It's really dope. I love her for that. It's incredible. It's performative. It's radical.
Newsweek: Pussy Riot does a lot of work outside of music, using NFTs to fundraise for people who are in need, whether that's in Ukraine or in the United States. How do you choose what's going to be the most impactful?
Tolokonnikova: Because I'm an artist, I rely on my emotions and my intuition to bring me to places. But you cannot build an activist empire just based on your emotions.
So then, once you analyze your first impulse, then you want to activate the original thing, and see what kind of tools and connections you can utilize to help. So, in the last year, I was mostly championing two causes, which were helping Ukrainians to fight Russian aggression, which was obviously really close to my heart, really close to my home. I've been [turning] to Ukraine a lot to learn from them how to be better activists, how to protect your freedoms. They're a source of inspiration for me since forever, really the First Orange Revolution in 2004.
And then, in 2014, right after I got out of jail, I came back to Ukraine to connect with people to learn about their Second Orange Revolution. And I'm just really amazed how brave, and courageous they are. They never want to just get back with the status quo; they always asked for more freedoms, and they want to express themselves freely. I really believe that Ukraine is a leader of the free world these days.
So it was a no brainer for me to try to support them. And I used crypto tools because I've been building my network in the last two years in the crypto community. And I recognize that there are a lot of scammy, terrible, ugly projects out there, but it can also be used for good, and I believe that activists should use modern, digital tools to enhance their work and be more effective and more productive. We prove that crypto can be used for good... we raised $7 million for Ukraine in just a few days, and we're able to disperse that money in the [following] few days, which is unthinkable if you think about traditional nonprofits.
Newsweek: And the other area of your activism is reproductive rights in the United States?
Tolokonnikova: Yes, and it's something that I've been passionate about for forever; something that brought us the Cathedral of Christ the Savior [where we were arrested] in 2012, because Russian Orthodox churches started to become more active. And they were trying to limit freedoms of Russian women to have access to reproductive rights, which is scandalous because of the Soviet Union past—which was not perfect, by the way—but because of the Soviet Union past, I was growing up in environments where I was 100 percent sure that my body is my choice.
I know personally, women who have done as much as 10 abortions, because they thought that it's the best way of protecting yourself from unwanted pregnancy. And this was the case with sex education in the Soviet Union: whereas abortions were really accessible, I feel like sex education was really lacking. There's this saying: "we don't have sex in the USSR."
So I've done abortions myself; I don't have any sort of spiritual problems with that. Sex education is a really big problem in Russia. So even now, in most schools, you don't have that. So it's really just on your family. And if your family is not comfortable talking to you about sex education — my mom wasn't comfortable talking with me — [you] had to rely just on the friends who were like 13, 14 years old as well. So what do they know?
Newsweek: What's Pussy Riot's goal in a festival setting? Is it to get people thinking, or dancing, or both?
Tolokonnikova: I love egotistically when people dance, it just gives me energy. Such an important thing as a performance artist. I started performing at not official settings, but at a town square, or at a fashion show. Illegally. I was just so out there. And people have really strong reactions; some people would be mad, cops would definitely be mad, and some people would be amazed and inspired to take out their phones. So I'm used to and I'm spoiled by the big emotional reaction. It is important to have this emotional connection with the audience and it feeds me.
I like when festivals feel like a rally. [At Life is Beautiful] we have, I think, really strong visuals... it's extremely political, and it's extremely in your face. So that's something that excites me about the festival setting, because it is a lot like performing in the main square of your city unannounced. You can get new followers and you can get new supporters.
I don't call people who follow Pussy Riot our fans; I don't think it's accurate in our relationship. I think they're more supporters and followers, and members of the community.