Anti-Transgender Bills Were Being Pushed in These Five States This Week
There are currently 150 bills "targeting transgender people" making their way through state legislatures, according to the Human Rights Campaign (HRC), which the LGBTQ advocacy group described as the "highest on record" in a briefing published earlier this week.
Over the past week, legislation concerning trans rights has either been introduced, become law or made progress in state legislatures in North Dakota, South Dakota, Kentucky, Kansas, and Missouri.
The past few years has seen the development of an increasingly toxic debate over transgender rights across the United States and beyond. Supporters argue more should be done to protect a historically marginalized group, while critics say new legislation is necessary to protect female-only spaces, and prevent impressionable children undergoing lifechanging surgery.
On February 9, Republicans in Georgia introduced new legislation that would ban gender-affirming care for those aged under 18, mirroring similar GOP initiatives in 25 other states.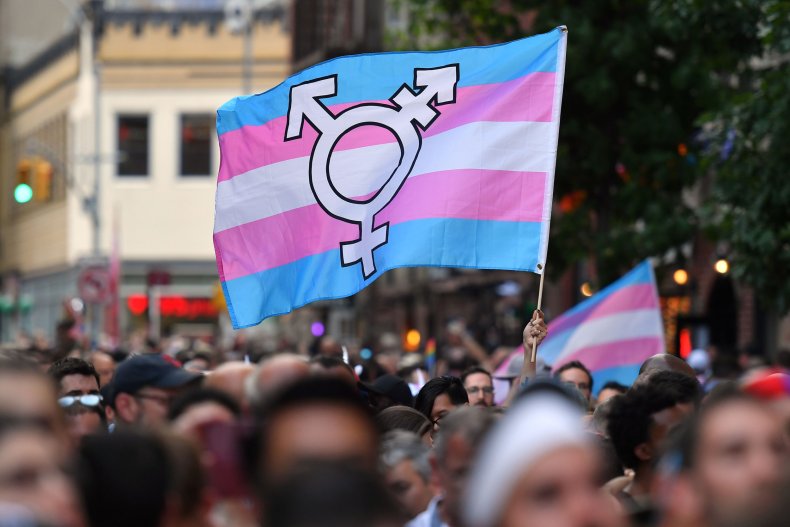 Terry Schilling, president of the conservative American Principles Project, told CNN on Monday that his group is currently lobbying to ban gender-affirming care for children, but hopes to eventually go further.
"We want to protect who we can as quick as possible. And the group of people that we can protect as quick as possible is children," he said. "The thrust of the strategy is we want to protect everyone from this stuff. But ultimately, we have to start with children because that's where the vast majority of the American people are right now."
Cathryn Oakley, legislative director of the HRC, said: "The through line here is about hurting trans people. And yes, they're looking for the next discriminatory measure that they can get passed," CNN reported.
Newsweek has tracked the legislative progress of bills impacting the transgender community, over the past week, in five states.
South Dakota
On Monday, CBS News reported that South Dakota Governor Kristi Noem signed into law H.B. 1080, dubbed the "Help Not Harm" bill by supporters, which bans health care professionals from providing gender-affirming treatments to anyone younger than 18.
Any health workers who violate this law risk civil legal action and could potentially lose their licenses.
In a statement, Noem said: "South Dakota's kids are our future. With this legislation, we are protecting kids from harmful, permanent medical procedures."
However, the American Civil Liberties Union (ACLU) responded with a comment on Twitter Monday evening: "This ban doesn't stop young people in South Dakota from being trans, but it does cut them off from crucial support and care."
North Dakota
In North Dakota, a bill restricting transgender athletes says that K-12 school athletic teams must be determined exclusively by sex at birth, passed the state House of Representatives by a vote of 78-15, the Jamestown Sun reported.
Under the proposed legislation, students who think their access to female-sex teams has been impeded will have the right to take legal action. The law will next pass to the Senate, where the Republicans have 40 legislatures versus seven for the Democrats.
Kentucky
Legislation introduced to the Kentucky General Assembly this week would create a 1,000 foot perimeter around a list of public amenities, including schools, parks, and libraries where it will be illegal to host "adult-oriented" activities, such as drag shows.
Activities deemed "adult-oriented" by the bill include those in which "a performer sings, lip syncs, dances, reads or otherwise performs before an audience for entertainment while exhibiting a gender expression that is inconsistent with the biological sex formal recognized on the performer's original birth certificate," Fox 19 Now reported.
According to the local news site, officials in the city of Covington are worried this law would block the city's annual gay pride parade.
Kansas
On Tuesday, Republicans in Kansas held hearings on a bill that would make it illegal for doctors to perform gender transition surgery or give hormone therapies to minors.
The legislation is similar to the one signed into law in South Dakota on Monday, with GOP politicians pushing variants of this proposal across the nation.
In response, Kansas Governor Laura Kelly, a Democrat, said: "This is an ideological statement that has nothing to do with the welfare of the state of Kansas and is doing nothing in the interest of their constituents. It just needs to stop. It's mean," The Kansas City Star reported.
Missouri
Thursday also saw a Missouri House committee expand proposed legislation, banning minors from gender affirming care, to include incarcerated prisoners of any age.
The bill, now renamed the Missouri Child and Adolescent Protection Act, is continuing to make its way through the state legislature, according to NPR.