Anti-Trump Groups Plan Campaign Against President Amid Fears He Won't Leave Office If He Isn't Re-Elected
Liberal activist groups are not only preparing for election day on November 3—they are organizing for what may come the day after.
Concerns among progressives—and even some Democrats in office—that President Donald Trump may lose the November election yet dismiss the results or refuse to relinquish his power are so prevalent that organizations are forming a coalition to educate voters and "mobilize" millions of Americans to demand a peaceful transfer of power.
"We're sounding the alarm that the threat Trump poses to our democracy is very real," Stand Up America President Sean Eldridge told Newsweek.
The liberal activist group is teaming up with Indivisible, another grassroots progressive organization, to launch its new "Protect the Results" initiative, plans of which were first shared with Newsweek.
"The writing is on the wall: Trump has spent the last 3.5 years undermining our democracy, ignoring our institutional norms," Indivisible Co-Executive Director Ezra Levin said. "He's already trying to sow the seeds of that trend after November 3."
While the mobilization effort may seem outlandish by some—an American president has never refused to vacate the Oval Office in U.S. history—the fears among at least some Democrats and anti-Trump figures are very real.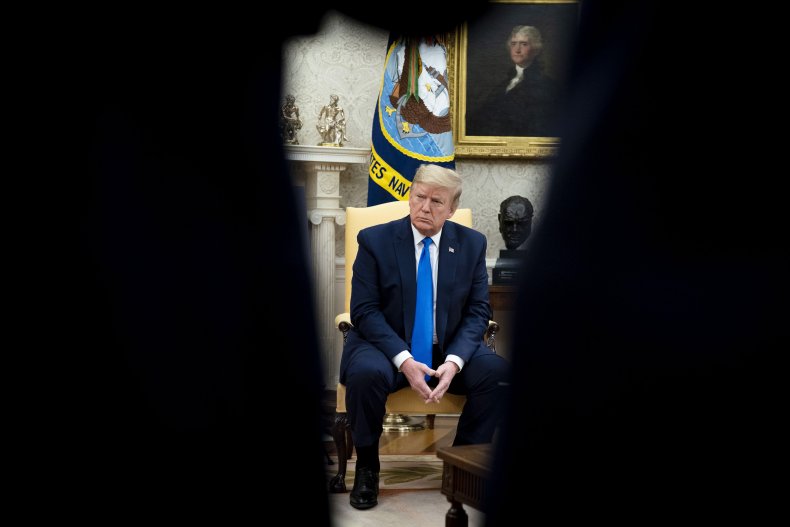 In addition, former Vice President Joe Biden has said he is confident that Trump is "going to try to steal this election."
"I'm absolutely convinced they will escort him from the White House with great dispatch," the presumptive Democratic presidential nominee said during a Wednesday night appearance on The Daily Show With Trevor Noah.
Former Trump attorney Michael Cohen, who was sentenced to three years in prison for tax, campaign and bank crimes, presented his apprehensions to lawmakers last year. "Given my experience working for Mr. Trump, I fear that, if he loses the election in 2020, there will never be a peaceful transition of power," he testified.
Some Democrats on Capitol Hill have similar anxieties.
"I wouldn't rule out anything the president may do because he's broken all the norms, traditions and values," said Senator Richard Blumenthal (D-Conn.).
Senator Cory Booker went a step further: "I would sooner die than to see my nation's constitutional tradition of peaceful transfers of power to be vacated by a demagogue who won't humble himself," the New Jersey Democrat told SiriusXM's The Clay Cane Show on Wednesday.
The suggestion that Trump may try to subvert the 2020 election is not without merit, Democrats and activist groups said. Those concerns have been heightened amid Trump's handling of the racial injustice protests over the killing of George Floyd, a black man, by a white police officer in Minneapolis.
They point to recent events they view as deeply troubling, such as current and former military officials publicly distancing themselves from the president and condemning him in the wake of federal forces aggressively dispersing peaceful protesters outside the White House for Trump's church photo-op.
And the president has spoken, on social media and in public remarks, about extending his term past the two-term constitutional limit.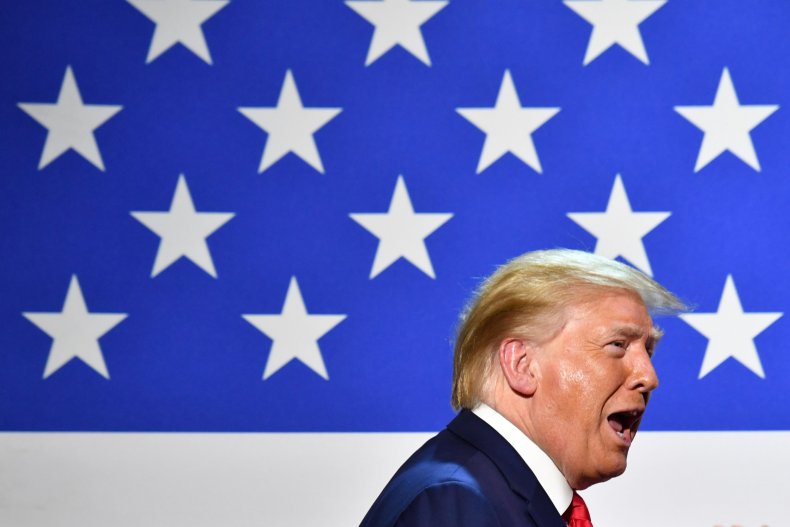 In 2016, then-candidate Trump suggested he would not accept the election results. After his victory, Trump falsely claimed he won the popular vote and said—without evidence—that "millions of people...illegally voted."
Democrats and activists have also highlighted Trump escalating his attacks on voting by mail in recent months, in which he has claimed—without evidence—there is rampant voter fraud, a notion that local GOP officials have refuted.
"He wasn't joking when he teargassed peaceful protesters for a photo-op," Levin said. "This is a real concern people have."
Stand Up America and Indivisible will use a combination of national digital ads and joining forces with more organizations to create a call to action, including work strikes, protests and pressuring elected officials to "stand up for our democracy and denounce any attempts by Trump to undermine the outcome of the election."
Senator John Kennedy, a Louisiana Republican known for his punch lines and blunt takes on hot-topic issues of the day—including Trump—rebuffed any notion by Democrats that the commander-in-chief would decline to leave office.
"That's a bunch of political nonsense," he told Newsweek. "It's just a purely political statement. They're trying to create some sort of hysteria. I don't see the vice president offer any evidence for that, and I, frankly, thought it was beneath him."
Stand Up America and Indivisible declined to provide dollar figures for how much they plan to spend on their campaign. However, both groups plan to place their Protect the Results initiative at the forefront of their activism going into the election, alongside their efforts to regain control of the White House and Senate while holding on to the House.