Anti-Trump Republican Group Launches $10 Million Project to Get Biden Elected
Republican voters who do not want to see President Donald Trump win reelection in the fall are coming together as part of a $10 million project to get presumptive Democratic presidential nominee Joe Biden elected instead.
Defending Democracy Together (DDT), an advocacy organization that says it was created by conservatives to defend Republican and American values on its website, announced the project on Thursday. Upon its launch, Republican Voters Against Trump (RVAT) had nearly 100 video testimonials from Republicans and right-leaning Independents who said they will vote for Biden in November, and the project organizers said they aspire to collect at least 1,000 videos within the next two months.
"I'm voting for the future of the Republican Party, and right now we do not have a Republican that is running," one voter in Massachusetts said in her RVAT video. "I'm voting for Biden because of it."
"I will not be voting for Donald Trump come November," another voter from Virginia said. "He's a liar, a cheat and has done much to destroy the dignity and integrity of his office."
Sarah Longwell, executive director of DDT and spokeswoman for RVAT, told Newsweek the project was created to share the perspectives of Republican voters who have grown disillusioned with Trump's performance as president.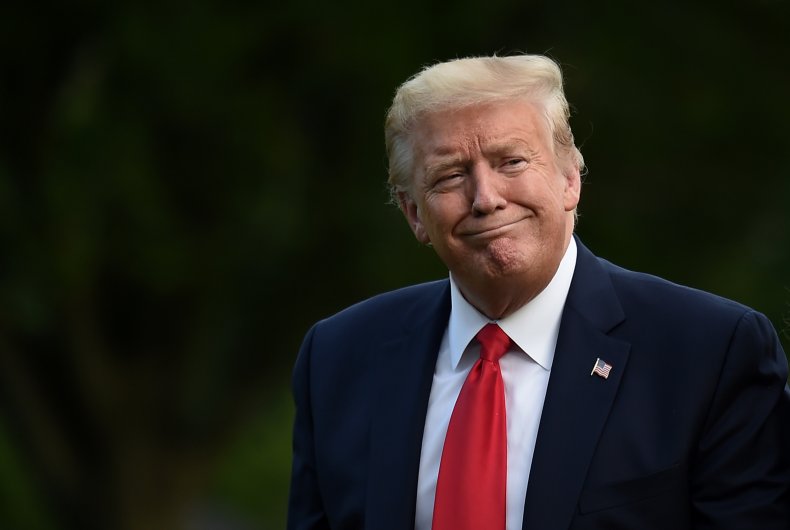 "This is the culmination of several years of research in what actually is persuadable to persuadable voters, particularly center-right voters," Longwell said. "There's not a lot of trust in media or institutions, but people do trust people like them. The focus of this project is elevating the voices of real Republican voters who oppose Trump."
According to Longwell, DDT's research found that while conservative voters have varying reasons for why they no longer support the president, the way he treats fellow politicians, immigrants and others who draw his attention was a significant factor in their decisions.
"Some of [the project contributors] think he's not a real conservative or a real Republican," Longwell said. "For others, a lot of it is about how they think he's a liar, a conman, not a real person."
In contrast, some of the contributors in their submitted videos identified Biden as better equipped than Trump to be "an adult in the room" when making important policy decisions. Longwell said Biden's position as the presumptive Democratic nominee was easier for conservative voters who don't align with Trump to swallow than Vermont Senator Bernie Sanders, who was Biden's leading competitor for the nomination before he suspended his campaign last month.
The coronavirus pandemic has also played a role in shifting conservative voters' minds leading into the 2020 presidential election, Longwell said. While many voters DDT spoke with said they don't usually tune into news coverage, more have been doing so since the pandemic began, she said.
"People live their lives—they're not as plugged into the daily outrages of Trump, they're not on Twitter," Longwell said. "Often it takes something like the coronavirus, which has direct personal consequences on them, to really pay attention and suddenly see what's going on."
RVAT organizers said they wanted to use the project to elevate the perspectives of conservative voters who are not part of Trump's dedicated base. According to Longwell, the DDT was increasingly seeing Republican and right-leaning Independent voters in the suburbs of swing states like Arizona, Pennsylvania and Michigan shifting away from the president, as well as college-educated women, another voter group that pollsters predicted will be important to the outcome of the election. The DDT said in a news release that making all Republicans aware that these anti-Trump conservative voter groups exist would be key to encouraging voters who don't usually support Democratic politicians to cast their ballots for Biden in the fall.
"We believe this project has the best chance to actually persuade voters who are on the fence," Longwell said.
The White House did not respond to Newsweek's request for comment in time for publication.
Correction 6:01 PM ET: This article has been updated to correct references to Sarah Longwell, who was mistakenly referred to as Sarah Longfellow.